July 11, 2000 - Vol. 4 No. 59
Truman Assists with Safety Fair

Truman's 16th Annual Joseph Baldwin Academy Draws Many Gifted Students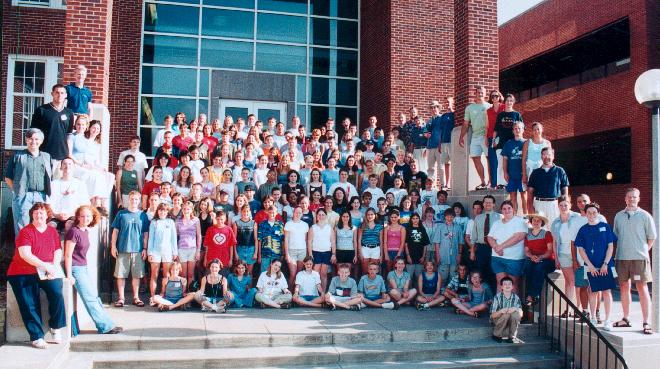 Middle level students from around the United States gather for a group photo on the Baldwin Hall steps at the beginning of Session II of the Joseph Baldwin Academy for Eminent Young Scholars.
This summer marks the sixteenth consecutive year that Truman has hosted the annual Joseph Baldwin Academy for Eminent Young Scholars. During the summer 2000 session in June and July, 295 specially selected junior high school students live in Ryle Hall and attend a focus class they have selected to pursue.
The Academy is designed to enrich the learning process of gifted seventh, eighth and ninth grade students by challenging them with a college curriculum.
Academy participants must be nominated by their school principal or counselor and must score in the top three percent of a nationally-normed achievement test.
Two three-week sessions are offered and students choose one class from a number of different courses in each session. Subjects of study include acting, King Arthur, criminal justice, Latin, chemistry, computer programming, psychology, the Vietnam Conflict, biology, creative writing, French, Civil War music, physics, college algebra, history and Shakespeare.
Instructors this year include Truman faculty members Dr. Lee Orchard, Dr. Adam Davis, Dr. Doug Davenport, Dr. Bridget Thomas, Dr. Dana Delaware, Dr. John Erhart, Dr. Judi Misale, Dr. Tom Zoumaras, Dr. Lin Twining, Dr. Priscilla Riggle, Dr. Jeff Gall, Faith Beane, Dr. Tom Trimborn, Dr. Ken Hahn, Dr. Jay Belanger and Dr. Betsy Delmonico.
Thirty-two Truman students were carefully selected and trained as 'preceptors' for the courses. They serve as faculty assistants who help prepare course materials and work with students in and out of the classroom. The preceptors live in Ryle Hall with the students and work closely with Ryan Bergmann, director, and Paige Bixler assistant. Each preceptor is responsible for a designated group of students and lead the evening and weekend social and recreational activities for his/her group.
---
This Summer at Truman
July 1-14
John R.Kirk
Honors Institute
July 1-21
Joseph Baldwin Academy
Session II
July 18-21
Upward Bound
Sophomore experience
July 24-28
Truman
Drama Camp


---
Truman Assists with Safety Fair at NEMO Fairgrounds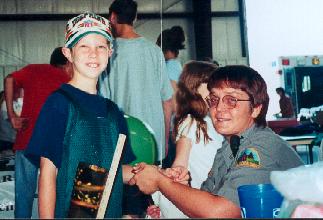 Truman Department of Public Safety Officer Tiffany Easley places a Truman bulldog sticker on one of the many participants in KTVO's Safety Fair at the NEMO Fairgrounds. Students from Truman State University's communication disorders program, Collegiate Farm Bureau Chapter and employees of the department of public safety and others also assisted with the event.
---
St. Louis Alumni Chapter Hosts First Golf Tournament
Truman's St. Louis
Alumni Chapter is
hosting their
First Alumni
Golf Tournament
12:30 p.m., July 25
Whitmoor
Country Club
St. Charles, Mo.

Proceeds go toward a
Truman Scholarship
to be awarded to
a St. Louis area student.
Four-Person Scramble
($100 fee per player)
Call 660.785.4174
for more details.
---
Notables
Todd Kuhns, senior communication major from Warrensburg, Mo., recently finished production of a full-length film shot almost entirely in the Kirksville area.this summer. The play, Dumping Jenny, was written by award-winning playwright Dakota Russell of Harrison-ville, Mo. Kuhns is now editing the movie and plans to enter it in several national film festivals.


Truman was selected as one of the 1999-2000 National Collegiate Alcohol Awareness Week Contest Honorable Mention programs, according to Liz Hopkins, fitness and wellness director.
---

Notes
On July 1 the University Central Supply inventory was purchased by the Truman Bookstore. Supplies can now be purchased at the Bookstore, lower level SUB, from 8 a.m. until 5 p.m. Monday through Friday.

Mark your calendar for SODEXHO-Marriott Services' July picnics on the Mall. All students, faculty and staff are welcome. The picnics begin at 11:30 a.m. and run until 1 p.m., and are scheduled for July 11 and July 28. The cost is approximately $5 per meal and no reservations are necessary.

The Kirksville Alumni Chapter will host a complimentary chapter member barbecue at 6 p.m., July 19, at the home of President Magruder, 706 S. Halliburton St., Kirksville. Rsvp to Denise Watson at 800.452.6678 or 660.785.4174 or e-mail watsond@truman.edu no later than July 17.

A few volunteers are still needed for the 7-9 p.m. shift at the NEMO Fair on July 27. Any faculty or staff member interested in working the gate that evening should contact the Public Relations office at 785.4016. All workers will receive a Truman shirt and a one-day pass to the fair.

The Fine Arts Division will present their second summer production, Lloyd's Prayer, by Kevin Kling from August 2 to 5 in the Baldwin Hall Little Theatre. It is open to the public and admission is free. More information will follow in the next issue of the Truman Today.

Summer session classes will end on August 4, and summer commencement is scheduled for 6:30 p.m., August 5, on the Quad. The Golden Alumni Reunion will be held in conjunction with summer commencement.

August Interim classes are scheduled from August 6 to 13 and classes for the fall 2000 term begin August 21.

Freshman Move-In will be August 13 and Freshman Orientation Week is scheduled from August 13 to 18.

The Truman Today will publish two more summer issues. Please submit information to lgordon@truman.edu or McClain Hall 102 no later than July 20 for the July 25th issue, and no later than August 8 for the special Freshman Week issue to be published on August 14.
---
Back to "News & Events"
[ HOME · DIRECTORIES · NEWS & EVENTS · SEARCH ]
Direct questions and comments to lgordon@truman.edu.
Copyright © 1996-2003 by Truman State University, Kirksville, Missouri. All Rights Reserved.
URL http://trumantoday.truman.edu