July 24, 2000 - Vol. 4 No. 60

Lloyd's Prayer Theatre Presentation
Cantoria Performs for European Audiences

Southwestern Bell-Arkansas President, 1983 Alumna to Address Summer Graduates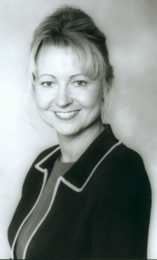 Cynthia Brinkley, a 1983 Truman alumna, and president of Southwestern Bell-Arkansas will deliver the commencement address to the summer graduates at 6:30 p.m., August 5, on the Quadrangle. A reception will follow on the Mall. The ceremony will be moved indoors to Baldwin Auditorium should inclement weather occur.
Originally from Milan, Mo., Brinkley received her bachelor's degree in political science from Truman and went on to earn another bachelor's degree, in journalism, from the University of Missouri?Columbia.
Brinkley was appointed as president of Southwestern Bell?Arkansas in November 1999. She is responsible for the company's regulatory, legislative, governmental and external affairs, as well as community and industry relations throughout Arkansas.
She began her career in 1986 in Austin, Texas, working in external affairs for Southwestern Bell Telephone Company. In that position she served as a liaison to the Texas Public Utility Commission and later as media spokesperson for regulatory and legislative affairs.
Brinkley moved to the company's headquarters in San Antonio in 1993, where she was responsible for the development and support of public policy and state legislative activities for SBC and its subsidiaries.
In 1997, she became the area vice president for Pacific Bell in Los Angeles. In that role, she oversaw government affairs, public affairs, community affairs and industry relations for the company in the Los Angel-es area.
Later, she served as executive director of federal relations for SBC Communications, Inc. In that capacity, she represented SBC and its subsidiaries in policy and legislative matters before Congress.
Brinkley serves on a number of boards in the Little Rock area including the Arkansas Arts Center, Arkansas Business and Education Alliance, Arkansas State Chamber of Commerce, Arkansas Symphony, University of Arkansas Medical Science and United Way of Pulaski County. She is also a member of the Arkansas Information Technology Task Force and the Arkansas Women's Leadership Forum.
She and her husband, Alan Liebert, live in west Little Rock.
---
Truman State University's Theatre Department Presents
Lloyd's Prayer
By Missouri playwright Kevin Kling
August 2-August 6
8 p.m., Baldwin Hall Little Theatre
Free admission, no reserved seating. Some material may not be suitable for children.
For more information, call publicity chair Matthew Kingston at 785-4830.


---
Truman's Cantoria Performs for European Audiences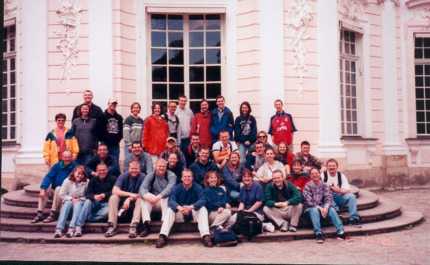 Thirty-five members of Cantoria, Truman's premier choral ensemble, visited and performed in three European cities during the May Interim. Their visit included the cities of Munich and Budapest, Germany; Salzburg, Austria; and tours of cathedrals, museums, castles and historical sites such as the Dachau concentration camp. Paul Crabb, professor of music, and Jackie Collett, associate professor of music, sponsored the tour. Above, the group posed for a photo in front of the Nymphenburg Palace in Munich, Germany.




---
Dates to Remember

July 25 - Last day to change to
credit/no credit for second
five-week courses.
Last day to drop second
five-week course.
August 4 - End of ten-week courses &
second five-week courses.
August 5 - Summer commencement,
6:30 p.m, Quad.
Residence hall and apart-
ments close, 8 p.m.
August 14 - Student grades & end-of-
term transcripts issued.
August 6-13 - August Interim classes.

---
Notables
Jim Barnes, writer-in-residence and professor of comparative literature, had his poem "Remembering Cap Canaille" published in Poetry, a Chicago publication.

Marijke Breuning and John Ishiyama, both associate professors of political science, were recently named as the new book review editors for International Politics, a journal of transnational issues and global problems. They will be responsible for commissioning book review essays and reviews of single books for the journal. The journal's articles, as well as the books chosen for review, focus on contemporary political questions that transcend geographic and ideological limits. Interna-tional Politics may be accessed online at http://www.muohio.edu/~intlpols/

Mary E. Hurley, communication instructor and adviser to KTRM, presented a critical analysis of Aimee Semple McPherson's "America Awake!"at the 9th Biennial Conference of the Rhetoric Society of America held in Washington, D.C., in May. She will examine the rhetoric of Elizabeth Clare Prophet at the convention of the National Communication Association in Seattle in November. Hurley also recently presented at the conference of Public Broadcasting in the Public Interest sponsored by the University of Maine?Orono.

Laura Walters, May 2000 graduate with a major in biology/pre-med from Dousman, Wis., received second place on her research presentation at the Tri-Beta National Convention in Ponce, Puerto Rico. She has accepted one of only a few positions offered in the University of Wisconsin's M.D./Ph.D. program at Madison.

Janelle Zehr, junior exercise science /pre-secondary education major and volleyball player from Deer Creek, Ill., has been named as a second-team selection to the All-American Farm Team sponsored by Dodge trucks and Successful Farming magazine.




---

Notes
Faculty and staff interested in being a "deejay for a day" will have the opportunity this fall. KTRM is hosting a special one-hour program with a different radio host every Sunday evening. All the host has to do is select the music and announce! If interested, e-mail mhurley@truman.edu

The parking lot south of the SUB and west of Magruder Hall has been changed to an all red lot. The lot just north of the Rec Center will be changed from a red faculty/staff lot to a blue commuter lot.

SODEXHO-Marriott Services will host their last summer picnic on the Mall for faculty, staff and students from 11:30 a.m. until 1 p.m. on July 28.




---
Back to "News & Events"
[ HOME · DIRECTORIES · NEWS & EVENTS · SEARCH ]
Direct questions and comments to lgordon@truman.edu.
Copyright © 1996-2003 by Truman State University, Kirksville, Missouri. All Rights Reserved.
URL http://trumantoday.truman.edu