September 5, 2000 - Vol. 5 No. 4
Features

Internship Offers Unique Experience
Hispanic Heritage Month Activities
Truman Recognized as Number One in Midwest
University Club to Host Barbecue
Preservation Hall Jazz Band to Begin Lyceum Series
Truman Alum Named as President
Who's Who Applications Available
Departments

Native American Author to Visit Campus
One of the most successful contemporary figures in Native American literature will be visiting Truman State University as the first guest of the Distinguished Visiting Scholar Program.
N. Scott Momaday will be at Truman from Sept. 20 until Sept. 22. Momaday is presently the Regents Professor of the Humanities at the University of Arizona. His interests are based in Native American oral tradition and the Native American concepts of the sacred.
Momaday founded the Buffalo Trust, a non-profit foundation for the preservation and restoration of Native American culture and heritage. He describes the Trust as a dream he has had for 20 years. "It is time to realize it," he says. "I believe it is the most important part of my life's work. What can be better than giving back to children their heritage?"
Momaday won the Pulitzer Prize for his book House Made of Dawn and has had articles published in The New York Times, New York Newsday and Natural History. He is the voice of PBS' special, American Experience.
---
Internship at Truman Library Offers Unique Experience for Students
Truman State University is pleased to announce the second annual paid internship for a Truman State University student at the Harry S. Truman Library, located in Independence, Mo. The internship has been made possible by a generous endowment from the family of Fred and Ethel Schwengel.
The internship is for the Spring 2001 semester, and is open to all Truman juniors and seniors who meet University requirements for an internship. Students can earn up to 15 hours of credit for this full-time internship. After being selected by a University committee and Truman library staff, the intern may work in a variety of areas of the Library including archives, public relations, marketing, educational programming, museum development or visitor services. Assignment will be based upon the intern's abilities and interests along with the needs of the Library. The internship offers a $2,000 stipend.
Guidelines for the internship require that selected interns must immerse themselves in the study of President Truman. At the conclusion of the internship, the intern will prepare a paper on his or her experiences at the Library and on a specific study of the Truman presidency. The internship schedule will allow time for the intern to research the project.
Applicants must have strong communication skills, both written and verbal, strong organizational skills, the ability to work independently on multiple tasks, dependability and self motivation.
The first Truman Library intern was Lori Schwartz, senior history major from Lee's Summit, Mo., who worked in the archives and educational programming departments and enjoyed her internship.
"The people were really friendly and organized. It was a really good experience overall," Schwartz said.
---
Hispanic Heritage Month
Friday, Sept. 15
Culture Night
6-8:30 p.m.
Multicultural Affairs Center


Sunday, Sept. 17
Taste of Home Cuisine
5 p.m.- RSVP
Multicultural Affairs Center


Friday, Sept. 22
Concert-El Trio Atzlán
7:30 p.m.
Quad
Rain site: SUB Activities Room


Friday, Sept. 29
Performance:
Tribus Futuras
SUB Down Under
6-8 p.m.


Saturday, Oct. 7
Dance instruction by
Viva Dance Troupe
5-7 p.m.
SUB Down Under
---
October 8 Memorial Concert to be Held in Honor of Dr. Michael Hooley
A concert in memory of Dr. Michael Hooley will be held at 2 p.m., Oct. 8, during Family Day weekend on the Truman State University campus. The concert will be held on the Baldwin Auditorium stage.
Hooley served as head of percussion studies in the University's music department for ten years. He was also known across campus for his active participation in the general studies courses and his involvement on a number of campus committees.
The concert will feature many of Hooley's former percussion students performing with the Truman State University Wind Symphony Band, conducted by Director of Bands Dan Peterson. The program includes two compositions that feature percussion. The first was composed by David Gillingham and is a virtuoso exposition for four percussionists entitled Concertino for Four Percussion. The second featured work is a band transcription of The Flight of the Bumble Bee, arranged for four marimbas.
The Dr. Michael Hooley Scholarship Fund has been established and individuals may contribute by contacting the Fine Arts Office at 785.4417.

BACK TO THE TOP
---
Truman Recognized for Third Year as Number One Public University in Midwest
For the third year in a row, Truman State University is being recognized in the latest U.S. News & World Report's "America's Best Colleges" 2001 guide as the number one public university in the Midwest for providing a quality education. Among all Midwest regional schools, both private and public, Truman also ranks number one in the selectivity of its student body. Truman is the only public university in Missouri to be included in either category.
The 2000 entering freshman class has an average ACT of 27 and a 3.73 high school GPA. In addition, 46 percent of the freshmen were in the top 10 percent of their high school classes and 99 percent of the class had some high school leadership experience.
U.S. News & World Report based its current regional rankings on academic reputation, graduation and retention rates, faculty resources, student selectivity, financial resources and alumni giving.
The Sept. 11 issue of U. S. News & World Report will contain the rankings, along with selected articles from the book.
.
---
University Club Welcomes Faculty and Staff
The University Club
invites faculty & staff to
the University
Club barbecue

Friday, Sept. 8
516 E. Patterson

Gather at 6 p.m.
Dinner at
6:30 p.m.

Please bring a dish to share for the meal.

Jazz music played by Deadwood


---
Preservation Hall Jazz to Begin Lyceum Season
The premiere Kohlenberg Lyceum performance
for the 2000-01 season
is the
Preservation Hall Jazz Band
7:30 p.m.
September 27


Free tickets will be available to students, faculty and staff
approximately one week before the performance
in the Student Activities Board Office,
SUB lower level.
---
Truman Alumnus and Board Member Named as President of Texas Company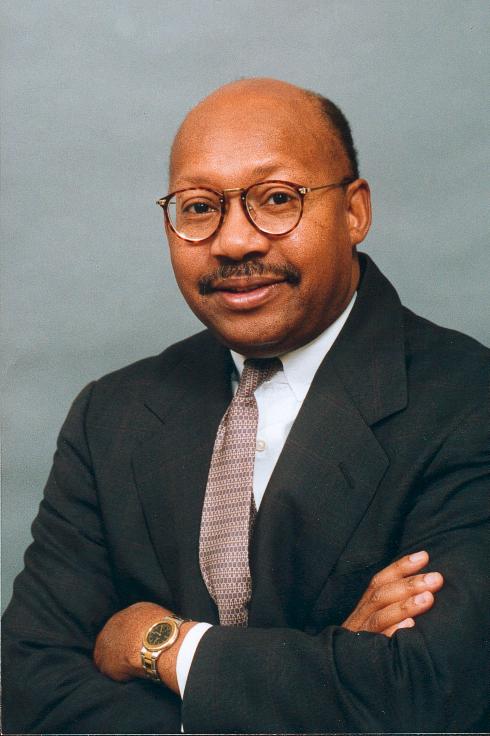 Truman State University alumnus and Board of Governors member Alphonso R. Jackson has been named the Texas state president of American Electric Power, a multinational energy company in Austin, Texas. AEP recently merged with Central and South West Corporation where Jackson had served as president and vice president of corporate resources.
Jackson, who received two degrees from Truman, now oversees public and community affairs activities and relationships at AEP. He majored in political science and received his bachelor's degree in 1968 and his master's degree in education administration in 1969. He went on to earn a juris doctorate from Washington University School of Law in St. Louis.
In addition to serving as a member of the Board of Governors since January 1994, Jackson is recognized as an international expert on urban issues and serves on the Regional Selection Panel for the White House Fellowship program and on the advisory board of Voyager Expanded Learning. For a period of time he served as the president and CEO of the Housing Author-ity of the city of Dallas, director of public safety for St. Louis, executive director for the St. Louis Housing Authority and director of the Department of Public and Assisted Housing in Washington, D.C.
Jackson has also served on the board of directors of Chase Manhattan Bank-Texas, YMCA and Red Cross of Metropolitan Dallas, The Circle Ten Council of Boy Scouts of America, Greater Dallas Chamber of Commerce and the Children's Medical Center of Dallas. He was a 1995 Fellow of the Aspen Institute.
---
Who's Who Applications Now Available
Students may pick up applications for the 2000-2001 Who's Who Among Students in American Universities and Colleges Award in the Dean of Student Affairs Office, Kirk Building 112.
Faculty and staff are also invited to nominate students for this prestigious award. Nominations are due by Sept. 18 in the Student Affairs Office.
To qualify, the students should be active in campus and community activities, have a 2.75 cumulative GPA, and be a senior eligible for graduation in December, May or August of the 2000-2001 academic year.
Completed applications need to be returned to the Student Affairs Office by Friday, Oct. 6.
For further information, stop by Kirk Building 112 or call 785.4111.
---
Scholarship Opportunities Announced
The Federated Garden Clubs of Missouri, Inc., announces a grant of $1,000 will be available for the fall semester of 2001-2002.
National Physical Science ConsortiumFellowships are available for up to six years. For more information, go to http://www.npsc.org.
For more information about these scholarships, those previously announced or other financial aid opportunities, call the Financial Aid Office at 785.4130.

BACK TO THE TOP
---
Parking Questions Answered
Q: What should I do if I have someone come to visit? Where can they park?
A: Visitors are welcome at Truman. If you have a visitor on campus, please stop by parking services
and get them a free hang tag for the time they will be here. Personnel can issue these 24 hours a
day, seven days a week.

Q: How do I know which parking lot is the correct one to park in?
A: There are signs posted at the entrance to all lots designating which color lot they are
(green=resident, blue=commuter, red=faculty/staff).

For additional answers to parking questions, please contact
the Department of Public Safety at 785.4176.
---
On Campus
Sept. 6 - Wednesday
12:30 p.m. - Faculty Development Lunch Series, SUB Spanish Room; see Notes
4:30 p.m.-Missouri London Program informational meeting, SUB Governor's Room; see Notes
6:30 p.m.-Alpha Phi Omega open meeting, VH 1010; see Notes
8 p.m.-Windfall meeting, OP 113-A; see Notes.

Sept. 7 - Thursday
3:30 p.m.-Faculty Development Grant Workshop, PML 205; see Notes
6:30 p.m.-Alpha Phi Omega open meeting VH 1000; see Notes.

Sept. 8 - Friday
9 a.m.-Faculty Development Grant Workshop, PML 205; see Notes
6 p.m.-University Club BBQ
7 p.m.-Ekklesia informational meeting, SUB conference room; see Notes
8 p.m.-Second City Comedy Troupe, Baldwin Auditorium; see Notes

Sept. 9 - Saturday
12 p.m.-Women's Soccer vs. University Missouri-St. Louis
3:30 p.m.-Men's Tennis vs. William Jewell
7 p.m.- Less Than Jake performance, rugby field

Sept. 10 - Sunday
2 p.m.-Women's Soccer vs. Southern Illinois University-Edwardsville

Sept. 11 - Monday
11 a.m.- Cardinal Key/American Red Cross Blood Drive, SUB Activities Room; see Notes

Sept. 12 - Tuesday
11 a.m.-Cardinal Key/ American Red Cross Blood Drive, SUB Activities Room.; see Notes
---

Notables

Steven Reschly, associate professor of history, published "The Amish on the Iowa Prairie, 1840-1910" with Johns Hopkins University Press. The book was released August 1 and is a revision of his dissertation, completed at the University of Iowa.

Antonio Scuderi, assistant professor of Italian, had his article "Arlecchino Revisited; Tracing the Demon from the Carnival to Kramer and Mr. Bean" published in the latest issue of Theatre History Studies.

The Women of Delta Zeta were honored as the best chapter in the United States as well as with other awards. The members of Alpha Gamma Delta were recognized as a four star chapter and for their philanthropic work. Alpha Sigma Alpha was one of 11 chapters to win the four star award and also gave a $10,000 scholarship to the national chapter. Sigma Kappa received awards for quota, total, initiation and reporting.




---

Notes

The Faculty Development Weekly Wednesday Lunch Series will be from 12:30 p.m.-1:25 p.m. on Sept. 6 in the SUB Spanish Room. The topic of this week's discussion will be Reflections after the National Conference of Race and Ethnicity. Faculty should come early to go through the Mainstreet line or feel free to brown bag it. For more information about the Weekly Wednesday Lunch Series, contact Shirley Morahan, director of Faculty Development, at 785.4494 or e-mail Morahan at smorahan@truman.edu.

Alpha Phi Omega will be having open meetings Sept. 6 at 6:30 p.m. in Violette Hall 1000 and Sept. 7 at 6:30 p.m. in Violette Hall 1010.

Students interested in the 2001 summer Missouri London Program are invited to an informational meeting at 4:30 p.m. on Sept. 6 in the SUB Governor's Room. For more information contact Dr. Dennis Leavens at 785.4269.

Windfall, the campus literary/art/music magazine, will be having its first meeting on Sept. 6 at 8 p.m. in Ophelia Parrish 113-A. For more information contact Alice at 785.4712.

All faculty are invited to attend an interactive workshop to learn about the University's grant opportunities and tune up proposal writing skills at the Grant Workshops from 3:30-5 p.m. on Sept. 7 and from 9-10:30 a.m. on Sept. 8 in Pickler Memorial Library, Room 205. Please RSVP to 785.4391 or facdev@truman.edu by Sept. 5. The workshops are limited to 25 participants each.

The University Club will host a University Club welcome and welcome back barbecue at 6 p.m. on Sept. 8. The University Club is located at 516 E. Patterson. Please being a dish to share for the meal.

Ekklesia is having an informational meeting at 7 p.m. on Sept. 8 in the SUB Conference Room. Get acquainted mixers, information on the mid-semester break to Silver Dollar City, and a devotional led by KCOM student Tony Haeufgloeckner on "Nondenominational Christians" are planned. For more information check ww2.truman.edu/ekklesia.

The Student Activities Board is hosting Second City Comedy Troupe at 8 p.m. on Sept. 8 in Baldwin Auditorium. Admission is free for students with their Truman student ID. General admission is $2.

Less Than Jake, is scheduled to perform on campus at 7 p.m. on Sept. 9 on the rugby field. The concert is free to students and no tickets are needed.

Cardinal Key is hosting their Fall 2000 American Red Cross Blood Drive from 11 a.m. until 4 p.m. Sept. 11-13 in the SUB Activities Room.

The High Street Dancers will be having tryouts the week of Sept. 13-16. Work-shops will be held from 7:30 until 9:30 p.m. Sept. 13-15 in the Pershing Small Gym. Auditions will be on Sept. 16. For more information call Merina at 665.8581 or Melody at 785.7259.

Thinking about a sabbatical? Interested faculty should bring their dreams and questions about applications and the review process to the Sabbatical Workshops from 3:30-5 p.m. on Sept. 13 and from 1:30-3:30 p.m. on Sept. 14 in the Faculty Development Room in Pickler Memorial Library, Room 205. Please RSVP by Sept. 12 to 785.4391 or duckv@truman.edu.

Students who are enrolled in German 231 or who have at least intermediate proficiency are invited to a German Immersion weekend Sept. 30-Oct. 1 at Camp Jo-Ota in Clarence, Mo. The event is worth one credit hour. The cost is $30. If interested, please contact Andrea Davis at 785.4085.

Athletics media relations is looking for communication/journalism majors who wish to gain valuable writing experience, and see their work published and distributed nationwide. Freshmen welcome. Contact Melissa Ware at 785.4276.

The Student Council for Exceptional Children meets at 6 p.m. on Thursdays in Violette Hall 1308. All are welcome! For more information call Stephanie at 627.4465.

The University Career Center has new hours for the fall semester; Monday through Wednesday from 8 a.m. until 6 p.m.; Thursday 8 a.m. until 7 p.m.; and Friday 8 a.m. until 5 p.m.




---
Back to "News & Events"
[ HOME · DIRECTORIES · NEWS & EVENTS · SEARCH ]
Direct questions and comments to lgordon@truman.edu.
Copyright © 1996-2003 by Truman State University, Kirksville, Missouri. All Rights Reserved.
URL http://trumantoday.truman.edu