October 17, 2000 - Vol. 5 No. 10
Homecoming 2000 Schedule of Events
United Way Faculty/Staff Leaders
Hwang selected as Gates Scholar
Nursing Dean to Address Students
Canadian Group to Provide Dynamic Music and Dance Performance for Kohlenberg Series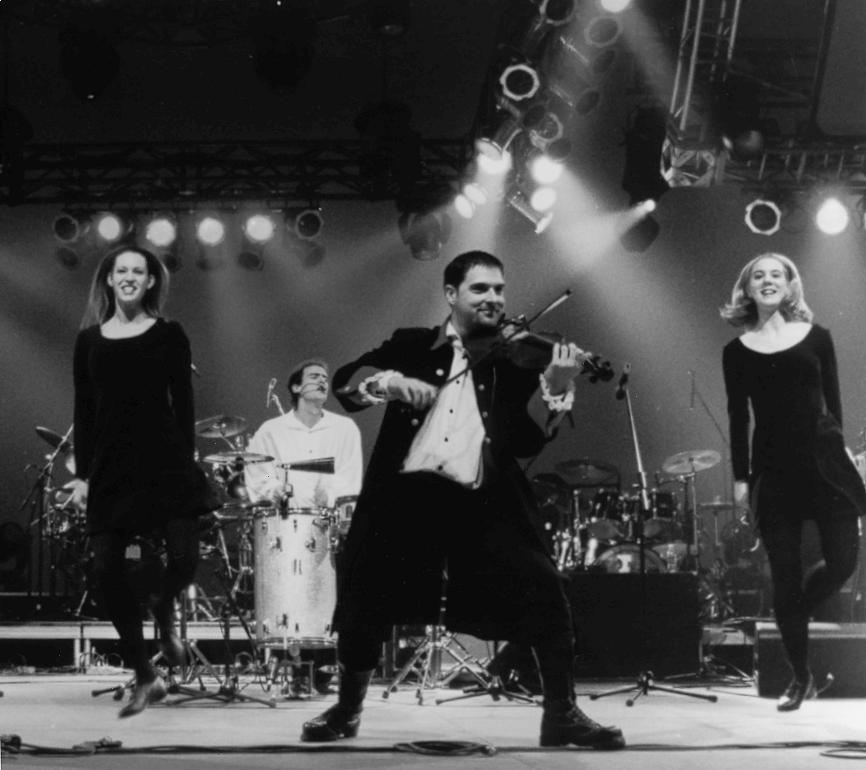 Grand Dérangement will perform as the second group in the 2000-2001 Kohlenberg Lyceum Series at 7:30 p.m., Oct. 30, in Baldwin Auditorium.
Grand Dérangement, which literally means 'great disturbance,' hails from Nova Scotia and presents a vibrant and energetic concert that reinvents the traditional notion of the Acadian cultural experience.
The group uses theatre, music, dance and song to present a multi-dimensional experience that impresses as much by its meticulous attention to detail as by its strong professionalism. The musicians of the group are not only great instrumentalists, they are also innovators who succeed in integrating many styles of music into their performances. The group won the Favorite Francophone (French-speaking) Group award from Canada's Atlantic Gig in 1999 and appeared at the East Coast Music Awards the same year.
Their show offers many interesting fusions of traditional Acadian music, rock, jazz and Louisiana and Irish rhythms. Also featured are three dancers who bring an interesting visual dimension to the show. Grand Dérangement's performances touch many Acadian and universal themes and are guaranteed to entertain and stimulate any audience.
Free tickets will be available to students, faculty and staff approximately one week prior to the performance in the Student Activities Board Office, SUB lower level.




---
Class of 1950 Donates Gift to Truman

The Class of 1950 celebrated its Golden Anniversary by giving a $135,000 gift to Truman.
The public is invited to join alumni from the Class of 1950 for a special celebration and public dedication ceremony on campus during Homecoming weekend. At 10:30 a.m., Oct. 21, members of the class of 1950 will gather in Ophelia Parrish to celebrate the successful conclusion of the Class of 1950 Anniversary Project.
The Class of 1950 initiated the project last summer to commemorate the 50th anniversary of their graduation. Funds raised through the project will provide enhancements for the renovation and expansion of the Ophelia Parrish building. The Class of 1950, inspired by a $50,000 gift from classmate Dwain Horn, chose to support the new Fine Arts building because Ophelia Parrish held fond memories for so many Truman alumni of the 1950 era.



---
Homecoming 2000 Schedule of Events
TUESDAY, OCT. 16
4 p.m.-Sand Volleyball
7 p.m.-Karaoke

WEDNESDAY, OCT. 17
4 p.m.-Flag Football
5:30 p.m.-Spades Tourney
6 p.m.-Faculty Night Out

THURSDAY, OCT. 18
3 p.m.-Trivial Pursuit
4:30 p.m.- Scavenger Hunt


7:30 p.m.-Skit Competition
9:30 p.m.-Memorial Service
FRIDAY, OCT. 20
Noon-Bulldog Classic Golf Tournament
2 p.m.-Multicultural Affairs Open House
3 p.m.-Ultimate Frisbee
6:30 p.m.-Lip Sync Competition
8 p.m.-Coronation
8:30 p.m.-Ebony Essence Formal Ball
9 p.m.-Pep Rally
9 p.m.-Recognition of Alphonso Jackson
9 p.m.-Video Dance Party
SATURDAY, OCT. 21
8 a.m.-5K Run
9 a.m.-Parade
11 a.m.-Tailgate and Chili Fest
10:30 a.m.-noon-Class Reunion Luncheons
noon - Women's soccer
1 p.m.-Rec. Center Plaque Dedication
1:30 p.m.-Pre-game activities
2 p.m.-Football game
2 p.m.-Men's soccer
4:30 p.m.-All Alumni Mixer, band at 7 p.m.
5:30 p.m.-Step Show
7 p.m.-Debate
8 p.m.-Comedian
11 p.m.-Video Dance Party
11 p.m.-NPHC dance

---
United Way Faculty and Staff Leaders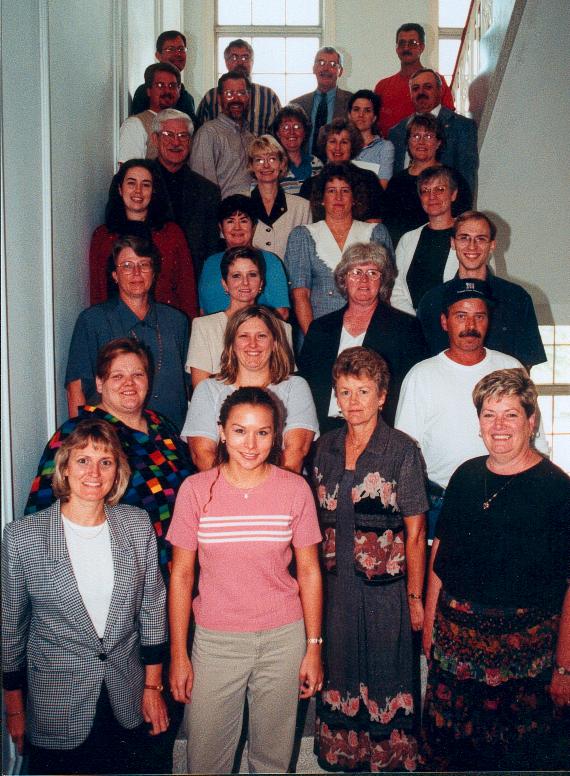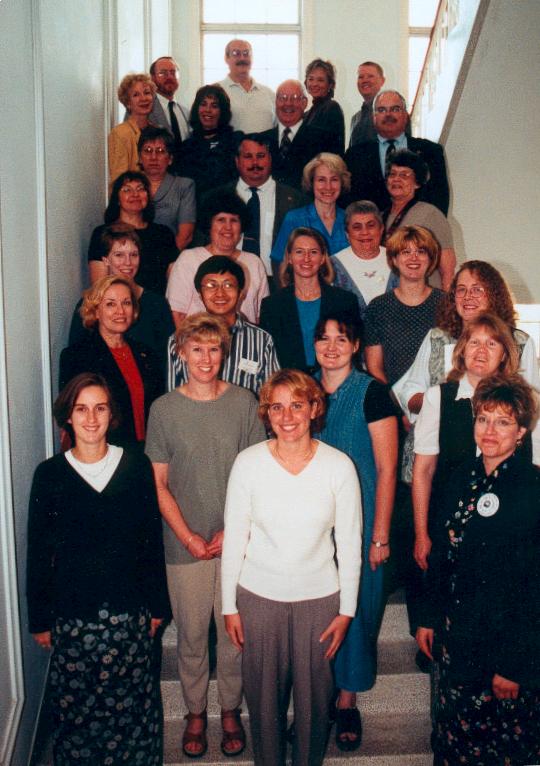 Truman's United Way campaign has now reached 43 percent of its $46,000 goal. Several em-ployees and retirees have taken advantage of the opportunity to pledge a minimum of $104, allowing them to participate in a drawing for a trip to Disney World. Truman students are also contributing to the drive and will be featured next week. Faculty/staff group leaders who were able to attend the fund drive kickoff luncheon are pictured above. In photo left are Linda Gordon, Christa Rutledge, Jane Story, Judy Howerton, Teresa Barnes, Kathryn Brammall, Tim Maize, Laurie Turner, Julie Treasure, Peggy Clark, Brian Flowers, Kristin Sollars, Barbara Heard, Theresa Lancaster, Gerry Shoop, David Nichols, Vonnie Nichols, Lisa Sprague, Barb Espe, Dennis Markeson, Peter Kelly, Jeff Gall, Pam Gardner, Devon Mills, George Shinn, Dana Delaware, Jim Tichenor and Bob Kelsey. Photo right includes Liz Hopkins-Jorn, Vickie Burke, Dana Roark, Pam Reich, Stacy Tucker, Debbie McCormick, Marianna Giovannini, Xiaotian Chen, Meredith McCannon, Sarah Mohler, Jennifer Matteson, Sue Neely, Marilyn Gibbons, Barb Newcomer, Diane Moore, Paula Presley, Marge Mullins, David Hoffman, Ruth Bradshaw, Pat Shaw, Jack Magruder, Glen Giboney, Randy Smith, Ian Lindevald, Traci Hill and Chad Tatro.
---
Hwang Selected as 2000-01 Gates Scholar
Jennifer Hwang, a junior biology major from St. Louis, Mo., has been selected as a Gates Millennium Scholar for the 2000-2001 academic year.
Hwang, a native of Maryland Heights, Mo., was selected as one of 4,000 students to receive this award from more than 62,000 individuals who were nominated.
Hwang had to obtain at least a 3.3 GPA at Truman, enroll as a full-time student in an accredited four year program, demonstrate leadership skills and community involvement and show significant financial need in order to be nominated for this award. At Truman, Hwang is currently a member of Phi Sigma Pi, a national honor fraternity.
Beginning this fall, Hwang will receive funds for the cost of tuition, fees, books not covered by grants and scholarships already committed as part of her financial package. The Gates Millennium Scholar program's goal is to provide financial assistance to outstanding low-income African-American, Native American, Hispanic American and Asian-Pacific American students, eliminating the need for outside student loans.
The new 20-year, $1 billion Gates Millennium Scholar program is expected to help more than 20,000 minority students attend college. The program was created through a grant of private money from the Bill and Melinda Gates Foundation and is administered by the United Negro College Fund in partnership with the Hispanic Scholarship Fund, American Indian College Fund and the Organization of Chinese Americans.
---
Shuttle Schedule
Need a ride to the Train Station for Thanksgiving or Christmas Break?

The Department of Public Safety will be
providing a shuttle
service to the LaPlata train station.


Meet at the McClain Circle Drive
for the following
departures:
November 20, 9 a.m.
November 21, 9 a.m.
December 12, 9 a.m.
December 13, 9 a.m.


The bus will pick up at the LaPlata train station and return to the McClain Hall
Circle Drive on
November 26, 2000,
8:30 p.m.
January 7, 2001,
8:30 p.m.


A $5.00 fee is required to hold a reservation. The fee may be paid at the Department of Public Safety building
and may be refunded
if cancelled
2 weeks prior
to departure.

Reservations must be made 2 weeks
prior to departure.

Call the Department of Public Safety at 785.4177.
---
Debate Watch 2000
DebateWatch 2000 is a voter education program sponsored by the Commission on Presidential Debates and funded by the Henry Ford Foundation.
Truman State University's forensic team, Pi Kappa Delta and students in Kevin Minch's contemporary rhetoric class are the facilitators for Debate Watch 2000 at Truman.
Call Minch at 785.5677 for more details about DebateWatch 2000.
---
Nursing Dean to Address Students
Merline Posecion, dean of the School of Nursing at West Visayas State University, Iloilo City, Philippines, is the distinguished speaker for the nursing program at Truman State University this fall. Posecion will present "Herbal Medicine," based on extensive research by the Traditional Medicine Unit of the Philippine Department of Health at 7:30 p.m., Oct. 26, in Magruder Hall 0011. West Visayas State University nursing program has hosted nursing students from Truman for three summers for transcultural nursing experiences in the Philippines.
The Traditional Medicine Unit of the Philippines Department of Health, through ethnographic work with spiritual healers, identified approximately 80 herbal remedies used for different illnesses.
From these remedies, 10 herbal remedies were selected according to safety, efficacy and practicality. A program for community medicinal herb gardens was developed and has been implemented in baranggays (neighborhoods) throughout the Philippines with the support of many community health nurses.
Posecion's presentation will cover the national and local efforts that contributed to the development of this program. The public is invited to attend. A reception will be held after her lecture.

BACK TO THE TOP
---
Social Science Division to Host Speaker
Gus Palmer, Jr., Kiowa language instructor at the University of Oklahoma, will visit Truman Oct.19-20 and speak on Kiowa folklore and oral tradition.
His agenda will include speaking to professor of anthropology Michael Davis' classes. He will show his film, Mina, and discuss it at 4:30 p.m., Oct. 19, in Violette 1146. At 8 p.m., Oct. 19, in McClain 210 he will present "Ceremony in Miniature: Kiowa Oral Storytelling and Narrative Event."
Palmer will present "Native North American Languages in the Year 2000" at 1:30 p.m. and again at 3:30 p.m., Oct. 20, in McClain 208. The presentations are extended to all members of the university community.
Palmer currently is teaching three courses in the Kiowa language and will receive his doctoral degree in anthropological linguistics and English in December.
He is an award-winning author and screenwriter, for his fictional work, Calling Through the Creek, and for his film, Mina. Palmer also serves as a training associate and American Indian educator resource consultant for the University of Oklahoma and school districts with high numbers of American Indians within the student body.
For more information about the presentations, contact Davis at 785.4652 or at mgdavis@truman.edu.
---
Notables
Sue Barrow, associate professor of nursing, attended the International Conference for Human Caring in Boca Raton, Fla. where she presented her paper, "Transpersonal Caring in the BSN Curriculum."
Warren Gooch, associate professor of music, will be a guest composer at the 21st Annual New Music and Art Festival, sponsor by the Mid American Center for Contemporary Music at Bowling Green State University. The festival, which takes place on Oct. 26-28, will feature lectures and concerts relating to contemporary music and art. Gooch's musical work, The Stones Speak of Eternity, will be performed by the Bowling Green Wind Ensemble at the final concert of the festival.
An Index column entitled "Religious Paranoia Harms Nation" by Andrea Hein, senior communication major from Lock-port, Ill., will be published in America Now.
Brenda Higgins, assistant professor of nursing, attended the International Conference for Human Cloning where she presented her paper "Development of Nursing Students' Appreciation of the Lived Human Experience."
Joshua Luetkemeyer, junior music major from Jefferson City, was awarded second place in the Missouri Music Teachers Asso-ciation collegiate composition competition. Luetkemeyer's winning piece, Montar, is scored for French horn and piano.
Michelle Wray, senior accounting major from Savannah, Mo., was named outstand-ing contributor at the Thomas J. Burns National Student Seminar, sponsored by Beta Alpha Psi, the national honors fraternity for financial professionals.
The Truman State University chapter of Eta Sigma Gamma has been awarded the Chapter of the Year award by Eta Sigma Gamma national professional health science honorary. This is the fourth consecutive year that Truman's health science honorary has received the national honor.
Eight students representing the Truman State University forensics team topped a field of 17 colleges and universities to win the overall sweepstakes championship at the Kansas State-Hastings College Swing. In addition to the overall championship, Truman captured 31 more individual honors including eight additional qualifications for the National Forensic Association national tournament.




---
Notes
An information session for The Art of Power, a three-week, six-credit course from July 10-August 1, 2001, will be held at 7:30 p.m., Oct. 17, in Baldwin Hall 318. A second session, sponsored by the Missouri Hall Residential College Program (open to everyone), will be held at 7 p.m., Oct. 22, in Missouri Hall 365.

The Office of Advancement invites staff and faculty to stop by McClain Hall 100 from 9 a.m.-4 p.m., Oct. 18, for free cookies. Pick up a free Homecoming button and an updated Homecoming schedule. Home-coming shirts will be available for purchase.

The Faculty Development Weekly Wednesday Lunch Series will discuss "Benefits of a Peer Review Process" from 12:30-1:25 p.m., Oct. 18, in the SUB Spanish Room. Featured speakers are Neil Gilchrist, strategic management and business policy, and Jeff Romine, accounting.

A McNair Program informational meeting will be held at 4 p.m., Oct. 18, in SUB Room 6. For more information, contact Teresa York at 785.5407.

The annual Homecoming memorial service will be at 9:30 p.m., Oct. 19, at the Kirk Memorial. Everyone is welcome.

The Truman string orchestra, under the direction of Sam McClure, will perform a concert of works from the 17th-19th Century at 8 p.m., Oct. 26, at the First Presbyterian Church, 201 South High Str.

Registration for the College Bowl Tournament is taking place at the CAOC for the Nov. 7-8 tournament. Both individuals and teams are encouraged to sign up as compe-tition begins at Truman to select the varsity team. The deadline for applications is
5 p.m., Nov. 1.

Student Council for Exceptional Students will be hosting Bowl for the Gold from 1-4:30 p.m., Oct. 28, at Leisure World.
A percussion ensemble concert will be held at 3 p.m., Nov. 12, in Baldwin Hall Auditorium.

The Residential College Program will host a University forum at 4 p.m., Oct. 25, in Missouri Hall 365. The topic of discussion is,"Should Truman Adopt a Plus/Minus Grading System?"

The Fall 2000 Career Expo, sponsored by the University Career Center, will be from 1-5 p.m., Oct. 23, in the SUB. It is free to all students in all majors. "Make an impact" is the Expo's theme. Students are invited to come to the Career Center to sharpen their skills and network with employers. Check out the website for additional information and a list of employers coming to the Expo at www2.truman.edu/career/ExpoHelp.
html.

The Students Activities Board will host MTV Campus Invasion on October 28, with events beginning around noon.
---
On Campus
17 Tuesday
7:30 p.m.-Art of Power information session, Baldwin Hall 318; see Notes.
8 p.m.-Truman Orchestra Concert, Baldwin Hall

18 Wednesday
9 a.m.-Advancement Homecoming reception for faculty and staff until 4 p.m., McClain Hall 100; see Notes.
12:30 p.m.-Faculty Develop-ment Weekly Wednesday Lunch Series, SUB Spanish Room; see Notes.
4 p.m.-McNair Program informational meeting, SUB Room 6; see Notes.
7 p.m.-Women's volleyball vs. Central Missouri State, Pershing Arena

19 Thursday
4:30 p.m.-Film showing of Mina and discussion by Kiowa linguist and storyteller, Gus Palmer, Jr., Violette Hall 1146; see page 3.
4:45 p.m.-General Honors information reception, Violette Hall Commons
8 p.m.-Presentation by Gus Palmer, Jr., McClain Hall 210, see page 3.
8 p.m.-Brass Choir Concert, First Presbyterian Church

20 Friday
1:30 and 3:30 p.m.-Presentation by Gus Palmer, Jr.; see page 3.
5 p.m.-Deadline for Windfall submissions for the CD compilations, CAOC mailbox

21 Saturday
12 p.m.-Women's soccer vs. Missouri Southern, soccer field
2 p.m.-Men's soccer vs. Missouri Southern, soccer field
2 p.m.-Bulldog football, Stokes Stadium
7 p.m.-Truman forensics team vs. the British national team, Violette Hall 1000.




---
Back to "News & Events"
[ HOME · DIRECTORIES · NEWS & EVENTS · SEARCH ]
Direct questions and comments to lgordon@truman.edu.
Copyright © 1996-2003 by Truman State University, Kirksville, Missouri. All Rights Reserved.
URL http://trumantoday.truman.edu