November 14, 2000 - Vol. 5 No. 14

Jonathan Miller, Distinguished Visiting Scholar
Human Potential and Performance Division Receives Donation
Young Violinist to Perform with Orchestra
Organizations to Sponsor Cigarette Swap
French Comedy Emphasizes Family Issues
St. Louis Ballet to Perform The Nutcracker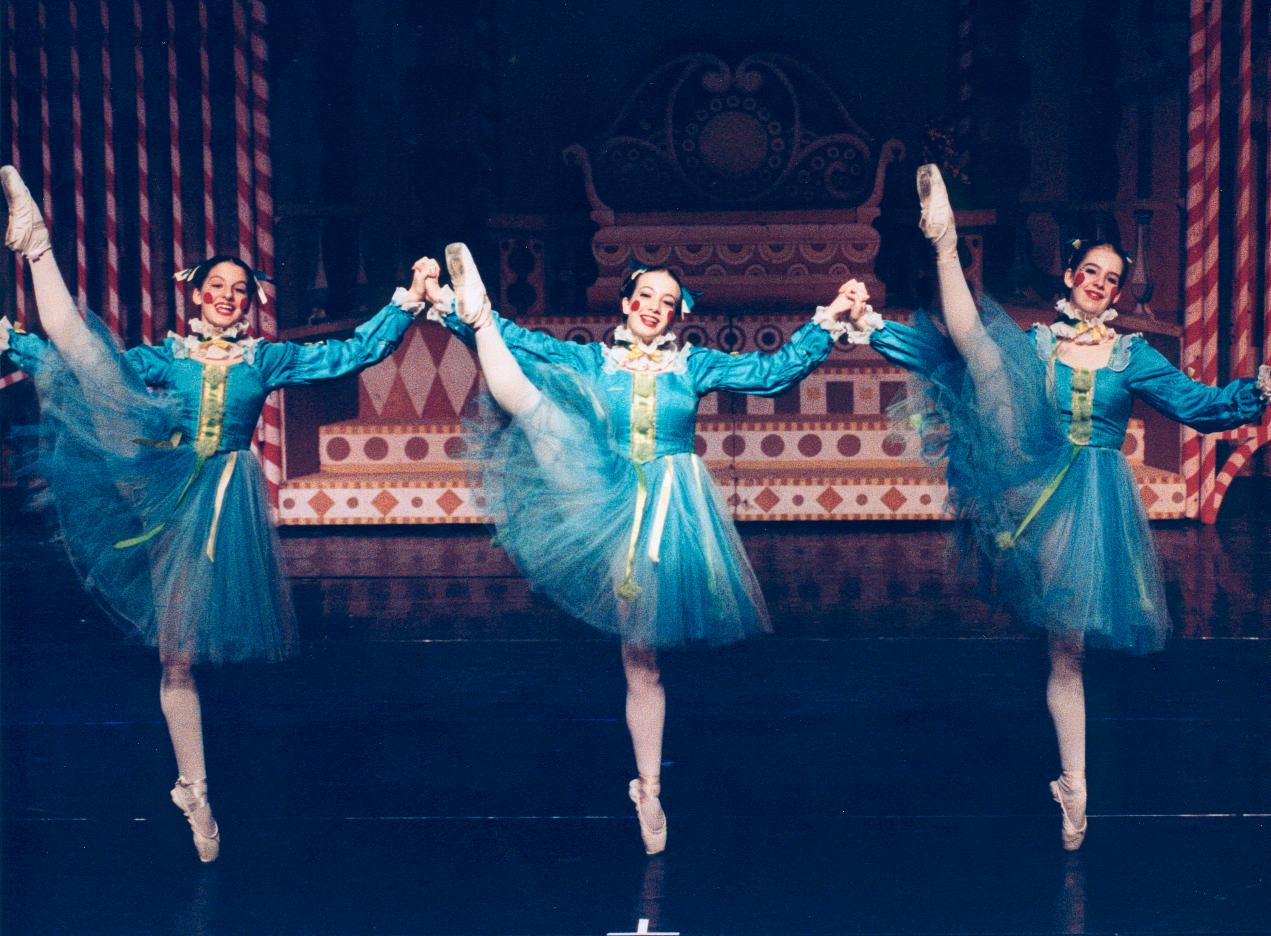 The St. Louis Ballet will perform The Nutcracker at 7:30 p.m., Nov. 26, in Baldwin Hall Auditorium as part of the 2000-2001 Kohlenberg Lyceum Series.
This enchanting classical ballet prompted the St. Louis Post Dispatch to write "Saint Louis Ballet's production of The Nutcracker exemplifies why dance fans can see this work performed year after year and still find endless delights."
This season's show is sponsored by Adair Foods and features local students who will participate in the children's chorus and new costumes and sets designed by Tony Award-winning designer Oliver Smith.
The Nutcracker tells the tale of a young girl, Clara, and the nutcracker she received as a gift. While Clara is fast asleep on Christmas Eve, a magic spell begins. Giant mice appear, the Christmas tree grows, and the toys (including the nutcracker) come to life. The nutcracker and the mice fight a battle and, with the help of Clara, the nutcracker wins and turns into a handsome prince.
Clara and the nutcracker prince then meet Christmas angels and the Sugar Plum Fairy at the Kingdom of Sweets. They are honored with a performance by the sweets and flowers of the court. Finally, the entire court joins in the final tribute to Clara.
This year the St. Louis Ballet is celebrating their 20th anniversary presentation of The Nutcracker. The Ballet was originally founded as the Missouri Concert Ballet in 1972 and has gained international recognition for its unusual and exciting repertoire.
"Saint Louis Ballet now boasts an international roster that includes not only St. Louis natives who have trained in the company, but also recent immigrants from Russia, who formerly performed with the Bolshoi and Kirov companies,as well as dancers from Brazil, Europe and China. Their clear and intense technique and the beauty of the company's sets, costumes, and lights likewise perpetuate its directors' theatrical legacy, "stated an article from Dance magazine on the Ballet's website.
Free tickets for The Nutcracker will be available to Truman students, faculty and staff on Nov. 15 in the SAB Office, Student Union, lower level. Due to Thanksgiving break, students, faculty and staff are encouraged to get their tickets by Nov. 21.
---
Distinguished Visiting Scholar
Jonathan Miller
Nov. 14
11:30 a.m.
Public Colloquium
"The Theatre as
a Profession"
Violette Hall 1000


Nov. 17
1:30 p.m.
Public Lecture
"The After Life of Plays"
Violette Hall 1000


For more information
call 785.4016.



---
Human Potential and Performance Division Receives Donation from Allegiance

Truman's Human Potential and Performance Division recently received a large donation from Allegiance, a division of Cardinal Health, Inc. and one of the nation's largest medical supply companies, according to Cornelis Koutstaal, Division head.
The donation consists of 100 Emergency Relief (ER) systems that students and faculty can take with them on their study abroad projects to use in providing relief to underdeveloped nations.
Gretchen Cornell, professor of nursing, and Kit Hadwiger, assistant professor of nursing, along with some of their nursing students will be taking the ER systems when they travel to the Philippines. Constance Ayers, associate professor and director of nursing, and another group of nursing students will use the ER systems on their trip to Mozambique. Thomas Linares, associate professor of communication disorders, is preparing a medical mission trip to Central America where he too will be using the ER system.
Koutstaal feels these Emergency Relief systems will prove invaluable to the relief efforts in distant parts of the world.
The ER systems contain eleven components that provide first aid for different medical emergencies including respiratory ailments, CPR, bleeding, shock, head injuries, fractures, eye injuries, burns, bites, stings and poisoning. The system also includes an instructional video and guide book.








---
Young Violinist to Perform with Orchestra
The Truman State University Symphony Orchestra, under the direction of Sam McClure, will perform with guest artist, Giora Schmidt at 8 p.m., Nov. 18, in Baldwin Hall Auditorium.
Schmidt was born in Philadelphia in 1983 and began his violin studies at the age of four. He is currently studying with Itzhak Perlman and Dorothy Delay at the Julliard School in New York, having studied previously with Geoffrey Michaels for three years in Philadelphia and Patty Kopec at the Manhattan School of Music between 1996-1998.
Schmidt performed as a soloist with the Philadelphia Orchestra in March of this year as the first prize winner of the Philadelphia Orchestra Albert Greenfield Competition. In January 1999 he appeared as soloist with Itzhak Perlman and Pinchas Zukerman with the Israel Philharmonic at Carnegie Hall and appeared with them again in October 1999 as soloist at the season opening concert of the Ottawa National Arts Center in Canada. He performed in the Ilona Feher Music Center Program with Zukerman in Israel in 1996, and for the past five summers has taken part in the East Hampton/Perlman Music Program. He has also won the solo and chamber division of the Tri-County Competition in Pennsylvania and the William Loeb Performing Arts Scholarship, given by the Philadelphia Foundation.
A strong chamber musician, Schmidt has studied and performed at the prestigious Kneisel Hall Chamber Music Festival in Blue Hill, Maine, the Sarasota Chamber Music Festival in Florida and with Perlman in Weill Hall, the Museum of Modern Art in New York and at the estate of Lorin Maazel in Virginia. He is a recipient of the James Ma Award at the Manhattan School of Music and the Phi Mu Alpha Outstanding Music Award.
The concert is free and open to the public. Selections include Beethoven's Prometheus Overture and the "Prelude & Liebestod" from Wagner's famous opera, Tristan and Isolde.

BACK TO THE TOP
---
Organizations to Sponsor Cigarette Swap
Organizations from Truman State University will participate in the Great American Smokeout. A "cigarette swap" will be held from 10:30 a.m. until 2 p.m., Nov. 16, outside Main Street Market in the Student Union Building.
The swap is being held to encourage smokers to quit "cold turkey." A smoker may turn in his/her cigarettes (minimum of ten) and receive a coupon for a free six-inch turkey sandwich from Blimpie's, located in the Main Street Market. Along with the coupon, smokers will receive Lifesavers to help fight off cravings, as well as information on the dangers of tobacco and the benefits of quitting.
All Truman students, faculty and staff may participate. Many campus and local organizations including Bacchus & Gamma, Eta Sigma Gamma, Student Health Center, Human Resources, Sodexho and Northeast Missouri Smoke Free/Breathe Easy sponsor the Great American Smokeout at Truman.
---
French Comedy Emphasizes Family Issues
La Compagnie des Missourables will present this semester's French theatre project, Jacques ou la Soumission (Jack or the Submission), at 8 p.m., Nov. 15 and 17, in the SUB Down Under. There is no admission for the performances.
Pat Lobert, associate professor of French, directs the play and has organized a French production each semester for the last several years. "Our shows range from the modern to the traditional; we have performed works by such playwrights as Molière, Feydeau, Labiche, Girandoux and Oyono-Mbia. This is the fourteenth production since I have been here," Lobert said.
The play is an Ionesco piece which uses a 1950s absurdist theme that focuses upon the institutions of marriage and family. Lobert says it is a post-war era comedy to which his students have added a modern tone. The play incorporates a surreal aura into the conformity to which some families succumb, thus exhibiting a sense of alienation within the family setting.
Thirteen students, including one student from France, are involved in the production which will also be performed at the University of Missouri-Columbia on Nov. 16. Costumes are provided by the University costume shop, which assists the group in minimizing costs.
The group performed in St. Louis in 1999 and at the University of Missouri-Columbia last spring. According to Lobert both performances were well-received.
"Overall, the students have fun with the shows and the opportunity to perform allows them to better develop their French language skills. Being on stage gives them a certain confidence so we would like to be able to travel more," Lobert commented.
---
Multicultural Affairs Hosts Speaker
The Multicultural Affairs Center will present Lawrence C. Ross, author of The Divine Nine: The History of African American Fraternities and Sororities at 5:30 p.m., Nov. 29, in the SUB Activities Room.
Ross captures the tremendous legacy of the nine National Pan-Hellenic Organizations in The Divine Nine. Both his book and his presentation stress a stronger appreciation for all NPHC organizations, not just the organization to which one belongs. He presents the whole realm of historically Black Greek Letter Organizations (BGLO) through a discussion of basic history, programs and interviews.
The interviews consist of collegiate and graduate/alumni chapters describing their projects, social events and the sisterhood/brotherhood bond.
Ross' book, which will be available at the University Bookstore prior to his visit, contains a brief history of all the NPHC organizations, hymn lyrics, interviews and profiles of famous members. There is a section with personal accounts of BGLO members from all walks of life. The final section of the book also contains membership information and poems.
His presentation will last approximately 45 minutes. Immediately following the presentation, Ross will be available for 30 minutes to answer questions and sign books.




---
Notables
Jim Barnes, writer-in-residence and professor of comparative literature, had his poem entitled "Directions," from his recent book Paris, aired on Garrison Keller's The Writer's Almanac on Oct. 21

The Commission on Accreditation of Allied Health Education Programs (CAAHEP) has accredited Truman's health and exercise sciences athletic training program. Currently, Truman is one of only four CAAHEP accredited athletic training programs in Missouri.

Special thanks to Patricia Burton, Lana Dowell, Liz Hopkins-Jorn, Dana Roark, Shannon Westermeier, Cardinal Key, Public Safety Student Auxiliary, Society of the Prim Roses and Sodexho-Marriott for their participation in Pedestrian Safety Awareness Day on Oct. 31.

Holly Hansen, junior political science major from Mason City, Iowa and Matthew Franker, senior political science major from Olathe, Kan., presented "Political Parties as Nationalizing Forces: The Example of Post-Reunification Germany" at the International Studies Association's annual meeting of the Midwest region. In addition, Marijke Breuning, associate professor of political science, presented "Women's Represen-tation and Foreign Policy Priorities" at the regional meeting and she was also selected president-elect and program chair for the 2001 meeting.

Cross country coach John Cochrane, women's cross country, were honored as MIAA Cross Country Coach of the Year winner.

The Truman State University forensics team participated in South Dakota State University's "Jackrabbit Joust," the largest invitational tournament of the season Nov. 2-5. Truman placed fourth overall and took first in both Lincoln-Douglas debate and extemporaneous speaking.

Geoff Jensen, a junior exercise science major from Grinnell, Iowa, caught a 93- yard touchdown pass from Eric Howe, a junior justice systems major from West Des Moines, Iowa, for the longest pass touchdown in Truman history during the third quarter of the Nov. 4 football game against Washburn University.

The men of Phi Kappa Tau at Truman State University were recently honored for donating $3,000 to the Hole in the Wall Gang Camps. Every dollar helps hundreds of children who ordinarily would not have the opportunity to go to summer camp.

Antonio Scuderi, assistant professor of Italian, and Joseph Farrell of Strathclyde University of Glasgow, Scotland, edited a book entitled Dario Fo: Stage, Text and Tradition, which was just released by Southern Illinois University Press.

BACK TO THE TOP
---
Notes
Advent calendars from Germany will be on sale from 9 a.m. until 3 p.m., until Nov. 16, in McClain Hall. The calendars have colorful, seasonal scenes and are filled with chocolate. Cost is $3 and most proceeds go to the German Club scholarship fund.

Students interested in receiving K-12 certification to teach foreign languages may attend an informational meeting conducted by Timothy Farley, associate professor of French, at 7 p.m., Nov. 14, in Violette Hall 1412.

The Women of Distinction dessert reception will be held at 7:30 p.m., Nov. 14, in the SUB Georgian Room.

The Faculty Development Weekly Wednesday Lunch Series will discuss "Introducing Interdisciplinary: An Article for Students in JINS 325, 01, Rural America" at 12:30 p.m., Nov. 15 in the SUB Spanish Room. The featured speaker is Michael Seipel, agricultural science.

A Safe Zone Workshop for Truman faculty, "Making Classrooms More Inclusive" will be held at 1 p.m., Nov. 15, in the Faculty Development Room in Pickler Memorial Library. Please RSVP to Faculty Development, 785.4391.

German Coffee Hour will meet at 4 p.m., Nov. 15, in the Centennial second floor north lounge. The discussion theme will be "German Reaction to the U.S. Presidential Election."

The Residential College Program will welcome Drs. Rosephanye and William Powell at 7:30 p.m., Nov. 15, in the Ryle Hall Main Lounge. The couple will discuss Ebony Trilogy, in the context of diverse musical traditions and the social significance of music.

Nancy Sublette, executive director of the MSU Consortium, will explain benefit improvements and rate changes, at 11 a.m. and noon, Nov. 16, in the SUB Governors' Room. Please review the Consortium materials prior to the lecture.

Flu shots will be administered to students, faculty and staff from 1-4 p.m., Nov. 16, at the Student Health Center.

The classics discipline will host a reading from Homer at 7:30 p.m., Nov. 16, in the Ryle Hall Main Lounge. This event will be a public recitation of the poetry of the ancient Greek poet, Homer.

Ekklesia will meet at 11:30 a.m., Nov. 17, in the SUB Spanish Room. Brad Maxwell will present "The Case for and the Blessing of A Cappella Music in New Testament Worship." Discussion and pizza buffet are included.

A benefit for Jane Apter, wife of Charlie Apter, assistant professor of agriculture, will be held at 5 p.m., Nov. 18, at Knox County High School. The evening will kick off with a soup supper and a variety show will be performed at 7 p.m. Proceeds will assist with Jane's medical expenses.

The student-created film Dumping Jenny will premiere at 8 p.m., Nov. 18, in Violette Hall 1000.

The Truman Today will not be published next week, Nov. 21, due to Thanksgiving break. The next issue will be published on Nov. 28.

The Social Science Faculty Research Seminar continues with Wolfgang Hoeschele's presentation of "The Wealth of Nations at the Turn of the Millennium: A Classification System Based on the International Division of Labor" at 3:30 p.m., Nov. 27, in SUB Room 4.

The Residential College Program will host a University forum discussing "What are the University Forum Topics for Next Semester?" at 4 p.m., Nov. 29, in Missouri Hall 365.
---
On Campus
14 Tuesday
9 a.m.-Advent calendars on sale, McClain Hall; see Notes.
7:30 p.m.-Vienna Choir Boys, Baldwin Hall Auditorium; see p. 1.
7:30 p.m.-Women of Distinction dessert reception, SUB Georgian Room; see Notes.

15 Wednesday
9 a.m.-Advent calendars on sale, McClain Hall; see Notes.
12:3 0 p.m.-Faculty Development Lunch Series, SUB Spanish Room; see Notes.
4 p.m.-German Coffee Hour, Centennial second floor north lounge
7:30 p.m.-RCP presents speakers, Ryle Main Lounge; see Notes.

16 Thursday
Great American Smokeout
9 a.m.-Advent calendars on sale, McClain Hall; see Notes.
11 a.m. & noon-Consortium presentation, SUB Governors' Room; see Notes.
1-4 p.m.-Flu shots for students , faculty and staff, Student Health Center; see Notes.
7:30 p.m.- Reading of Homer, Ryle Hall Main Lounge; see Notes.

17 Friday
11:30 a.m.-Ekklesia TGIF Devotional, SUB Spanish Room; see Notes.

18 Saturday
5 p.m.-Benefit for Jane Apter, Knox County High School; see Notes.
8 p.m.-Premiere of film Dumping Jenny, Violette Hall 1000; see Notes.
---
Back to "News & Events"
[ HOME · DIRECTORIES · NEWS & EVENTS · SEARCH ]
Direct questions and comments to lgordon@truman.edu.
Copyright © 1996-2003 by Truman State University, Kirksville, Missouri. All Rights Reserved.
URL http://trumntoday.truman.edu