March 27, 2001 - Vol. 5 No. 28

New Board of Governors Members
Distinguished Visiting Scholar
Undergraduate Reasearch Confernence
Women's Swim Team Makes Truman History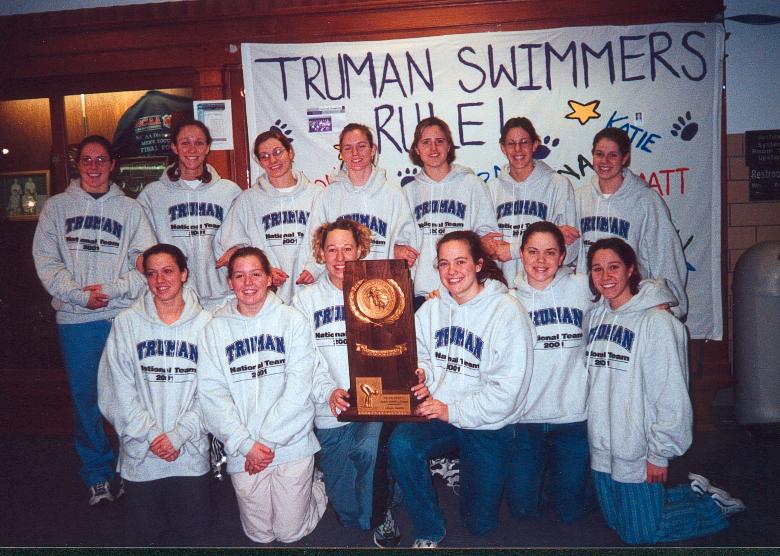 The 2001 NCAA Division II women's swim team champions are (front row, from left to right) Liz Hug, Alison Blyth, Christie Williamsen, Krista Pray, Katie May, Jess Martin (back row, from left to right) Jen Vogt, Bryna Busch, Andrea Newton, Meghan Osborn, Sara Hatcher, Bridget Riley, Kelli Dudley.
The women's swimming and diving team members brought home the 2001 Division II title, marking the first time in Truman's history a team has won a Division II national championship.
Women's swim team coach Seth Huston was awarded National Coach of the Year and Jess Martin, senior from Buckingham, Iowa, was named National Swimmer of the Year. The team competed for four days in the 1650 yard freestyle, 100 yard freestyle, 200 yard backstroke, 200 yard breaststroke and 400 yard freestyle against some of the nation's best swimmers. They outscored the Drury team by 45.5 points to win the title.
---
Holden Appoints New Board Members
Governor Bob Holden has appointed two new members to the Truman State University Board of Governors, Sarah B. Burkemper, of Troy, Mo., and Michael T. Schwend, of Kirksville, Mo.
Burkemper, a Truman alumna, is the public administrator of Lincoln County and a CPA with a firm in Troy. She received her bachelor's degrees in economics and business administration-finance from Truman as well as her master's degree in accounting. She also has a master's degree in international affairs from Washington University in St. Louis.
Schwend, a Truman alumnus, is CEO of Preferred Family Healthcare, Inc., of Kirksville and serves as Peer Review Specialist for the Texas Commission on Alcohol and Drug Abuse. He received his bachelor's degree in social science-psychology and his master's degree in counseling and guidance from Truman. He also has a master's degree in business administration from William Woods University in Fulton.
Upon approval by the Senate Guber-natorial Committee, Burkemper and Schwend will succeed Maria Evans and James Reinhard whose terms have expired.



---

Meave Leakey
head of the Division of Paleontology at the National Museums of Kenya
April 2
Public Lecture
"The Search and Discovery of Our Earliest Ancestors"
7:30 p.m.
Violette Hall 1000
Reception
8:30 p.m.
Violette Hall Lounge
April 3
Faculty Development Luncheon
"Conversation with Meave Leakey"
11:45 a.m. - 1 p.m.
SUB Alumni Room
Public Lecture
"My Life in Science"
1:30 -2:45 p.m.
Violette Hall 1000


---
Noted Journalist Helen Thomas to Speak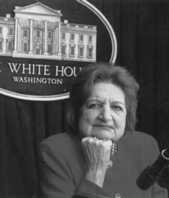 Helen Thomas, former White House correspondent for United Press International, will be the next featured guest presenter at the 2000-01 Kohlen-berg Lyceum Series. Her lecture will begin at 8 p.m., April 7, in Baldwin Audi-torium and will focus on her experiences.
Thomas made her start in journalism as a copy girl for the former Washington Daily News. For twelve years she wrote radio news for UPI, covering news of the federal government. Thomas reported White House news from 1961 through 2000, covering eight U. S. presidents.
Since the Kennedy administration Thomas has gained her reputation as the strong willed journalist who asked the first question at the presidential press conferences and ended them by saying "Thank you, Mr. President."
Thomas has served as president of the Women's National Press Club and later as the first member of the National Press Club (merging the two clubs together). She was the first woman officer of the White House Correspondents' Association and its first woman president.
Dubbed the dean of the White House press corps, Thomas has become an icon of political journalism. She has even made a debut in the film "The American President," where she played herself. Her memoirs of what she experienced "backstairs at the White House" have been published in a novel titled Front Row at the White House.
Tickets for Thomas' lecture will be available beginning March 30. Free tickets for students, faculty and staff may be picked up at the SAB office and the CAOC in the SUB. General admission tickets are available to the public at Truman's Business Office and the Edna Campbell Book Store in downtown Kirksville. Adult tickets are $7 and tickets for children 12 and under are $4 each.
The final Kohlenberg Lyceum Series event this year will be held on April 18.



---
International Week 2001
April 2 - 7
GlobalReflections
April 2
3:10 p.m., Annual Parade of Flags, through campus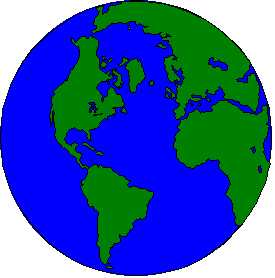 4 - 6 p.m., International Student Office Open House,
Kirk 120
April 3
7 - 8:30 p.m., African Village display, Study Abroad
Information Fair and Panel Discussion & The International
Fashion Parade, Ryle Main Lounge
April 4
7 - 10 p.m., International Coffee House at Java Co.
April 5
6 p.m. - 12 a.m., Movie Night in Centennial Main Lounge
April 6
6 p.m., Lecture by Dr. Robert Pringle of the Patterson School for Diplomacy and
International Commerce, Violette Hall 1000
7:30 p.m. Mexican Mariachi Band "Del Alma," SUB Activities Room
April 7
1 - 3 p.m., Show Me Units, an MAE and International Student Office collaboration,
Centennial Main Lounge
3 - 5 p.m., Cricket Workshop at the Student Recreation Center
For more information contact Melanee Crist, 785-4215 or mcrist@truman.edu.
International Week is sponsored by the International Club, FAC, International Student Office, Residential College Program, Master of Arts in Education Study Abroad Office,
Sigma Delta Pi and Multicultural Affairs.







---
Truman State University
presents the
Undergraduate Research Conference
9 am. until 5 p.m., March 29
SUB, Violette & Baldwin Hall
A schedule of all sessions and a brochure of the research abstracts will be available at the Conference and
on the Academics section of the Truman website. It can be downloaded from www.truman.edu/ugrs/schedule_2001.pdf.
Day classes not in session.
Evening classes will meet.
---
The French faculty & students of French
present
L'Avare
by Molière

Directed by
Patrick Lobert
8 p.m.
April 5 & 6
SUB DownUnder
---
Discoverer of New Human Genus to Visit Truman
Dr. Meave Leakey, head of the Division of Paleontology at the National Museums of Kenya, will visit Truman's campus April 2-3 as part of the Distin-guished Visiting Scholar Series. She is the fourth and final Scholar for the current academic year.
Leakey led a team of paleontologists in the 1999 discovery of a new genus of pre-humans that inhabited the earth more than 3 million years ago. According to the National Museums of Kenya website, the discovery has raised questions about the origins of our species. These new findings are further described in the March 22, 2001 issue of Nature magazine.
Leakey has made a name for herself over the last thirty-plus years as a paleoanthropologist and zoologist. Her research work has been primarily centered on the fossils recovered from the Turkana Basin Research Project that is located near Koobi Fora on the eastern shore of Kenya's Lake Turkana. Her special interests include monkeys, apes, hominids (early humans) and carnivores.
Leakey's discoveries have distinguished her as one of the most visible scientists in a highly competitive and male-dominated profession and she has authored more than 50 scientific articles and books about her work.
A complete schedule of Leakey's public lectures appears on page 1 of this issue as well as in the color insert. For more information call 785.4121.



---
The Big Event
March 31
The Students of Truman State University will say "thank you"
to the Kirksville community, by providing service work throughout town.
For more information visit online at www.geocities.com/thebigevent2001
---
Upcoming Concerts

Chamber Wind Ensemble Concert
8 p.m., March 28
Baldwin Auditorium
"God is Trying to Tell You Something"
Unique Ensemble
Concert
3:30 p.m., April 1
Ryle Main Lounge
Charles Bruffy in Residence
Cantoria Workshop
7:30 p.m., April 2
Baldwin Auditorium
President's String Quartet
8 p.m., April 5
Baldwin Auditorium


---
Notables
David Gruber, professor of philosophy and executive committee member of the American Association of University Professors, will travel to the University of Southern Mississippi in Hattiesburg to meet with campus and faculty leaders from across the state to assist in developing a response to Mississippi's budget crisis and to establish a long-term AAUP presence in the state.

Stephen Hadwiger, assistant professor of nursing, presented posters entitled "Mexican Americans' Perceptions of Managing Diabetes" and "Building Language Bridges in Nursing Research," on March 15, for the Cooperative Ph.D. Program in Nursing's Third Annual Research Day at Sinclair School of Nursing, University of Missouri?Columbia.

Gregory Jones, associate professor of music, will be performing a series of concerts in Athens and Kalamata, Greece. Jones will be a featured soloist with a professional wind symphony. In addition to performing, he will be presenting master classes for music students at the Athens conservatory, the Nakas conservatory and the Conservatory of Kalamata. The visit is organized and sponsored by the music conservatories mentioned, along with the office of the Mayor of Athens and the Chinese Embassy in Greece.

Huping Ling, associate professor of history, was invited as a guest speaker on Chinese American studies by the Midwest Organization for the Recognition and Recording of Ethnic Heritage. She also spoke to the St. Louis Chinese American News Cultural Foundation. Earlier in the year, Ling was invited to the Asian Affairs Center and Multicultural Affairs Center at University of Missouri?Columbia.

Harry Kuan, a senior visual communications major from Kansas City, has designed the cover artwork for a newly released novel Head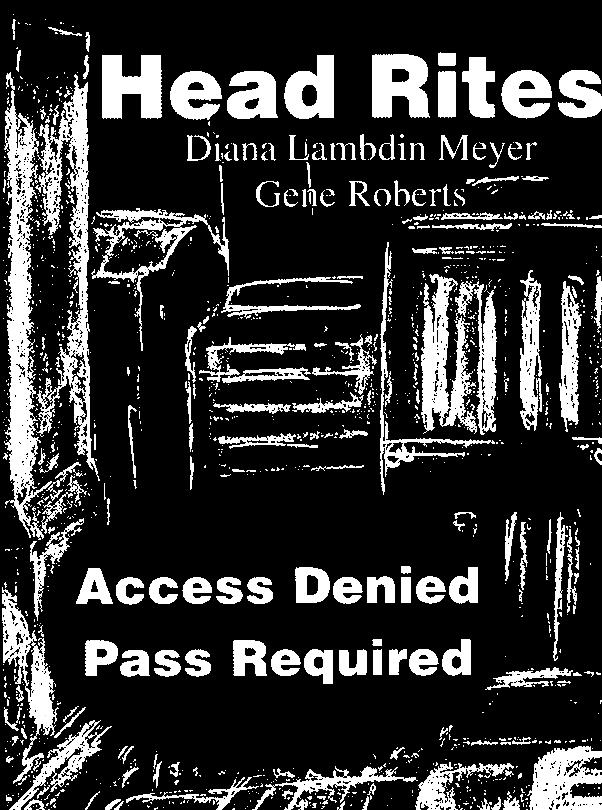 Rites by iUniverse.com, the world's leading e-publisher.
Christopher Maglio, associate professor of counseling, recently presented "Technology and Clinical Supervision: An Exploration of Current Practices and Future Trends" at the annual meeting of the American Association of State Counseling Boards in Tampa, Fla. and at the annual meeting of the American Counseling Association of Missouri in Jefferson City, Mo.
Emmanuel Nnadozie, professor of economics, was recently appointed to the executive committee of the Mid-American Alliance for African Studies.
Members of Sigma Tau Delta, the international honor society for English majors, presented their work at the national convention held in Corpus Christi, Texas, March 14-18. Sarah Dennis, senior from Chatham, Ill.; and Shawn Gilmore, senior from Wellsville, Mo.; presented on topics in literature and literary theory. Matt Webber, senior from Ferguson, Mo., read an excerpt from his new novel. Regina Cross, a graduate student from Moberly, Mo., chaired a session and plans to found a new chapter of the society when she moves on to her doctoral program next year..
---
Notes
PLEASE NOTE THE CHANGE IN LOCATION: Missouri Assistant Attorney General Paul Maguffee, will speak at 7 p.m., March 27, in the SUB Alumni Room. Maguffee's topic of discussion will be "Understanding Missouri's Open Meeting and Open Records Law." This event is sponsored by the Society of Professional Journalists.

The Faculty Development Lunch Series presents Richard Coughlin discussing "MOBIUS: Missouri's Libraries On The Move," from 12:30-1:25 p.m., March 28, in the SUB Spanish Room.

A physics colloquium will be held at 4:35 p.m., March 28, in Barnett Hall 252. Michel Grandbois, from the department of physics and astronomy at the University of Missouri?Columbia, will be lecturing on "Addressing Single Molecular Events Using the Atomic Force Microscope."

The Division of Fine Arts presents the Chamber Wind Ensemble Concert, at 8 p.m., March 28, in Baldwin Auditorium. For more information visit the University master calendar web site.

The foreign language MAE program presents "Texts and Technology: The Glencoe French and Spanish Programs," from 3:30 to 5 p.m., April 5, in the SUB Georgian Room; RSVP by March 29. "A Crash Course in Teaching Foreign Languages to Young Learners,"will be presented from 3:30 to 5 p.m., April 10, in SUB Rooms 2-3; RSVP by April 5. All RSVPs can be made by contacting Timothy Farley at 785.4059.

"Back to the Future: Contemporary vs. Traditional Worship Styles," is the focus of Ekklesia's TGIF devotional lunch and buffet at 11:30 a.m., March 30, in the SUB Spanish Room. The discussion leader is Louis Garbi, an evangelist and songwriter for Churches of Christ.

Ryle Residential Hall sponsors "J. R. R. Tolkien and Beowulf: Two Minds a Thousand Years Apart," by Dr. Thomas Shippey, from 5-6:30 p.m., March 30, in the Ryle Main Lounge. Shippey is a well-known expert of old English and science fiction/fantasy. For more information contact Christine Harker at 785.6018.

Beta Alpha Psi and the Accounting Club will be offering volunteer income tax assistance free of charge from 8 a.m. until 4 p.m., March 31 and April 7, in Violette Hall 1010. For more information contact Carrie Phillips at 627.1170.

The Truman athletic department will be hosting the Truman Open Track and Field Meet beginning at 10:30 a.m., March 31, in Stokes Stadium.

The Unique Ensemble Gospel Choir will present a concert within a play titled "God is Trying to Tell You Something" at 3:30 p.m. April 1, in the Ryle Main Lounge. The play will trace the history of spirituals to contemporary gospel music.

The public forum "Missouri Journey of Hope 2001: From Violence to Healing" will be held at 7 p.m., April 2, in the SUB Georgian Room. Family members of murdered victims will speak out about the death penalty and capital punishment. For more information call 665.9205.

The Residential College Program will host Jessica Beuge, performance artist, who will lecture on "What is Performance Art?" at 7:30 p.m., April 3, in Blanton Main Lounge. Beuge will also present her work as a performance artist at 6:30 p.m., April 4, in the SUB Activities Room. For more information contact Aaron Fine at 785.5386.

A MAE foreign languages informational meeting will be held at 7:30 p.m., April 4, in SUB Room 4. Students interested in K-12 certification for foreign languages should attend. For more information call 785.4059.

Registration for National Sorority Recruitment will be from 10 a.m.-3 p.m., April 9-13, in the SUB. For more information contact Madeline Herrmann at 665.1291.
at 785.4059.

Ryle Hall Senate will host Clip For Chemo, from 12-7 p.m., April 22, in the Ryle Main Lounge. Clips For Chemo is raising money for Locks of Love, an organization that makes wigs for children in chemotherapy. Professional hairdressers will donate their time to give haircuts for $5. Hair cuts that are ten inches or longer may be donated to Locks of Love to be made into wigs. Those who donate their hair will get their haircuts for free. For more details call 785.5828.

Applications are now being accepted for the Institute on Diversity, Teaching and Learning to be held from May 14-18, in the Governors' Room. Interested applicants should write a letter to the attention of Vice President Garry Gordon, c/o Faculty Development, and describe expectations as a learner, teacher and advisor from participation in the Institute. Deadline for applications is April 3. For more information contact Shirley Morahan at 785.4477 or smorahan@truman.edu.



---
On Campus

---

27 Tuesday
1 p.m.-Softball vs Southwest Baptist University
7 p.m.-Mo. Assistant Attorney General lecture, Alumni Room; see Notes

28 Wednesday
12:30 p.m.-Faculty Development Lunch Series, Spanish Room; see Notes
4:35 p.m.-Physics colloquium, Barnett Hall 252; see Notes
8 p.m.-Chamber Wind Ensemble Concert, Baldwin Auditorium; see Notes

29 Thursday
9 a.m.-Undergraduate Research Symposium, SUB, Violette & Baldwin; see p. 22 Friday
6:30 p.m. - Nyasha Nyam-apfenes lecture, Violette Hall 1010; see p. 1

30 Friday
11:30 a.m.-Ekklesia TGIF devotional lunch and speaker, Spanish Room; see Notes
5 p.m.-Shippey lecture, Ryle Main Lounge; see Notes

31 Saturday
8:00 a.m.-Beta Alpha Psi and Accounting Club tax assistance, Violette Hall 1010; see Notes
10:30 a.m.-Truman Open Track and Field Meet, Stokes Stadium; see Notes
12 p.m.-Baseball vs Missouri Western State College
3 p.m.-Women's tennis vs Baker University(Kansas)
3:30 p.m-Men's tennis vs Baker University (Kansas)

1 Sunday
3:30 p.m-Unique Ensemble Gospel Choir play/concert, Ryle Main Lounge; see Notes
6:30 p.m-RCP dinner with Meave Leakey; see Master Calendar for details


BACK TO THE TOP
---
Back to "News & Events"
[ HOME · DIRECTORIES · NEWS & EVENTS · SEARCH ]
Direct questions and comments to lgordon@truman.edu.
Copyright © 1996-2003 by Truman State University, Kirksville, Missouri. All Rights Reserved.
URL http://trumantoday.truman.edu