May 1, 2001 - Vol. 5 No. 33
Leadership Recognition Winners
Student Rec Field to be Ready in the Fall
2001-2002 Lyceum and Distinguished Visiting Scholar Schedules
Truman Birthday and End of the Academic Year Celebration
University Foundation Gifts Continue to Grow
| | |
| --- | --- |
| | Ten $1,500 Truman State University Foundation Study Abroad Scholarships are awarded each year. This years recipients are pictured above (from left to right) Sara Walkerbach, Laura Presley, Anna Kuntz, Marjorie Wheeler, Melissa Jepson, Brooke Sherrard, Brianne Fulton, Emily Moffett, Arliss Gammill and Laura Weiersmueller. |
The mission of the Truman State University Foundation is to encourage and administer private financial gifts in support of Truman. Last year, gifts to the Foundation totaled more than $2.4 million providing support for student scholarships, improved technology, student loans for computers and study abroad and support for athletics and other initiatives.
For the 2001-02 term, over $80,000 in scholarships will be given to incoming freshman in the form of 92 different awards, and $210,700 will be disbursed to upperclassmen through 269 awards. (See insert for a complete listing of scholarship recipients.)
Through the new online Foundation scholarship application system, 3,456 applications were received from 476 students. Scholarships opportunities are available within each academic division and also for students of exceptional leadership or athletic ability. Need based awards are also provided.
The increase in the number of Founda-tion scholarships is proportional to the continual increase in Foundation assets. During fiscal year 1994 the Foundation recorded assets of $5.52 million, while in fiscal year 2000 that number had grown to $14.8 million, the largest market value in the Foundation's history.
Since 1994, the number of donors to the Foundation has grown from 4,715 to more than 7,600; total gifts have increased from $736,120 to $2,408,113; Kirk Society members (those giving $500 or more) have grown from 141 to 290; and planned gift commitments have increased from $1.1 million to $3.5 million. Of special note is the participation in the faculty/staff campaign, up from 28 percent to 73 percent. The Foundation is particularly proud of the message this conveys from the Truman community.
Nine new endowed scholarships, representing a minimum commitment of $10,000 each, have been added to the Foundation since January 2000.
Additionally, Foundation monies are used to support faculty development, educational technology, divisional needs, internships and other activities related to Truman's mission. Each year a portion of the $400,000-plus Kohlenberg Lyceum Series endowment is used to help bring cultural events to campus. Last fall the Class of 1950 Project provided over $135,000 in support of the new Fine Arts building. And, the Truman's Board of Governors recently approved the naming of the Dr. Ruth Warner Towne Museum and Visitor's Center that will soon provide cultural enrichment to the area through a $1 million bequest from Towne's estate.
Contact Dean Van Galen, Chief Advancement Officer, at 785.4133 for more information about the Foundation.




---
Don't Miss These Graduation Events



National Alumni Association hosts the
Spring Graduation Picnic
11 a.m. - 1:30 p.m.
May 2
on the Mall
Rain Site Georgian Room


Central Business District of Kirksville presents
the Truman Commencement Concert Band
6-7 p.m.
May 11
downtown Kirksville

Commencement Ceremony
2 p.m., May 12
Stokes Stadium
Rain Site Pershing Arena
Reception
immediately following
on the mall
---
Outstanding Students and Organizations Recognized at the 2001 Leadership Recognition Program

New Student Leader Award
Levi Giovanetto

Outstanding Student Worker
Christa Beemer

Outstanding Residential Leader Award
Aaron Gurlly

Outstanding New Organization Award
Beta Alpha Psi

Athletic Leadership Award
Jess Martin

Outstanding President Awards
Wayne Prichard,
Delta Sigma Pi
(large organization)
Melissa Seifert,
Eta Sigma Gamma
(small organization)


Outstanding Organization Award
Tau Lambda Sigma
(large organization)
Student Activities Board (small organization)

Outstanding Entertainment Event Award
MTV Campus Invasion, Student Activities Board

Senior Leadership Award
Ken Hussey
Melissa Seifert

Student Excellence Award
Erica Poeschel
Elena Logue
Fanita Smith

Outstanding Organization Award
Alpha Kappa Alpha
The SERVE Center
E.M. Violette Outstanding Advisor Award
Laurie Turner,
Beta Alpha Psi
(large organization)
Doug Daubert,
Student Activities Board (small organization)

Omicron Delta Kappa Student Hall of Fame Finalist
Ken Hussey
~~~~

The 2000-2001 Who's Who in American Universities and Colleges students from Truman were also recognized at the ceremony.

The Leadership Recognition Program is sponsored by the Campus Activities and Organization Center.
---
Student Rec Field to be Ready by Fall
Finishing touches will soon be made to the Student Recreation Center playing field behind Centennial Hall. Once the modifications are completed, the field can then be officially released by the architect to the University and readied for use next fall.
The field is designed to be a multipurpose recreational area and will be used for intramural outdoor soccer, sport club contests and drop-in recreational play. Signs will be posted indicating that priority will be given to Truman students, faculty and staff.
"This playing field will be reservable by special events hosted by our student organizations and campus departments," said Sue Limestall, Rec Center director. "I've had a number of students who have asked about it and are looking forward to using it for soccer and other sports."
The field is not reservable for outside groups, but as long as it is not in use by members of the Truman community individual students and other groups may have access to it. Once the Benton School is demolished, the green space there will also be open for student use.
Although the Rec Center playing field was originally to have been available in fall 1999, several problems have precluded its release to the University including drainage problems that required corrective re-grading to the southwest corner of the area.
Because the field will be used for soccer and other running sports a special type of field turf was used and acceptable growth was not established by the projected date. The field was over-seeded and fertilized last summer so that the field would be ready for release in fall 2000.
A water main break occurred in early fall, however, and damaged a 6400 square foot area which was too late in the year to properly re-seed. According to the campus planner, the re-sodding, fence repair and other miscellaneous work should be completed by the contractor this spring.
Students, faculty and staff interested in reserving the field once it is officially open should call the Rec Center at 785.7739.
---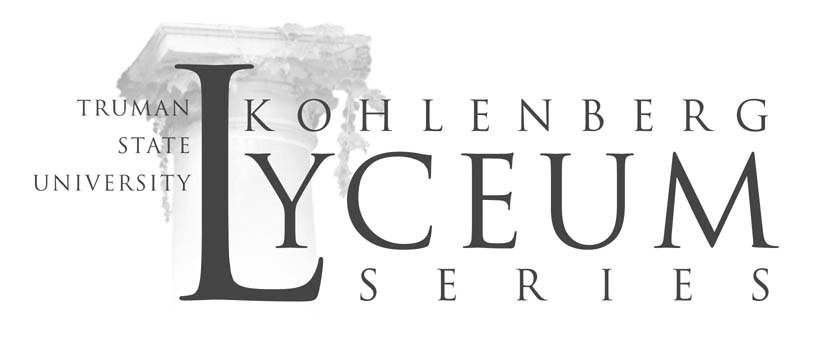 2001 - 2002 Schedule

Kremlin Chamber Orchestra
Sept. 29

Folklorico De Mexico
October 27

Alvin Ailey Dancers
November 5

Chanticleer
November 29

3 Mo' Tenors
February 20

Death Of A Salesman
March 12

Robert Ballard
April 6

Truman Showcase
April 20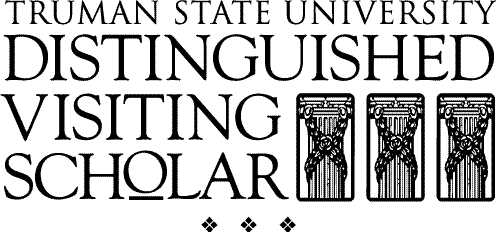 Tentative 2001 - 2002 Schedule
James Burke
Science Historian
Oct. 2-3
Lech Walesa
Former President of Poland
Nov. 1-2
Catherine R. Stimpson
Feb. 11-15
Henry Louis Gates
Scholar of African
American Studies
March 27-28
For more information about the Lyceum Series call 785.4016 and
for the Distinguished Visiting Scholar Program call 785.4121.
---
Truman Birthday, End-of-Academic Year Celebrated
In celebration of the 117th birthday of Harry S Truman and the end of the academic year faculty, staff and students are invited to attend a picnic on the mall from 11:30 a.m. - 1 p.m., May 11.
This picnic celebration is co-sponsored by the University and SODEXHO Marriot Services. The menu includes brats, chicken, hotdogs, chips, soda, baked beans, potato salad and birthday cake. The cost is $3 and reservations may be made to lbradley@truman.
edu.
The rain site is the SUB Georgian Room.







---
University Club Spring BBQ
6 p.m., May 11
University Club House
516 E. Patterson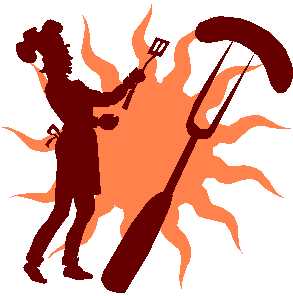 Chicken, Brats and drinks provided. Bring a dish to share.
Music provided by Redwing
---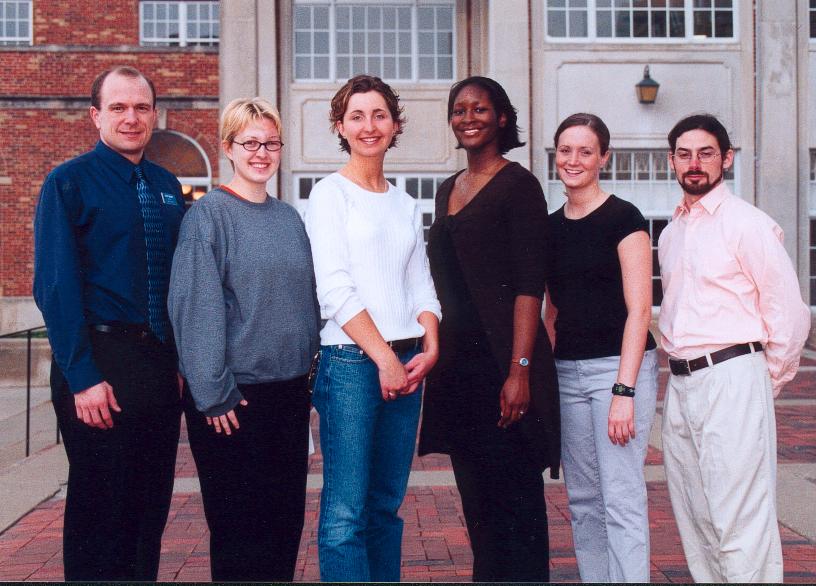 Pictured above are the student winners of the Student Union Purchase Prize Award. From left to right are Doug Daubert, Student Union director; Sara Page, Jessica Jennings, Cecilia Pierre, Sarah Snowgren and Aaron Fine, gallery director
BACK TO THE TOP
---
Notables
Jennifer Hulsopple, junior biology major from Peculiar, Mo., helped Truman win three straight shutouts and tossed a no-hitter at the South Dakota State Jack Rabbit invitational. Hulsopple played her 30th game, the most in Truman history.

Two Truman Athletes have been chosen to represent the University at the NCAA Foundation Leadership Conference. Mike Redding, junior finance major from Lake Zurich, Ill., and Sophie McKay, freshman from Montreal, Canada. Jenny Glenn, junior exercise science major from Granby, Colo., will serve as the alternate.

Karl Whiteside, senior marketing major from St. Peters, Mo. and Scott Alberts, assistant professor of mathematics, were quoted in an April 22, 2001, Kansas City Star, article "Growth in Internet Research Tools Increases Concern About Cheating."

Ramesh Rao, associate professor of communication, has had eight of his essays and commentaries on Indian politics, history and religion recently published on-line at Sulekha.com, Hamarashehar.com and IndiaCurrents.com. In addition to being published Rao has received a $6,500 grant this year from the Infinity Foundation, Princeton, N.J., to carry out a content analysis of Indian news coverage from 1998 - 2000, by The New York Times and The Washington Post.

Carolyn Cox, associate professor of health science, will receive the 2001 Distinguished Service Award from Eta Sigma Gamma, national professional health science honorary. This honor is in recognition of outstanding service in furthering the goals of Eta Sigma Gamma: education, research and service.

Christopher Teter, senior management major from Macon, Mo., has been awarded an IIE Midwest Educational Associates Scholarship for $1,000, from the Institute of International Education. Teter will be studying in Germany.

Sherri Palmer, associate professor of psychology, and Jill Phemister, alumna and scholarship coordinator, presented a poster at the biennial meeting of the Society for Research in Child Development. The poster was titled "Maternal and Paternal Sensitivity During Dyadic and Triadic Interactions with Their One-Year-Olds.

The men's golf team tied for fourth place at the MIAA championship recently.

The men's and women's tennis teams both finished the season placing second in their respective MIAA tournaments.

The third annual Truman Experience showcased 26 undergraduate student research projects on display at the Jefferson City capitol building. Among the students presenting were Adam Aderton of St. Joseph, Mo.; Chris Alford, of Joplin, Mo.; Larissa Ball, of Wildwood, Mo.; Kim Cain, of Kansas City, Mo.; Walter Coats, of West Plains, Mo.; Aaron Cooper, of Troy, Mo.; Sarah Davenport, of Trenton, Mo.; Theresa Doll, of Kansas City, Mo. and partner Jennifer Harris, of Bloomington, Ill.; Megan Dunn, of Bourbon, Mo.; Kyle Fieleke, of Raymore, Mo; Emily Hankins, of Springfield, Mo.; April Howard, of Sikeston, Mo.; Christina Hunter, of St. Louis, Mo.; Jennifer Ice, of Lebanon, Mo.; Justin Kelley, of Dexter, Mo.; Kim Kern, of Benton, Mo.; Brad Kinnear, of Barnhart, Mo.; Erin Lesczynski, of Kirksville, Mo.; Michelle Lesley, of St. Peters, Mo.; Sarah Martin, of Independence, Mo.; Kristen Mertens, of Ballwin, Mo.; Season Prewitt, of Braymer, Mo.; Phil Schiff, of St. Louis, Mo.; Jared Swanegan, of Columbia, Mo.; Tara Thiemann, of Versailles, Mo.; Julie Thien, of Fenton, Mo.; Amanda Wherry, of Fair Grove, Mo.

The following students have been selected as Truman State University's representatives in the Washington Center for Internships and Academic Seminars in Washington, D.C., for the 2001-02 school year: Angela Ernst, junior history major from Bonne Terre, Mo.; Justinas Juknys, sophomore political science major from Kaunas, Lithuania; Tim Papuga, junior business major from Florissant, Mo.; Megan Pittman, freshman political science major from Adair, Ill.; and Erin Smith, sophomore political science major from Bettendorf, Iowa.

Truman's ultimate frisbee team finished second, behind KU, at the sectionals tournament in Columbia, Mo. recently. They were victorious over the University of Mo.-Columbia, K-State and McPherson. This placement advanced the fifteen-member team to the regionals tournament in Dallas, Texas, this past weekend.




---
Notes
The Sign Amnesty Program is an opportunity for students to return any street signs they have in their possession without risk of prosecution. Beginning April 29 and until May 12, signs may be dropped off at the following locations: Dobson Hall desk, Ryle Hall desk, Centennial Hall desk, Missouri Hall desk, Fair Apartments desk, Campbell Apartments desk, Nason/
Brewer/Blanton Hall desk and a box in the parking lot east of the Public Safety Building.

TrueMen will hold a concert at 7:30 p.m., May 1, in Baldwin Auditorium. Admission is free.

"The Index Calls," from 1:30-3 p.m., May 2, in the Governors' Room. Dr. Karon Speckman, Index advisor and assistant professor of communication will be discussing the Index news process and answering questions for staff.

The Sophomore Writing Experience program is hosting a reception honoring students who have received a "5" or higher on their SWE essay placing them in the top eight percent of those taking the assessment. The reception will be held from 3-4:30 p.m., May 2, in the Activities Room. To RSVP or for more information, call 785.4484.

The Department of Public Safety will be providing a shuttle service to the LaPlata train station at 9 a.m., May 8 and 9. Students should meet and board at the circle drive in the McClain parking lot. The cost of the the shuttle service is $5, and reservations should be made in advance with Dean Baker at 785.7684. This service is limited to a first come first serve basis.

Northeast Regional Medical Center celebrates National Osteoporosis Month by providing a heel scan clinic for Truman faculty and staff from 9 a.m. - 12 p.m. and 1 - 4 p.m., May 9, in the student health clinic. A ten minute appointment is required. To schedule an appointment, contact Lena at 785.4031.

Organizers of a Truman Photo Contest are seeking entries of student life snapshots, including activities, sporting events, dorm life and campus sites, for use in an upcoming campus publication. Photos with contact information should be submitted to McClain Hall 102 prior to June 1. Winners will be awarded gift certificates to area restaurants. (Photos will not be returned.) For more information call 785.4007.
---
On Campus

---


1 Tuesday
Last day of classes.
7:30 p.m. - TrueMen concert, Baldwin Auditorium; see Notes
7:30 p.m. - Dar Williams concert, Dobson courtyard; rain site SUB Activities Room

2 Wednesday
Reading Day
Academic Festival
11 a.m.- Spring 2001 graduation Picnic, Mall area; see p. 1
1:30 p.m. - "The Index Calls," (staff development presentation), Governors' Room; see Notes

3 Thursday
Final exams begin.
3 p.m. - Sophmore Writing Experience Reception, SUB Activities Room; see Notes

4 Friday
Final exams continue.

5 Saturday
1 p.m.-Baseball vs. Missouri Southern
State College

6 Sunday
1 p.m.-Baseball vs. Missouri Southern
State College

7 Monday
Final exams continue.
BACK TO THE TOP
---
Back to "News & Events"
[ HOME · DIRECTORIES · NEWS & EVENTS · SEARCH ]
Direct questions and comments to lgordon@truman.edu.
Copyright © 1996-2003 by Truman State University, Kirksville, Missouri. All Rights Reserved.
URL http://trumantoday.truman.edu