May 7, 2001 - Vol. 5 No. 34

'97 Alumna, Attorney to Address Graduates
Eisenberg to Become New Associate VPAA and Dean of the Residential College Program
The SWE Program Recently Recognized Exceptional Students
Thank You to the Members of . . .
Forensics Team Places Fifth in the Nation
Wayne Chipman Joins the Advancement Office
Regular Bus Service to Resume May 23
Mark Your Calendar for These Upcoming Events
Hahn Named Truman's Educator of the Year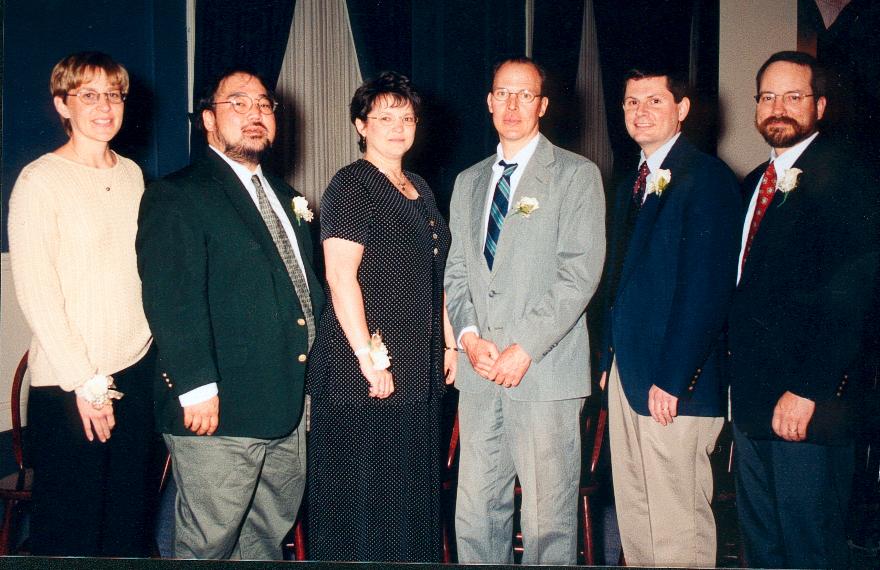 Educator of the Year finalists honored were (l to r) Marie Orton, John Ishiyama, Brenda Higgins, Timothy Farley, Ken Hahn and Jon Beck.
Kenneth Hahn, professor of physics, was selected as Educator of the Year at the 12th annual banquet held April 30. Hahn and five other finalist candidates were nominated for the honor.
The selection process begins when several outstanding faculty are nominated by students for the annual award and are asked to submit philosophy of teaching essays. A student committee then selects the semi-finalists, surveys their students and eventually chooses the honoree.
Hahn joined the Truman faculty in August 1987, following his undergraduate and graduate work at Texas A&M. He received his bachelor's degree in physics, graduating cum laude in 1982. He went on to earn his master's degree in 1984 and his doctorate in 1987.
He currently teaches concepts in physics (PHYS 100) and senior seminar (PHYS 545) and believes that teaching physics is a small part of the liberal arts process.
"I am able to help students grapple with the facts of the universe ? this is how we think the world works and why. This ultimately overlaps with philosophy, religion, politics, literature and history," Hahn wrote. "Knowledge is not static and we must challenge and test and verify even the most obvious of ideas."
Hahn wishes to dedicate his award to his family; Samuel (10), Emma (5), Joseph (10 months) and wife, Tricia, for the support they give him.
"Truman is a great place to work. The faculty, staff and administration are all working together to make it an excellent liberal arts and sciences university. I love working with the students here. They challenge me, force me to think hard about things, hold me accountable and make coming to work a pleasant experience," Hahn concluded.
---
'97 Alumna, Attorney to Address Graduates
Diana Ross-Butler, a practicing attorney with the Thompson Coburn law firm in St. Louis, Mo., will be the keynote speaker at the commencement ceremony, at 2 p.m., May 12, in Stokes Stadium.
Ross-Butler specializes in real estate law and is licensed to practice law in both Missouri and Illinois. She is a May 2000 graduate Washington University School of Law in St. Louis, Mo. While a student at Washington University, Ross-Butler was a member of the Black Law Student Association, the Student Bar Association and the Women's Law Caucus.
With a full academic scholarship from Truman, she was able to graduate with a bachelor of science degree in business administration/finance with a minor in economics.
At Truman, she served as president of Alpha Kappa Alpha sorority, was a member of the Finance Club and the Unique Ensemble gospel choir. Her father, District 55 State Representative Carson Ross (R), was a member of the Commission to Study the University Name.
Ross-Butler is originally from Blue Springs, Mo. She is married to her high school sweetheart, Adrian Butler, and they are the parents of Ariana and Adonis.


















Spring 2001 Commencement
2 p.m., May 12
Stokes Stadium
Reception immediately
following commencement,
on the mall.
In the case of inclement weather,
ceremonies will be held in
Pershing Arena.
Eisenberg to Become New Associate VPAA and Dean of the Residential College Program
Dr. Martin J. Eisenberg has accepted the position of Associate Vice President of Academic Affairs and Dean of the Residential College Program (RCP) at Truman, effective July 1.
He is currently serving as registrar and coordinator of academic research at Knox College in Galesburg, Ill. He succeeds Mary Ramsbottom, Interim RCP Dean, who is leaving at the end of this year to become Associate Dean of Student Academic Affairs for the College of Liberal Arts and Sciences at the University of Illinois at Urbana-Champaign.
"Dr. Eisenberg brings unique perspectives and wonderful experiences to Truman. I am confident that he will come into the position and encounter a group of fine professionals who have a strong sense of purpose and commitment to the RCP and liberal arts," said Garry Gordon, Vice President for Academic Affairs.
Since 1988 Eisenberg has served at Knox College, first as a faculty member in the economics department and later as an assistant to the Dean for Academic Records before assuming his current positions.
While at Knox College, he has served as chair pro tem of the college faculty, and as a member of the Career Services advisory board, the Academic Affairs Committee, the Executive Committee, and the Instructional Technology Committee. He received the 2000 Exceptional Achievement Award from the college.
Eisenberg earned his bachelor's degree in economics and history, graduating summa cum laude in 1982 from Colby College in Waterville, Maine. He was selected to Phi Beta Kappa while at Colby. He went on to earn his doctorate in economics from the University of Pennsylva-nia in Philadelphia.
Eisenberg serves as a referee for the Journal of Economic History and as a textbook reviewer for Norton Publishers.
He has also served as a board member for several community groups such as the United Way of Knox County, the Knox County Economic Development Council and the Western Illinois Chapter of the American Red Cross.
---

The Sophomore Writing Experience Program recently recognized exceptional students who scored a '5' or higher on their SWE essays. More than 250 students have achieved at this level within the past four years. Pictured above are a few of the students who gathered for a reception in their honor. Seated front (left to right) are Bob Ell, Libbyanne Sicking, Monica Lehmann, Kimberly Cressman, Katherine Krueger, Lauren Donnelly, Kevin Nance, Henric Haldeborg; second row (left to right) are Sarah Mohler, SWE Program director; Stephanie Merritt, Sarah Yancey, Christina Carr, Mandie Smith, Amy Pearson, Jill Hatridge, Melissa Whitwan, Sarah Barnard, Amanda Jones, Laura Marty, Kate Fletcher, Rebecca Jaycox; row three (from left to right) are Andrew McGinnis, Andrew Ashbaugh, Whitney Derendinger, Nate Chisholm, Isaac Stayton, David Elam, Derek White, Bryan Selzer, Ryan Koonce, W. Aaron Wilson, Michael Risberg and Sean Foy.









---
Student Rec Center May Hours

11 a.m.-11 P.m., May 2-3
11 a.m.-9 p.m., May 4
11 a.m.-7 p.m., May 5-11
Closed, May 12-13
11 a.m.-2 pm., May 14-18
Closed, May 19-20
11 a.m.-2 p.m., May 21-25
Closed, May 26-28
---
The Public Relations Office and the Lyceum Committee
would like to thank members of
Delta Zeta
Alpha Gamma Delta
and the
Student Activities Board
for your assistance with the 2000-01 Kohlenberg Lyceum Series.
BACK TO THE TOP
---
Forensics Team Places Fifth in the Nation
The Truman State University Forensics team placed fifth in the National Forensic Association Tournament and member Ian Samuel placed second in the nation in after dinner speaking. The team received the highest number of honors ever received in individual events for the Truman program.
The team placed fifth in the nation in President's Division I Sweepstakes. This is a cumulative ranking system that compares the combined efforts of the individual students from each college and each university competing.
Ian Samuel, a freshman, received the highest ranking a Truman student has ever received in the national individual events competition. His speech focused upon grade inflation at America's secondary schools, colleges, and universities. Samuel is a computer science major from Colorado Springs, Colo.
Several other Truman students also earned national awards. Heather Carmack, sophomore communication arts major from Savannah, Mo., reached the quarter-finals of rhetorical criticism. Robert B. Layne II, senior communication arts major from Kansas City, Mo., was a quarter-finalist in impromptu speaking and an octa-finalist in Lincoln-Douglas debate.
Shane Mecham, senior political science major from Omaha, Neb., was a quarter-finalist in extemporaneous speaking, after dinner speaking, and impromptu speaking, and an octa-finalist in Lincoln-Douglas debate.
The team outranked several nationally prominent institutions, such as North-western, Cornell and New York University. This tournament brings the grand total of trophies and other awards won by the Truman forensics program to 404 for the 2000-01 season.





---
Wayne Chipman Joins the Advancement Office
Wayne Chipman recently joined the Office of Advancement as the new director of major and planned gifts. As director, he will work with donors to plan their gifts to benefit the University.
Prior to moving to Truman, he held a similar position in the Development Office at Drury University in Springfield, Mo. He is also a licensed attorney.
Drury is Chipman's undergraduate alma mater and Springfield, Mo., is his home town. He went on to earn both his master's degree in business administration and his law degree from Washburn University, Topeka, Kan.
"The first time I visited Truman and Kirksville was back in October when a group from Drury visited the campus. One reason that I like Truman so much is because I am impressed with all the University has accomplished and the positive things that are happening," Chipman said.
While in Springfield, Chipman was a member of the governmental relations committee of the Springfield Area Chamber of Commerce, the planned giving committee for Springfield Catholic Schools and the National Committee for Planned Giving.
Chipman's wife, Stephanie, is currently in Springfield, Mo. as director of Drury's Career Center, and will be joining him soon along with their dog, Romeo.



---
Scholarships Available
The Thomas E. Murphy Scholarship Fund
$1,000 scholarships are available for graduate students. The deadline for applications is June 1, 2001. For more information or an application, contact the Financial Aid Office, MC 103.
---

Truman students received
10 Mark of Excellence Awards from
Region 7 of the Society of Professional Journalists.
Media Awards
1st place for best student magazine published more than once a year
Detours
2nd place for best all-around non-daily student newspaper
Index
Individual Awards
1st place for TV in-depth reporting
Beth Feldman, Heather Hedrick and Jen Mazi
TruNews
3rd place for TV in-depth reporting
Amy Sanders, Matt Keeney and Emily Salem
TruNews
1st place for television sports reporting
Kenny Lewis
TruNews
3rd place for television sports reporting
Jeremy Loscheider
TruNews
2nd place for general news reporting
Melissa Shriver
TruNews
2nd place for television feature
Kate Strobel
TruNews
3rd place for newspaper sports photography
Luke Trautwein
Index
3rd place for editorial cartooning
Andy Dandino
Monitor


---
Regular Bus Service to Resume May 23
A new bus service provided by Show Me Coaches will begin a route through Kirksville starting May 23, according to an article printed in the April 25 edition of the Kirksville Daily Express.
The buses will stop twice daily in Kirksville, one with connections north of Kirksville, and one with connections south of Kirksville.
Connections south of Kirksville include Macon, Moberly, Columbia, Jefferson City, Lake of the Ozarks, Camdenton, Lebanon, Springfield and Branson.
Connections north of Kirksville include Lancaster, Mo.; Bloomfield, Iowa; and Ottumwa, Iowa.
Buses will connect with Burlington Trailways in Ottumwa and with Grey-hound in Columbia and Springfield.
The service will make its stop in Kirksville at Ice House No. 4, located at 1312 S. Baltimore. Travelers need not make reservations, but may simply appear at the designated stop and purchase a ticket.
The one-way fare to Columbia will cost approximately $23 and the one-way fare to Jefferson City will cost approximately $29.
The new service will also offer package express, enabling customers to ship or receive express freight anywhere in the country because of the Greyhound connection.
Kirksville hasn't had regular interstate bus service since Missouri Transit Lines, operated by KincaidCoaches, discontinued service to Kirksville in 1992.




---
Mark Your Calendar for These Upcoming Events
May Interim............................................May 9-27
Summer Semester begins.......................May 29
July 4th holiday.............................................July 4
Summer Commencement........................Aug. 4
August Interim.......................................Aug. 5-19
Freshman Move-In...................................Aug. 19
Freshman Week..................................Aug. 19-25
Upper class Move-In.........................Aug. 25-26
Classes begin............................................Aug. 27
Late registration........................................Aug. 27
Labor Day holiday.....................................Sept. 3
Family Day................................................Sept. 22
Kremlin Chamber Orchestra................Sept. 29
James Burke on campus........................Oct. 2-3
Midterm Break...........................................Oct 19
Homecoming............................................Oct. 13
Folklorico de Mexico..............................Oct. 27
Lech Walesa on campus.......................Nov. 2-3
Alvin Ailey II Dancers...............................Nov. 5
Thanksgiving Break............................Nov. 21-25
Chanticleer................................................Nov. 29
Reading Day.............................................Dec. 12
Final Exams..........................................Dec. 13-18
Halls close for nongraduates................Dec. 19
Winter Commencement........................Dec. 22
Residence halls close..............................Dec. 22
December Interim ....................Dec. 19-Jan. 13
Residence halls open................................Jan. 13
Classes begin..............................................Jan. 14
Late registration.........................................Jan. 14
Martin Luther King holiday......................Jan. 21
University Planning Day...........................Jan. 30
---
Have a great summer!

The next issue of Truman Today will be on May 29, 2001.
BACK TO THE TOP
---
Notables
John Ishiyama, associate professor of political science, will receive a grant for the 2001-2002 academic year from the American Political Science Association (APSA) for the project entitled "Party Discipline and Legislative Voting Behavior in Post Communist Politics: The Case of Hungary, Lithuania and Russia."

Dr. Stephanie Powelson, assistant professor of nursing, was an invited presenter at the third annual Primary Care Resource Initiative for Missouri (PRIMO) scholar symposium. Her presentation was entitled "Levels of Prevention: Where Public Health and HIV/AIDS Intersect."
---
Notes
The Joseph Baldwin Academy is looking for a person with experience using a video camera and editing footage to help produce a tape for the Joseph Baldwin Academy. Interested persons should contact David Christiansen at 785.4065.

The Truman Birthday and End-of -the Academic year picnic celebration will be held at from 11:30 a.m. - 1 p.m., May 11, on the Mall. The cost is $3 and reservations may be made to lbradley@truman.edu.

The University Club invites faculty and staff to an evening barbecue at 6 p.m., May 11, at 516 E. Patterson. Music will be provided by the Redwing band. Food and beverages will be provided, but participants are asked to bring a dish to share.

The Center for International Education Abroad is seeking host families for Taiwanese high school students for the weekend of June 29-July 1. For more information, call 785.4076.





---
On Campus

---


7 Monday
Finals continue.

8 Tuesday
Finals continue.

9 Wednesday
Residence Halls close

10 Thursday

11 Friday
11 a.m. - Truman birthday and End of the Academic Year Picnic, on the Mall, see Notes
3:30 p.m. - General Honors Medal Ceremony, Sunken Garden
6 p.m. - University Club Barbeque, Club House; see Notes

12 Saturday
2 p.m.. - Commence-ment ceremony, Stokes Stadium; see pg. 1

BACK TO THE TOP
---
Back to "News & Events"
[ HOME · DIRECTORIES · NEWS & EVENTS · SEARCH ]
Direct questions and comments to lgordon@truman.edu.
Copyright © 1996-2003 by Truman State University, Kirksville, Missouri. All Rights Reserved.
URL http://trumantoday.truman.edu