University Community Celebrates Five Year Anniversary of Name Change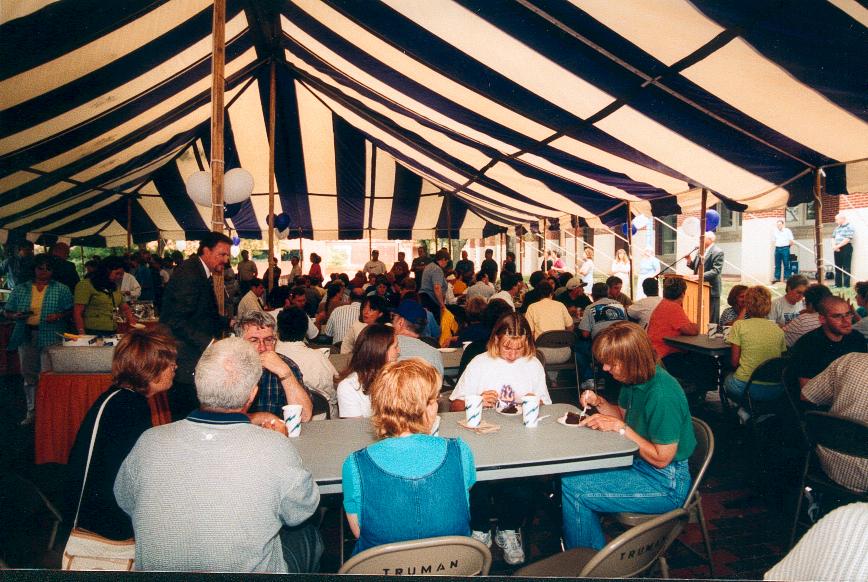 More than 300 members of the Truman community helped celebrate the fifth anniversary of the University's name change at a picnic July 2 on the mall. President Jack Magruder reminisced about the event and some of the possible names the University might have used. He spoke briefly about the impact of the name change and gave several anecdotes about individuals who were involved either directly or indirectly by the change.
In June 1995 Gov. Mel Carnahan signed legislation that changed the name of Northeast Missouri State University to Truman State University, effective July 1, 1996. The bill-signing wasthe culmination of an extensive study of the University name by internal and external groups.
In 1985 Northeast's mission was changed by the state legislature from that of a regional university to Missouri's only statewide public liberal arts and sciences university. In 1993, the Coordinating Board of Higher Education declared that the goals and objectives of the new statewide mission had been reached and a 19-member commission was appointed to study the appropriateness of the name (North-east) to the new mission. The Coordinating Board had earlier recommended that a different name for the University be explored once successful implementation of the mission had been achieved.
After consulting with various groups, the Commission found that the current name did not convey the mission. A four-month study of potential names followed. It was conducted by a consulting firm that later recommended the most appropriate names to the Board of Governors.
The Board then voted in January 1995 to seek legislative approval for an official name-change. A year and a half later, on July 1, 1996, the University community gathered together with dignitaries from accross the state to celebrate the new name with a formal dinner, a Lyceum production and evening fireworks.
---
*************
Volunteers are still needed to work the gate at the
NEMO Fair on July 24

Several open slots are available
after 5 p.m. until 10:30 p.m.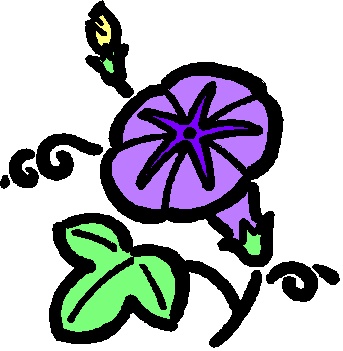 Call 785-4243 to sign up.
Volunteers receive a free tee-shirt &
one-day pass to the fair.
---
Here's an idea!
Energy Tip #1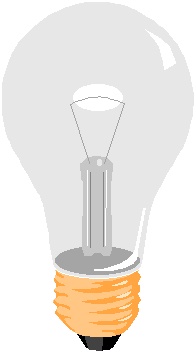 Did you know that you
can help conserve energy
every day by
turning your computer and lights off
when you leave the office?

Thanks for your help!





---
Notables
Jim Barnes, writer-in-residence and professor of literature, had a spatial poem titled "Zen" accepted for publication in Runes, a California magazine.
Scott McCranie was recently promoted from Sergeant First Class, a rank he has held for seven years, to Master Sergeant. The pinning ceremony, held June 29 on the Truman campus, was conducted by Lt. Col. Bruce Hilmes. McCranie's new rank was pinned by his wife, Debbie, and daughter, Toni. McCranie has served the military for 20 years and has been a part of the Military Science program at Truman for the past two years. The promotion was based upon his performance and his potential for future service to the U.S. Army.
Kristi Morton, spring 2001 graduate with a major in health and exercise science from Mexico, Mo., has been selected by the Region 5 Selection Committee as a finalist for an NCAA Postgraduate Scholarship. Morton was a member of the women's track and field team and won the MIAA outdoor pole vault championship this spring. She set both an MIAA and Truman record for the outdoor pole vault at 3.65 meters. In addition, she was named an All-American for 2001.
Randa Rawlins, President of Truman's Board of Governors , recently accepted a three-year appointment to the Association of Governing Boards of Universities and Colleges Council of Board Chairs.
Nancy Reschly, Truman State University Press, recently received notification that she had obtained a 2001 Greenwall Fund Grant for Truman State University Press. The Fund was established in 1998 by the Academy of American Poets to support the publication of first books of poetry at non-commercial presses. This grant will make possible the publication of Graft by Glori Simmons by Truman State University Press. The grant is awarded by the Greenwall Foundation, a group that supports emerging artists in various fields.



---
Notes
Due to the increase in postage, printing and paper expenditures, Truman Today will be moving to a more user-friendly electronic format by the 2001 Freshman Week issue. Readers with e-mail accounts will receive a weekly summary and link to the online version. For those who still want to read the printed version, it may be printed out at any available printer and each office will also receive a printed version. Truman Today is updated weekly at trumantoday.truman.edu and back issues (archives) may be found at
www.truman.edu/newsevents/ttoday/archive.html


The University's emergency phone number changed from 785.5555 to 911, effective July 1. It will not be necessary to dial 9 for an outside line, and any emergency calls placed to the old x5555 number or emergency phones will automatically be forwarded to 911.

The Kirksville Alumni Chapter annual picnic will be held at 6 p.m., July 18, at the University Residence. All members and families are welcome. An RSVP is required by July 14 to alumnievents@truman.edu or 785-4133. For more information contact Denise Watson at 660-785-4174.

Truman's lacrosse teams are offering a summer youth lacrosse clinic from 9 a.m. until noon, July 26-28, on the University lacrosse fields south of Stokes Stadium. Boys and girls in grades 6-12 are welcome to participate. The clinic will focus on beginning skills, so no previous lacrosse experience is required. Cost is $75 or $45 if the participant already owns a lacrosse stick. For more information and a registration form, contact Jocelyn Diehl at 665.1837.

Summer recreational racquetball hours in Pershing Arena are Monday, 9:30 a.m. until 10 p.m.; Tuesday through Thursday, 9:30 a.m. until 2:30 p.m. and 4:30 to 9:30 p.m.; and Friday, 9:30 a.m. until 2:30 p.m. and 6 to 8 p.m. Daily reservations may be made by contacting the Pershing Equipment Room at 785.4431.

Summer semester ends Aug. 3, with commencement set for 6:30 p.m., Aug. 4, on the Quad. The residence hall and apartments will close at 8 p.m., Aug. 4. Freshman Week for fall 2001 is Aug. 19-24.

Student grades and end-of-term transcripts for all summer semester classes will be issued the week of Aug. 13. Transcript requests must be in writing and should be addressed to the Registrar's Office, McClain 104. The first copy is free; each additional copy is $2 each.



---
Back to "News & Events"
[ HOME · DIRECTORIES · NEWS & EVENTS · SEARCH ]
Direct questions and comments to lgordon@truman.edu.
Copyright © 1996-2003 by Truman State University, Kirksville, Missouri. All Rights Reserved.
URL http://trumantoday.truman.edu