September 18, 2001 - Vol. 6 No. 5

2001-2002 Distinguished Visiting Scholars Schedule
Internship at Truman Library Offers Unique Experience for Students
Applications Sought for College Rector
Hispanic Heritage Month Festivities
2001-2002 Who's Who Applications Available
Truman Welcomes Families to Campus
A variety of activities have been planned for Truman students and their families this weekend as part of Family Day. Faculty, staff and their families are also invited to meet the visiting families and share in the events.
The men's tennis Truman Invitational Singles Tournament starts the athletic events with matches at 4 p.m., Sept. 21 and 8 a.m., Sept. 22, at the tennis courts.
Family Day activities begin Saturday morning with coffee and donuts on the Mall from 10-11 a.m. outside the Student Union. In case of rain, this event will be held in the SUB Activities Room.
The festivities move inside to Baldwin Auditorium at 11 a.m., when Truman's President, Jack Magruder, and Student Senate President Matt Brooker will formally welcome families to campus. Franklin Street will provide entertainment at the assembly. Brooker is a junior economics and business finance double major from Blue Springs, Mo., and the son of Fred and Kathy Brooker.
Also at 11 a.m., the women's soccer team takes on Southwest Baptist at the soccer field. Admission is free. The team will play Emporia State University at noon on Sept. 23.
After the assembly, families are invited to bring a blanket or lawn chairs and enjoy a picnic-style lunch at Red Barn Park from 11:30 a.m. until 1:30 p.m. Tickets are $4 and must be purchased in advance. Students with a purchased meal plan are free with an ID. In case of rain, the picnic will be held in the Pershing Building Gymnasium.
Following lunch, families can catch the excitement of the Bulldogs men's soccer and football teams. The men's soccer team plays Southwest Baptist at 1 p.m. at the soccer field. They will also play Emporia State University at 2 p.m. on Sept. 23. Admission is free.
The football team plays host to the University of Missouri-Rolla at Stokes Stadium. Game time is 2 p.m. and tickets are available at the gate; the cost is $5 for adults and $3 for children and senior citizens.
Football tickets may be purchased in advance at the Pershing Ticket Window from 1:30-4 p.m., Sept. 19-21, at Morning on the Mall earlier in the day and at the Stokes Ticket Window beginning at 12:30 p.m. Students, faculty and staff are admitted free to general admission seating with their University IDs.
During the day, families may enjoy the 28th Annual Red Barn Arts and Crafts Festival, sponsored by the Kirksville Arts Association. The festival runs from 9 a.m. until 4 p.m. at the Kirksville Court House Square and features local artists and craftsmen who exhibit and sell their work.
Magician Brian Brushwood will entertain families with the Bizarre Magic Show at 7 p.m. in Baldwin Auditorium. Sponsored by the Student Activities Board, the event is free to students with a Truman ID and tickets will be available before the performance for $2 per person.
A concert featuring El Trio Atzlan of Kansas City, Mo., at 7 p.m. on the Quad-rangle provides more entertainment. The Multicultural Affairs Center sponsors this Hispanic Heritage Month festivity. Admission is free.
Also at 7 p.m., the women's volleyball team will take on Emporia State University in the Pershing Arena. Admission is free. The team will play Washburn University at 1 p.m., Sept. 23.
The University Bands will be performing at 2 p.m., Sept. 23, in Baldwin Auditorium. The concert will feature a performance by Dr. Sheri Mattson, instructor of double reeds. Dr. Thomas Trimborn, professor of music, will conduct a performance of Victory at Sea. Admission to the concert is free.
For additional information, call the Public Relations office at 785.4016.



---
Family Day
Calendar of Events
Friday, Sept. 21
4 p.m. - Men's tennis (Singles Invitational), tennis courts
Saturday, Sept. 22
8 a.m. - Men's tennis (Singles Invitational), tennis courts
10-11 a.m. - Coffee and Donuts on the Mall
11 a.m.
Presidential Address, Baldwin Auditorium
Women's soccer vs. Southwest Baptist, soccer field
11:30 a.m.-1:30 p.m. - Tailgate Lunch, Red Barn Park
1 p.m. - Men's soccer vs. Southwest Baptist, soccer field
2 p.m. - Bulldog football vs. University of Missouri-Rolla, Stokes Stadium
7 p.m.
Magician Brian Brushwood, Baldwin Auditorium
El Trio Atzlan concert, Quadrangle
Women's volleyball vs. Emporia State University, Pershing Arena
Sunday, Sept. 23
Noon - Women's soccer vs. Emporia State University, soccer field
1 p.m. - Women's volleyball vs. Washburn University, Pershing Arena
2 p.m.
Men's soccer vs. Emporia State University, soccer field
University Bands Concert, Baldwin Auditorium
For more information about the Family Day Events call 785.4016

---
Kohlenberg Lyceum Series to Begin with Chamber Orchestra Kremlin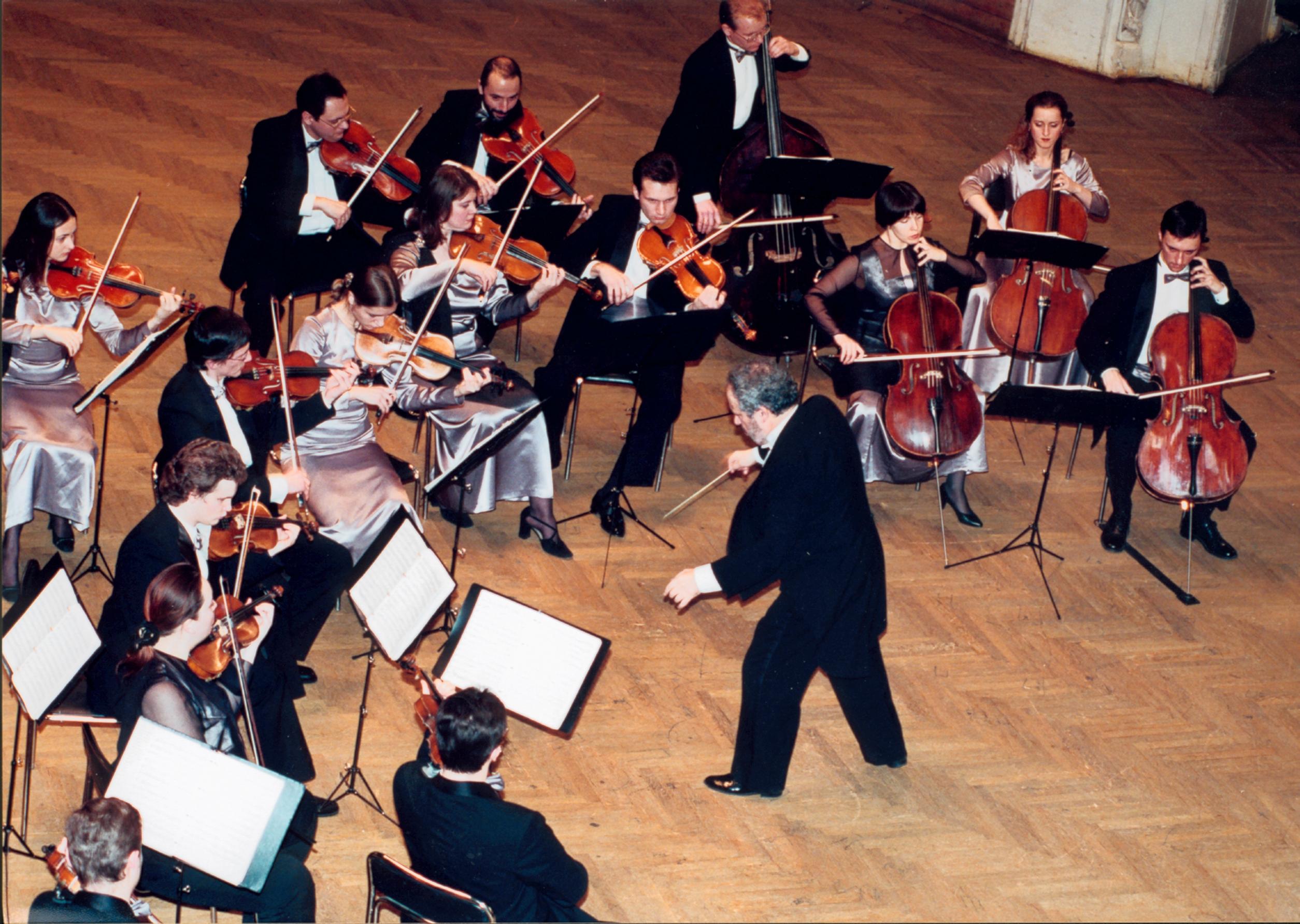 The Kohlenberg Lyceum series will kick off their season at 7:30 p.m. on Sept. 29 with a performance by Chamber Orchestra Kremlin.
The ensemble, founded and conducted by Misha Rachlevsky, is comprised of some of the finest young musicians in Moscow. The group is a string formation of 18: violins, violas, cellos, and double bass.
Chamber Orchestra Kremlin began in the fall of 1991 when the Swiss recording company Claves approached Rachlevsky with an offer to record discs of Russian music and immediately concurred with his suggestion to realize the project with Russian musicians. The enthusiasm that greeted the orchestra's initial performances in the recording studio and on concert stages in Russia and abroad led to this formation's establishment as a full-time performance group.
The orchestra maintains an active international touring schedule in addition to performing annually to sold-out audiences in the most prestigious events on Moscow's cultural calendar. The ensemble also produces its own concerts and festivals in the capital city, both at major concert halls and in historic locations, including the popular "Christmas at the Kremlin."
Chamber Orchestra Kremlin has rapidly earned a place in the saturated and highly competitive international performing scene. The orchestra has completed sixteen European tours, three visits to the Far East and three U.S. tours, performing a total of 317 concerts, 188 in Moscow, and 129 abroad.
On Sept. 29 this ensemble will play four pieces: Edvard Grieg's Suite "From Holberg's Time," Op. 40; Shostokovich's Chamber Symphony, Op. 110a; Bach's Contrapunctus No. 1 from The Art of the Fugue and Tchaikovsky's Souvenir de Florence, Op. 70.
Free tickets to Chamber Orchestra Kremlin will be available to students, faculty and staff beginning Sept. 21 in the Student Activities Board Office, Student Union Building lower level.




---
Distinguished Visiting Scholars Program Provides Opportunity for Exchange of Ideas
The Distinguished Visiting Scholars Program, was implemented in 1998.
The program brings a variety of scholars including speakers, artists, musicians, researchers, etc., and is designed to contribute to the intellectual life of the campus by making possible an exchange of ideas between the visiting scholar and the Truman students and faculty.
Truman's Mission Enhancement initiative funds the program which includes two scholars visiting each semester this year. The Distinguished Visiting Scholars this academic year will be James Burke, Lech Walesa, Catherine R. Stimpson and Henry Louis Gates.
Interaction with the visiting scholars include undergraduate or graduate classtime, residential college events, small discussion group activities, a large public lecture, and interaction with the faculty as a colleague.
The first Distinguished Visiting Scholar, James Burke, will be here Oct. 2-3.




---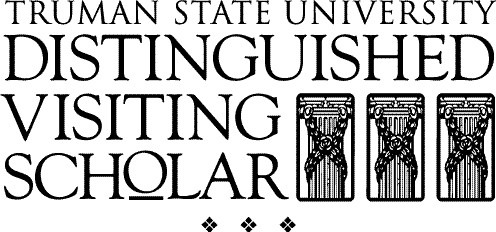 2001 - 2002 Schedule

James Burke
Science Historian
Oct. 2-3
Lech Walesa
Former President of Poland
Nov. 1-2
Catherine R. Stimpson
Scholar of Women's Studies
Feb. 11-15
Henry Louis Gates
Scholar of African-
American Studies
March 27-28
For more information,
call 785.4121.

---
Internship at Truman Library Offers Unique Experience for Students
Truman State University is pleased to announce the third annual paid internship for a Truman State University student at the Harry S. Truman Presidential Museum and Library, located in Independence, Mo. The internship has been made possible by a generous endowment from the family of Fred and Ethel Schwengel.
The internship is for the spring 2002 semester, and is open to all Truman juniors and seniors who meet University requirements for an internship. Students can earn up to 15 hours of credit for this full-time internship. After being selected by a University committee and the Truman library staff, the intern may work in a variety of areas of the Library including archives, public relations, marketing, educational programming, museum development or visitor services. Assignment will be based on intern's abilities and interests along with the Library's needs. The internship offers a $2,000 stipend.
Guidelines for the internship require that selected interns must immerse themselves in the study of President Truman. At the conclusion of the internship, the intern will prepare a paper on his or her experiences at the Library and on a specific study of the Truman presidency. The internship schedule will allow time for the intern to research the project.
Potential interns must have strong communication skills, both written and verbal, strong organizational skills, the ability to work independently on multiple tasks, basic computer skills, dependability and self-motivation.
Applications must be received by Oct. 5. For more information and applications, please contact Dr. Jeff Gall, associate professor of history and social science, at 785.7242 or jgall@truman.edu.




---
Applications Sought for College Rector
Faculty members interested in appointments as a College Rector in the Residential College Program may obtain information and applications in all division offices. Applications are due in division offices by Oct. 8.
College Rectors are regular members of the Truman faculty who accept half-time appointment in the RCP for a period of two or three years.
Ordinarily, tenured faculty members serve as College Rectors, but tenure-track assistant professors are also eligible to apply.
The Residential College Program is a division within Academic Affairs that seeks to enrich the liberal arts culture at Truman by sponsoring academic advising and support services and expanded living/learning opportunities for faculty and students. The College Rectors work collegially with a cross-disciplinary group of faculty fellows affiliated with the RCP, support faculty who teach special Residential College Sections, and develop programming of an intellectual, artistic, cultural, and current events nature for each residential community.
The position openings anticipated for the fall 2002 semester are at Blanton-Nason-Brewer, Centennial and Missouri.




---
Hispanic Heritage Month Festivities
El Trio Atzlan
Sept. 22 at 7 p.m.
Concert on the Quad

Rudolph G. Wilson
"Am I Someone's Mirror? Diversity Issues in the 21st Century"
Sept. 25 at 7:30 p.m.
SUB Activities Room
co-sponsored by
Sigma Lambda Gamma
& FAC

For more information, contact the Multicultural Affairs Center at 785.4142

---
Applications for the 2001-2002 Who's Who Among Students in American Universities and Colleges Award are now available.
Completed applications must be turned in to the Dean of Student Affairs Office by Oct. 8.
To qualify, applicants and nominees should be active in campus and community activities, have a 2.75 cumulative GPA and be a senior
eligible for graduation in December, May or August.
For further information, stop by Kirk Building 112 or call 785.4111.
---
The University Career Center, Residential College Program and University Counseling Services
are offering a series of five workshops titled
"Finding Your Career Passion."
Sign-up has been extended and the workshops begin the week of Sept. 17 and are designed for sophomores and juniors
who are interested in learning more about possible majors and careers.
Dates, times and sign-up sheets are available in the Career Center.
Contact the Career Center at 785.4353 or at http://career.truman.edu for more information.
---
Notables

Jesús Ilundáin-Agurruza, assistant professor of philosophy & religion, presented his paper "Into the New Millennium: the Death of Genius and the Birth of Art," at the 15th International Congress of Aesthetics held Aug. 29, in Mahukari, Toyko Region, Japan.

Marijke Breuning, associate professor of political science; Paul Parker, professor political science; and John Ishiyama, associate professor of political science, had their article "The Last Laugh: Skill Building through a Liberal Arts Political Science Curriculum," published in the September 2001 issue of PS: Political Science and Politics.

General Mills and Sodexho have teamed up to provide $700 in support of the Truman State University Foundation's General Scholarship Fund. The scholarship fund supports incoming Truman freshman on an annual basis.
---
Notes
Please note the Truman Today submission deadline has been moved up to 5 p.m. on Wednesday.

The TLTR Committee is seeking faculty members interested in advancing the cause of technology in teaching and learning at Truman to serve on the committee. Contact Chad Mohler at 785.6034 for more information.

Residential Colleges Program and Student Health present "Piercings, Tattoos and You," a presentation by Kenneth Korn, a nationally recognized family nurse practitioner, at 1 p.m. and 7 p.m., Sept. 17, in Violette Hall 1000. A door prize drawing will take place at the lecture's conclusion. This presentation is highly graphic. For more information, go to http://www.usd.edu/~kkorn/TrumanStudents.htm.

John Blumberg, professional keynote speaker, will present "The Power of Focus: Creating Laser Plans for a Meaningful Journey" at 6 p.m., Sept. 18, in Violette Hall 1000 for all accounting majors, pre-majors and graduate students.

The Shenandoah Shakespeare Express will perform "The Winter's Tale" at 8 p.m., Sept. 18, in Baldwin Auditorium. For additional information, please contact the Language and Literature Division at 785.4481.

The Art of Living Club will discuss course information and registration at 8 p.m., Sept. 18, in Baldwin Hall 350. For more information, contact Michael Heinz at 627.7482 or Dr. Lloyd Pflueger at 665.3004.

A physics colloquium will be held at 4:35 p.m., Sept. 19, in Barnett 252. Adrian L. Melott, from the department of physics and astronomy at the University of Kansas, will give a lecture entitled "Galaxy Clustering and the Fate of the Universe." For more information, go to http://physics.truman.edu/colloquia.html.

Beta Alpha Psi is hosting James Castellano, vice-chair of the American Institute of Certified Public Accountants, at 6 p.m., Sept. 19, in the SUB Georgian Room. Castellano will deliver "The Accounting Profession in the 21st Century."

The Faculty Development Weekly Lunch Series will discuss the Residential College Program 2001-2002 in "Where We Are and Where We Are Going" from 12:30-1:20 p.m., Sept. 19, in the SUB Spanish Room. For more information, contact Shirley Morahan, director of Faculty Development, at 785.4477.

Students enrolled in the 2002 spring Missouri London Program and those interested in enrolling for a later date should attend an informational meeting from 4:30 until 5:30 p.m., Sept. 19-20, in the SUB Room 4. Dr. Dennis Leavens and students who have experienced the program will be present.

The Dobson Hall International Film Series will continue at 7 p.m., Sept. 19, in Dobson Hall 247 with a film to be announced. For more information, contact Dennis Leavens, Dobson Hall College Rector, at 785.5145.

The Advertising & PR Club will hold an informational meeting at 8:15 p.m., Sept. 20, in Baldwin Hall 218. For more information, contact Jennifer Robinson at 665.0271.

Omicron Delta Kappa National Leadership Honor Society (ODK) is accepting applications for membership. Applications can be picked up in the Center for Student Involvement or Student Affairs office. Applications and one letter of recommendation are due to the Student Affairs office by 5 p.m., Sept. 20.

The Career Expo will be held Oct. 15. Students wishing to submit resumes to companies that are prescreening will need to do so by midnight Sept. 20. All resumes must be submitted via the University Career Center's on-line resume system. Contact the Career Center at 785.4353 or http://career.truman.edu for more information.

Violinist Amy Appold and pianist Heidi Williams will perform a recital at 8 p.m., Sept. 23, in Baldwin Auditorium. They will also present a master class for Truman violin and piano students at 3 p.m., Sept. 22, in Baldwin Auditorium. Admission is free. For more information, contact David McKamie at 785.4405.

The University Observatory will be open to the public from 8 to 10 p.m., Sept. 24 and Oct. 8. Weather permitting, visitors are welcome to come and look through the telescope. Access to the observatory is via the stairs to the roof from the lobby outside of Magruder Hall 274.

Students who have completed or concurrent enrollment in French 221 may sign up for the Ninth Annual French Immersion Weekend and receive one credit hour. The event takes place Sept. 29-30 at Camp Jo-Ota in Clarence, Mo. The cost for food and lodging is $35. If interested, contact Timothy Farley at 785.4520 or tfarley@truman.edu.

The German Immersion weekend still has openings. Students with an intermediate or higher proficiency of German have the opportunity to gain one hour of credit. Contact Andrea Davis at andavis@truman.edu or 785.4085 for more information.
---
On Campus

---

18 Tuesday
7:30 a.m.-Men's golf (Bulldog Classic)
3:30 p.m.-Women's Tennis vs. Central College (Iowa), Truman Tennis Courts
6 p.m.-Speaker John Blumberg, VH 1000; see Notes
8 p.m.-"The Winter's Tale," Baldwin Auditorium; see Notes
8 p.m.-Art of Living Club informational meeting, BH 350; see Notes

19 Wednesday
12:30 p.m.-Faculty Development Lunch Series, SUB Spanish Room; see Notes
4:30-5:30 p.m.-Missouri London Program informational meeting, SUB Room 4; see Notes
7 p.m.-Dobson Hall International Film Series show TBA, Dobson 247; see Notes

20 Thursday
4:30-5:30 p.m.-Missouri London Program informational meeting, SUB Room 4; see Notes
8:15 p.m.-Advertising & PR Club informational meeting, BH 218; see Notes

21 Friday
4 p.m.-Men's Tennis (Singles Invitational), tennis courts

22 Saturday
Family Day, see Page 1

23 Sunday
11 a.m.-Women's soccer vs. Emporia State (Kan.), soccer fields; see Family Day Calendar of Events
1 p.m.-Bulldog volleyball vs. Washburn (Kan.), Pershing Arena; see Family Day Calendar of Events
2 p.m.-University Bands Concert, Baldwin Auditorium; see Family Day Calendar of Events
2 p.m.-Men's soccer vs. Emporia State (Kan.), soccer fields; see Family Day Calendar of Events
8 p.m.-Violinist Amy Appold and pianist Heidi Williams recital, Baldwin Auditorium; see Notes

24 Monday
8-10 p.m.-University Observatory open to the public, MG roof; see Notes
BACK TO THE TOP
---
Back to "News & Events"
[ HOME · DIRECTORIES · NEWS & EVENTS · SEARCH ]
Direct questions and comments to ksvoboda@truman.edu.
Deadline for entries is 5 p.m., the Wednesday preceding Tuesday's publication.
Copyright © 1996-2003 by Truman State University, Kirksville, Missouri. All Rights Reserved.
URL http://trumantoday.truman.edu