October 9, 2001 - Vol. 6 No. 8

Legislative Internship Interviews to be Held
Gupt to Speak about Hindu Universe Ritual
United Way Campus Fund Drive Continues with Emerti, Faculty and Staff Pledge Returns
Opportunities for NSF Fellowships Announced
Homecoming 2001 Schedule of Events
Gov. Bob Holden and Lori Holden to Serve as Homecoming Parade Grand Marshals

Missouri Gov. Bob Holden and his wife, Lori, will serve as grand marshals for the Homecoming Parade at 9 a.m., Oct. 13, on Franklin Street. In addition, Gov. Holden will speak at the Magruder Hall groundbreaking ceremony at 10:30 a.m., Oct. 13, on the north side of Magruder Hall.
Gov. Holden became Missouri's 53rd governor Jan. 8, after serving two four-year terms as state treasurer.
Born in Kansas City, Mo., Gov. Holden grew up on a small farm in south central Missouri. He is a graduate of Southwest Missouri State University with a bachelor's degree in political science. In 1983, he embarked upon his career in public service when he was elected state representative for the 136th district in Springfield, Mo. He served three terms, from 1983 to 1989.
Lori Hauser Holden was born at Whiteman Air Force Base, and her family moved to Aurora, Mo., when she was an infant. She earned a bachelor's degree in political science from Southwest Missouri State University in 1980.
In addition to advocating for education, health and the arts, Lori spends her time volunteering at West Elementary School in Jefferson City, Mo., where their oldest son Robert III, is enrolled in the fifth grade, and John D. is enrolled in the kindergarten program. She has been instrumental in expanding the school's technology base through the development of an in-house television studio.
---
Magruder Hall Groundbreaking Ceremony

You are cordially invited to attend the
groundbreaking of Magruder Hall
as part of Homecoming activities.
10:30 a.m.
Oct. 13
north side of Magruder Hall

---
Alumni and Young Alumni Awards Announced
Two couples, Dean and Amy Rosebery and Chris and Kara Geisert have been named the Alumni and Young Alumni of the Year, respectively.
Dean ('41) graduated from Truman with a bachelor's degree in biology education. He also holds a doctorate in philosophy from Virginia Tech. He began his Truman teaching career in 1952, holding various positions including Science Division Head before retiring in 1985. Dean served as the chair of the Kohlenberg Lyceum Centennial Celebration Committee in 2000 and currently chairs the Magruder Hall Campaign Committee.
Amy ('43) graduated from Truman as valedictorian of her class with a bachelor's degree in education. She went on to receive a master of science degree from Columbia University. The Roseberys have two children, both Truman graduates, and four grandchildren. Dean and Amy are both active in University events such as alumni activities, Lyceum events, and the John R. Kirk Society.
The recipients of this year's Young Alumni Award are Chris ('92) and Kara ('93) Geisert. Chris received a bachelor's degree in mass communications, while Kara earned a bachelor's degree in biology. Chris is director of promotions and sponsorships for America Online. After graduating from Truman, Kara attended University of Missouri-St. Louis to receive a teaching certificate. She taught science in Missouri and Virginia schools before taking time off to care for their 2-year-old son, Drew.
Both couples will be honored at the Alumni and Friends Celebration Banquet at 6:30 p.m., Oct. 12, in the Student Union Building Georgian Room. Tickets are $16, and can be purchased by calling the Office of Advancement at 785.4133.




---
Astronaut Dr. Sandra Magnus to Visit University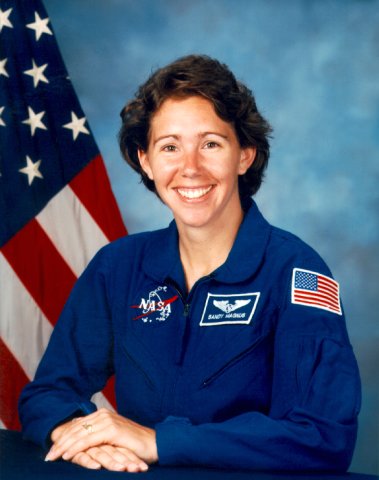 The Division of Science will present a talk for the general public by astronaut Dr. Sandra Magnus at 12:30 p.m., Oct. 12, in Violette Hall 1010.
Magnus, originally from Belleville, Ill., travels around the country promoting science and urging students to follow their own dreams.
"You can do it," Magnus said, according to a St. Louis Post Dispatch article. "There is no reason why you cannot."
Dr. Magnus joined NASA's astronaut corps in 1996, and is responsible for communications between the crew of the international space station and controllers on the ground. She communicates with the crew in Russian and in English. Her talk while on the Truman campus will focus on this work with the international space station.
Having completed two years of training and evaluation, she is qualified for flight assignment as a mission specialist. Magnus hopes to live and work on the $60 billion space station eventually. Currently, she is assigned to STS-112 scheduled to launch in 2002.
Magnus received her bachelor's degree in physics and a master's degree in electrical engineering from the University of Missouri-Rolla in 1986 and 1990, respectively. She also worked as an engineer for McDonnell Douglas Aircraft Co. before receiving a doctorate from the School of Material Science and Engineering at Georgia Tech in 1996.
Admission is free for the event. Contact Peter Rolnick, associate professor of physics, at 785.4611 for more information.
---
Legislative Internship Interviews to be Held
Legislative internships are available, for all majors, this spring semester in Jefferson City for those interested in state government.
The Missouri Government Internship Program offers a unique opportunity for students to intern with a public official, legislator or state agency during the spring 2002 semester. The internship, which is open to all majors, provides an inside look at state government. Interns are assigned to public officials or offices based upon compatibility and interests.
Interviews for students who have filled out an application for the legislative internships will be held Oct. 16-17. Interns receive a stipend of $2,200.
Interested students should contact Public Relations at 785.4016. Applications are still available in McClain Hall 102.
---
Gupt to Speak about Hindu Universe Ritual
Bharat Gupt, associate professor of English at the University of Delhi, will present a public lecture titled "Ritual: A Unity of Mind, Speech and Body in the Hindu Universe" from 7:30 p.m. until 8:45 p.m., Oct. 16, in Ryle Hall Main Lounge.
Gupt spent a year in the United States at the end of Counter-Cultural days and received his master's degree from the University of Toronto. He studied musicology, yoga sutras and classics under Acarya Brihaspati and Swami Kripavalananda.
Trained both in modern European and traditional Indian educational systems, Gupt has worked in classical studies, theatre, music, culture and media studies and researched as a Senior Onassis Fellow in Greece on the revival of ancient Greek theatre.
Gupt is a visiting faculty member at the National School of Drama, New Delhi, and the Bhartend Academy for Dramatic Arts in Lucknow, India.
His books include "Dramatic Concepts Greek and Indian" and "Natyashastra, Chapter 28: Ancient Scales of Indian Music." Gupt has been widely published in research journals and Indian newspapers on cultural and educational issues.
This lecture includes a slide presentation and is free to all Truman students, faculty and staff. Gupt will speak at another public lecture, "Gandhi: A Critical Revisit," from 7:15 until 8:45 p.m., Oct. 18, at the Student Union Building Activities Room. Admission is free. For more information, contact Ramesh Rao, associate professor of communication, at 785.7228.




---
United Way Campus Fund Drive Continues with Emerti, Faculty and Staff Pledge Returns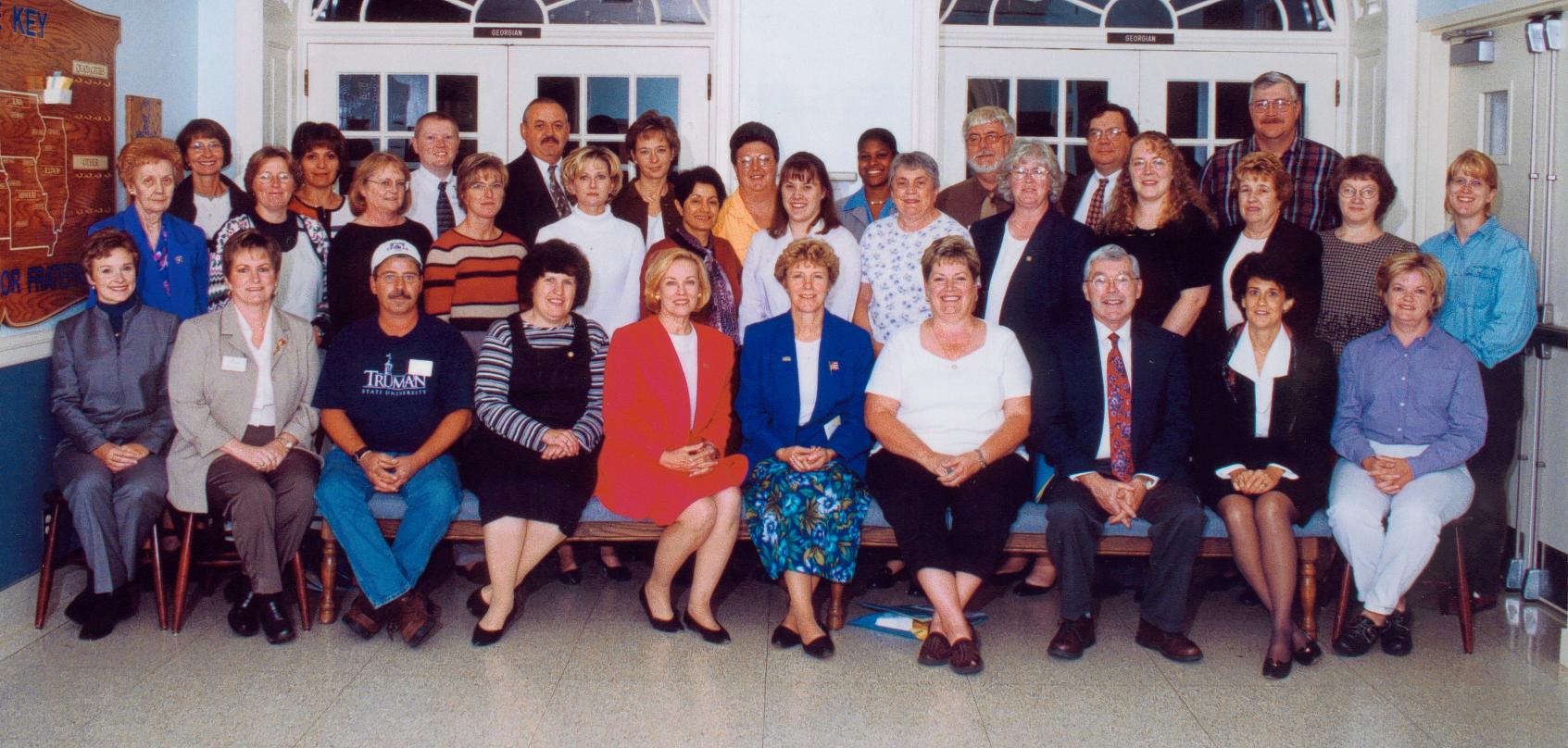 Faculty/staff group leaders who were able to attend the fund drive kick off workshop are from left to right, Stephanie Chipman, Sheila Coonfield, Tim Maize, Sue Neely, co-chair Marianna Giovannini, co-chair Donna Bailey, Judy Alexander, Jim Tichenor, Lana Brown and Joyce Schmitz. Row 2: emerti drive chair Mary Jane Kohlenberg, Pam Gardner, Betty Floyd, Paula McCartney, Julie Treasure, Hena Ahmad, Katie Svoboda, Marilyn Gibbons, Peggy Clark, Meredith McCannon, Mary Giovannini, Karen Croarkin, Jennifer Matteson. Row 3: Barb Kline, Kathy Bulen, Chad Tatro, Dennis Markeson, Traci Hill, Teresa West, student co-chair Stacy Wright, Carlton DeFosse, Michael McManis and Glenn Wehner.
The United Way campus fund drive is well underway, with many emerti, faculty, staff, and students of Truman, Barnes and Noble, Collegis and Sodexho turning in their pledges to their group leader. Truman has now met 40 percent of the $47,500 goal and have four hearts on the sign located in an area east of the Student Union Building. Several have taken advantage of the opportunity to pledge a minimum of $104, which gives them the opportunity to participate in the drawing for the $2,000 trip to Disney World. The fund drive will continue throughout October.
Pledges can be designated to all 15 agencies or only the agencies the donor wishes to support. This year the Central Missouri Food Bank was added to the list of agencies. Through the Food Bank, a $1 donation can purchase $20 worth of food.
At least 80 percent of the residents of Adair and surrounding counties will benefit from the agencies in the United Way fund drive. The poverty rate of Adair county is 15.8 percent, consisting of senior citizens, single parent families and the working poor. United Way links people who need help with those who can help.
The student committee is making plans for the annual Food Fast which will be dinner on Oct. 25. Students who live on campus will be able to sign up with their student advisor to donate a portion of their dinner fee, or may choose to eat their dinner and may contribute $1.60 toward the student goal of $6,000. About 80 percent of the students participate in the Food Fast.
A video highlighting the agencies of Adair County United Way may be reserved for classroom or organization use. The Truman Campus United Way Fund Drive has a new Web site at www2.truman.edu/mgio/unitedway.
---
Opportunities for NSF Fellowships Announced
Applications for the 2002-2003 competition for the National Science Foundations (NSF) Graduate Research Fellowship Program are now available. The NSF will award approximately 900 new Graduate Research Fellowships to support graduate study in science, mathematics and engineering. Each three-year fellowship provides a stipend of $20,500 for 12-month tenure, and a cost of education allowance of $10,500 per tenure year.
The deadline for applying in the 2002 competition is Nov. 7, 2001. For more information contact the NSF Graduate Research Fellowship Program at (865) 241-4513 or by email at nsfgrfp@orau.gov.



---
Homecoming Royalty Voting
will take place from 11 a.m.-2 p.m.,
Oct. 8-11, in the Student Union Building.

Homecoming
King Candidates

Dan Chavez
Brian Coady
Aaron Gurlly
David Mayhew
Corey Webel


Homecoming
Queen Candidates

Corinne Brinkerhoff
Adrianna Mayson
Yasine Mogharreban
Shanee Perkins
Ashley Schwartzman
---
Career Expo
1-5 p.m.
Oct. 15
Student Union Building

For a complete list of companies, visit the Career Center's Web site
http://career.truman.edu/CareerExpo/home.asp
Contact the Career Center at 785.4353 for more information.

---
The Homecoming 2001 Schedule of Events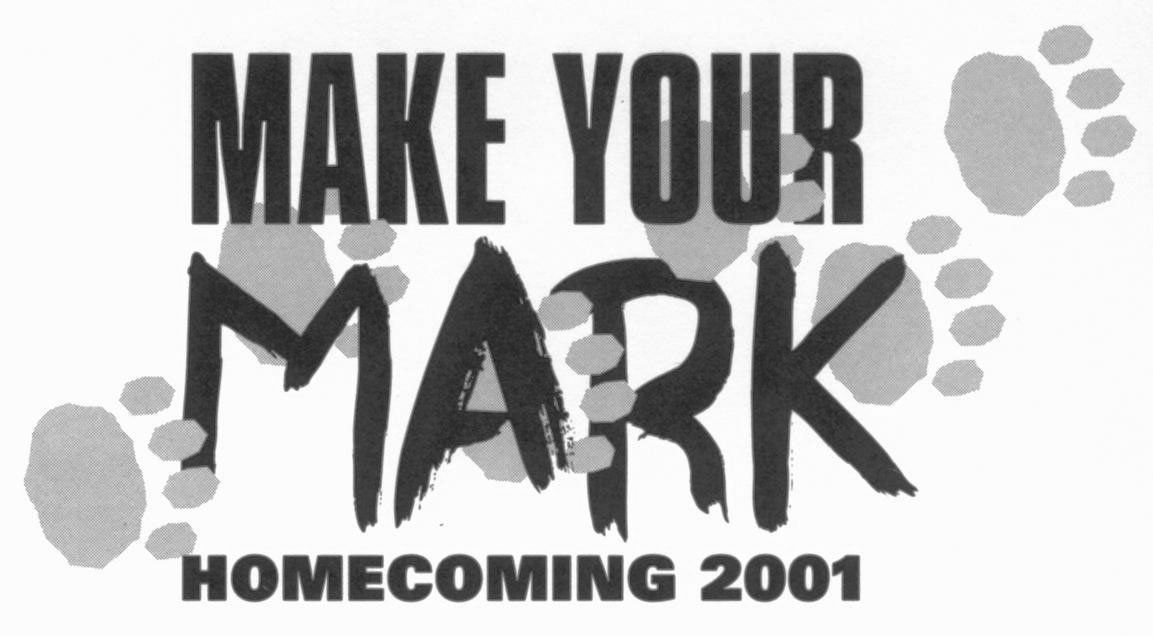 Tuesday, Oct. 9
Sand Volleyball
4 p.m. - Ryle Commons & Phi Sigma Kappa House
Coed Faculty/Staff Softball Tournament
4:30 p.m.- North Park Softball Fields (past Wal-Mart on right)
Karaoke
7 p.m.-SUB Down Under
Wednesday, Oct. 10
Flag Football
4 p.m.-Red Barn Park
Scavenger Hunt
4:30 p.m.-Blanton/Nason/Brewer Courtyard
Spades Tournament
6 p.m.-SUB Down Under
Faculty Night Out
6 p.m.-SUB Rooms 4 and 6
Thursday, Oct. 11
Trivial Pursuit
4 p.m.-SUB Activities Room
Skit Competition
7:30 p.m.-Baldwin Auditorium
Memorial Service
9 p.m.-Flame to the Second Century
Friday, Oct. 12
Estate Planning Seminar/Brunch*
10 a.m.-SUB
Bulldog Classic Golf Tournament*
11:30 a.m.-Kirksville Country Club
Ultimate Frisbee
4 p.m.-Red Barn Park
Alumni & Friends Celebration Banquet*
6:30 p.m.-SUB
Lip Sync Competition
6:30 p.m.-Baldwin Auditorium
Coronation
8 p.m.-Baldwin Auditorium
Pep Rally
9 p.m.-Pershing Arena
Bonfire
10 p.m.-Red Barn Park
Saturday, Oct. 13
5K Run*
8 a.m.-Barnett Hall
Homecoming Parade
9 a.m.-Franklin Street
Reunion of Voices
10 a.m.-Baldwin Hall
Magruder Hall Groundbreaking
10:30 a.m.-Magruder Hall
Reunion Luncheons*
11 a.m.-SUB
Tailgate Party
11 a.m.-Red Barn Park
Bulldog football vs. Missouri Southern
2 p.m.-Stokes Stadium
All-Alumni Mixer
5 p.m.-Days Inn
Comedian Tim Young
5:30 p.m.-Baldwin Auditorium
Step Show
8 p.m.-Baldwin Auditorium
Sunday, Oct. 14
Guest Artist Piano Recital Martin Cuellar
3 p.m.-Baldwin Auditorium
* Reservations required.


---
Planning an Event or Bringing a Speaker to Campus?
Please check the online Master Calendar for possible conflicts.
The online Master Calendar provides information and dates for events on campus.
Access this resource at
http://calendar.truman.edu/
If your event is not on the calendar, please call 785.4243.

---
Notables

Jen Ergle, Master of Arts in Education intern, was one of three U.S. students selected to the National Education Association (NEA) Board of Directors. She will serve a one-year term, attend meetings in Washington, D.C., and speak at other universities about the National Education Association - Student Program (NEA-SP).

Three Truman faculty members and one student presented their contributions on the theme of "Assessing the African Renaissance" at the Mid-America Alliance for African Studies (MAAAS) annual conference in St. Louis Sept. 28-29. Melissa Derrick, senior French and German double major, presented her research titled "African International Students' Post-Graduation Decisions: Returning Home or Remaining in the United States." Dr. Sylvia Ojukutu-Macauley, assistant professor of history, presented her case study of "Seeking Refuge, Finding Terror: The Internally Displaced Women of Sierra Leone;" Dr. Emmanuel Nnadozie, associate professor of economics and McNair Program Director, presented "Constitution and Economic Development in Africa: The Case of Nigeria;" and Dr. Linda Seidel, professor of English, presented "Death and Transformation in J.M. Coetzee's Disgrace." Dr. Hena Ahmad, assistant professor of English, and Courtney Carter, sophomore sociology/anthropology major, also attended this conference that was sponsored by the Center for International Studies at University of Missouri-St. Louis.
---
Notes
The Division of Fine Arts and theatre department will present the play Approaching Zanzibarat 8 p.m., Oct. 9-13, in Baldwin Hall Little Theatre. Admission is free, but tickets can be reserved for $1.

The Faculty Development Weekly Lunch Series will discuss "New Initiatives for Addressing Student Conduct" from 12:30-1:20 p.m., Oct. 10, in the SUB Spanish Room. For more information, contact Shirley Morahan, director of Faculty Development, at 785.4477.

The Dobson Hall International Film Series will continue with a screening of Aleksandr Sokurov's "Mother and Son" at 7 p.m., Oct. 10, in Dobson Hall 247. For more information, contact Dennis Leavens, Dobson Hall College Rector, at 785.5145.

Bruce West, professor of photography at Southwest Missouri State University, will present a retrospective of his work at 4 p.m., Oct. 11, in Dobson Main Lounge. He will give a talk titled "The Mississippi Delta and the Reverend Dennis" at 7:30, Oct. 11, in Ryle Main Lounge. For more information, contact Dr. Dennis Leavens at 785.5145.

Information Technology Services (ITS) is offering Application Workshops to Truman faculty and staff. The first in this series is "Microsoft Excel 2000 for Beginners" from 10 a.m until noon, Oct. 12, in Pickler Memorial Library, Room 103. Seating is limited. R.S.V.P. to itstrain@truman.edu.

Hispanic Heritage Month festivities will conclude with a performance by Dr. Martin Cuellar, a solo pianist, at 3 p.m., Oct. 14, in Baldwin Auditorium. For more information, contact the Multicultural Affairs Center at 785.4142.

The Society of Professional Journalists is sponsoring a student panel for communication majors, "What every comm major wanted to know but was afraid to ask," 7 p.m., Oct. 15, in Centennial Hall Lounge.

Applications for students interested in joining Student Together Educating Peers (S.T.E.P.) can be picked up at University Counseling Services. S.T.E.P. members educate the Truman community on issues related to sexual assault, sexual harassment and diversity. Applications are due Oct. 18. For more information, call 785.4014. Men and individuals from diverse backgrounds are encouraged to apply.

The University Observatory will be open to the public from 8 to 10 p.m., Oct. 22, Nov. 5, 19 and Dec. 3. Weather permitting, visitors are welcome to come and look through the telescope. Access to the observatory is via the stairs to the roof from the lobby outside of Magruder Hall 274.

Award-winning country recording star, Jessica Andrews, will perform at 7 p.m., Oct. 26, in Pershing Arena. Tickets will be available starting Oct. 8 from the SAB office, SUB lower level. Admission is $5 for Truman students with ID and $15 for the general public. Andrews' recent hits include "Who I Am" and "Helplessly, Hopelessly." For more information, contact SAB at 785.4722.

Phi Kappa Phi National Headquarters is offering grant opportunities for PKP students planning to study abroad or do internships during 2002. Twenty grants in each category, valued at $1,000 each, are awarded annually. The deadline for applications to be at the National Headquarters is Nov. 1. For more information, contact Mary Lou Woehlk at 785.4691 or mlw@truman.edu.

The TLTR Committee is seeking faculty members interested in advancing the cause of technology in teaching and learning at Truman to serve on the committee. Contact Chad Mohler at 785.6034 for more information.

Certified lifeguards are needed to work morning and afternoon hours. If interested and qualified, please apply at the Truman State University Natatorium in the lower level of Pershing Building.
---
On Campus

---

9 Tuesday
8 p.m.-Approaching Zanzibar,Baldwin Hall Little Theatre; see Notes

10 Wednesday
12:30 p.m.-Faculty Development Lunch Series, SUB Spanish Room; see Notes
7 p.m.-Dobson Hall International Film Series show "Mother and Son," Dobson Hall 247; see Notes

11 Thursday
4 p.m.-Retrospective of Bruce West's work, Dobson Main Lounge; see Notes
7:30-9:30 p.m.-"The Mississippi Delta and the Reverend Dennis," Ryle Main Lounge; see Notes

12 Friday
10 a.m.-ITS Application Workshop "Microsoft Excel 2000 for Beginners," PL 103; see Notes
12:30 p.m.-Astronaut Sandra Magnus, public talk, VH 1010; see Woman Astronaut to Visit University

13 Saturday
2 p.m.-Bulldog football vs. Missouri Southern, Stokes Stadium
3:30 p.m.-Board of Governors meeting, SUB Alumni Room

14 Sunday
3 p.m.-Solo pianist, Dr. Martin Cuellar, Baldwin Auditorium; see Notes

15 Monday
1 p.m.-Career Expo, SUB; see Career Expo
7 p.m.-Student panel for communication majors, Centennial Lounge; see Notes
BACK TO THE TOP
---
Back to "News & Events"
[ HOME · DIRECTORIES · NEWS & EVENTS· SEARCH ]
Direct questions and comments to ksvoboda@truman.edu.
Deadline for entries is 5 p.m., the Wednesday preceding Tuesday's publication.
Copyright © 1996-2003 by Truman State University, Kirksville, Missouri. All Rights Reserved.
URL http://trumantoday.truman.edu