October 16, 2001 - Vol. 6 No. 9

Tel Alumni Conducts National Phonathon, Promotes Make Your Mark Brick Campaign
Author to Examine Images in Advertising
Students Help with United Way Fund Drive
Jefferson City Legislative Internship Interview Information
Career Center Workshop Available
Ride to Train Station for Thanksgiving Break
Ballet Gran Folklorico de Mexico to Perform Folk Music and Dance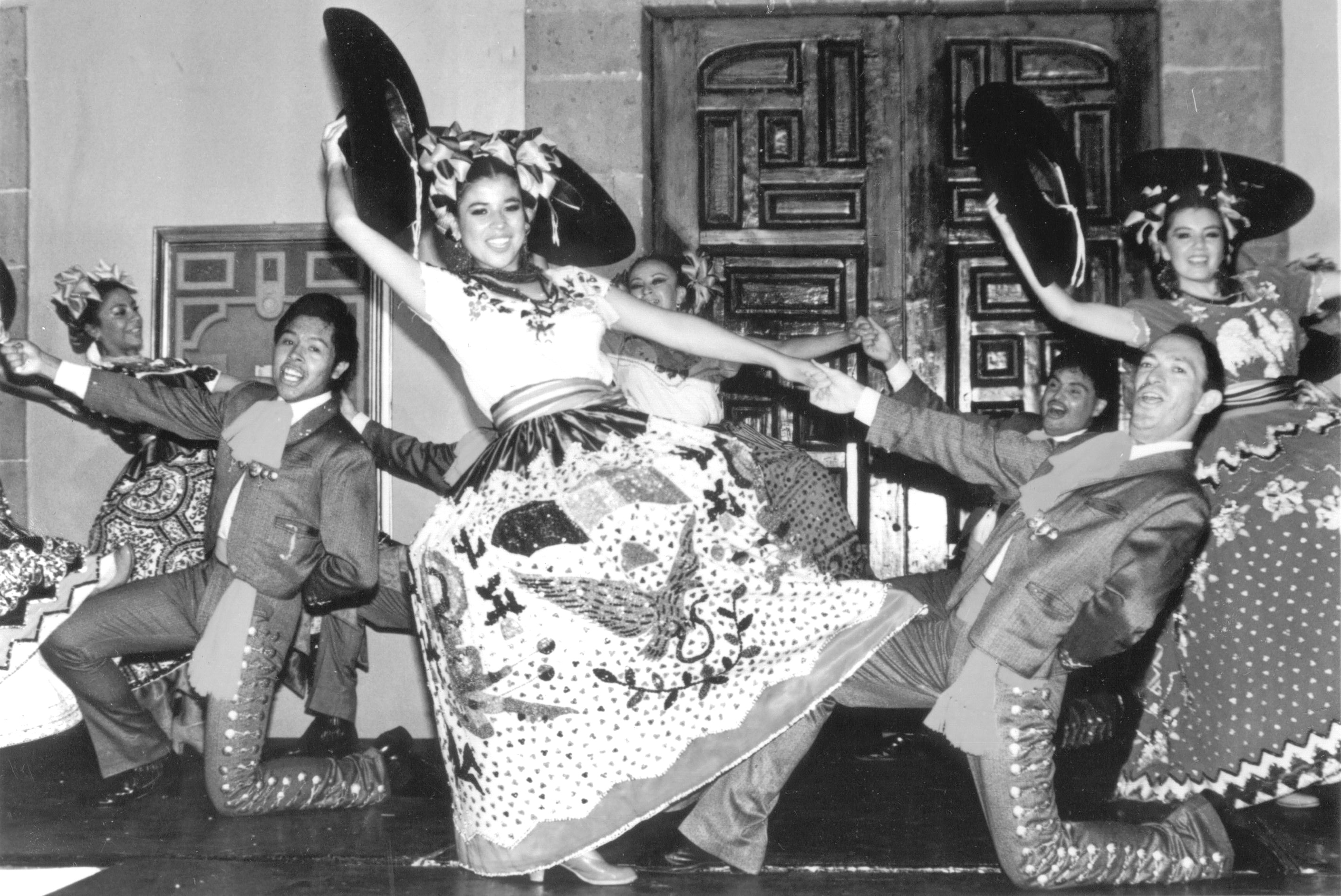 The Ballet Gran Folklorico de Mexico will entertain the Truman community as the second act in the 2001-2002 Kohlenberg Lyceum Series season. The Ballet will perform at 7:30 p.m., Oct. 27, in Baldwin Auditorium.
The dances performed by the Ballet, though arranged for the stage, have a background of heritage that dates backs to the original native inhabitants of Mexico. Tribes such as the Mayas, Otomis and Aztecs have outstanding artists among their descendants, as well as among the mestizos, people of mixed native Mexican and European descent.
Direct from Mexico City, this world-wide traveling company of 35 singers, dancers and musicians is under the general direction of Theo Shanab and choreographed by Lino Ortega. They regularly perform in the United States and Canada and have appeared throughout Europe, Asia and South America.
Shanab integrates genuine folk artists, both musicians and dancers, maintaining a high artistic level throughout the performance. The colorful, rhythmic, pulsating show is presented in a swirl of authentic costumes with Mariachi, Marimba and Jorocho bands providing exciting musical settings for the panorama of Mexican dance and song.
Free tickets to Ballet Gran Folklorico de Mexico will be available for students, faculty and staff beginning Oct. 18 in the Student Activities Board Office and at the Center for Student Involvement.



---
Kohlenberg Lyceum Series tickets
will now be available for students, faculty and staff
at the following locations prior to performances.
Center for Student Involvement
8 a.m.-5 p.m.
Student Activities Board
9 a.m.-3:30 p.m.
University ID will be swiped to receive a ticket.

---
Harker to Speak in Linda Hall Library Series
Christine Harker, assistant professor of English, will present the fifth lecture of the 2001 Linda Hall Lecture Series at 5:30 p.m., Oct. 18, in the Main Reading Room at Linda Hall Library in Kansas City, Mo. Her topic will be "The Book: a Millennial Evolution of Form, Function, and Technology."
The Linda Hall Library of Science, Engineering and Technology is one of the nation's leading specialty research libraries. It houses numerous major collections and reference materials and an education program that features onsite and online exhibitions, a U.S. Patent and Trademark Depository, a rare science history collection and the annual Linda Hall Lecture Series.
The 2001 Series marks the fifth year for the event and features Truman faculty from several departments. They are the first invited lecturers from a public university.
Harker earned her bachelor's degree in biochemistry and English and her master's degree with the specializations of medieval English and manuscript studies from the University of Victoria in Victoria, British Columbia. She earned her doctorate degree from the University of California-Riverside, in Riverside, Calif.
The Linda Hall Lecture Series is part of several outreach programs that promote an interest in science among the general public. Linda Hall Library is located at 5109 Cherry Street and the lectures are free and open to the public. For more information, check www.lindahall.org.




---
2001 Linda Hall Lecture Series Speakers

Dr. Christine Harker
Oct. 18
"The Book: A Millennial Evolution of Form, Function and Technology"

Dr. Chad Mohler
Nov. 15
"The Development of Science: Progressive or Revolutionary?"

---
Tel Alumni Conducts National Phonathon, Promotes Make Your Mark Brick Campaign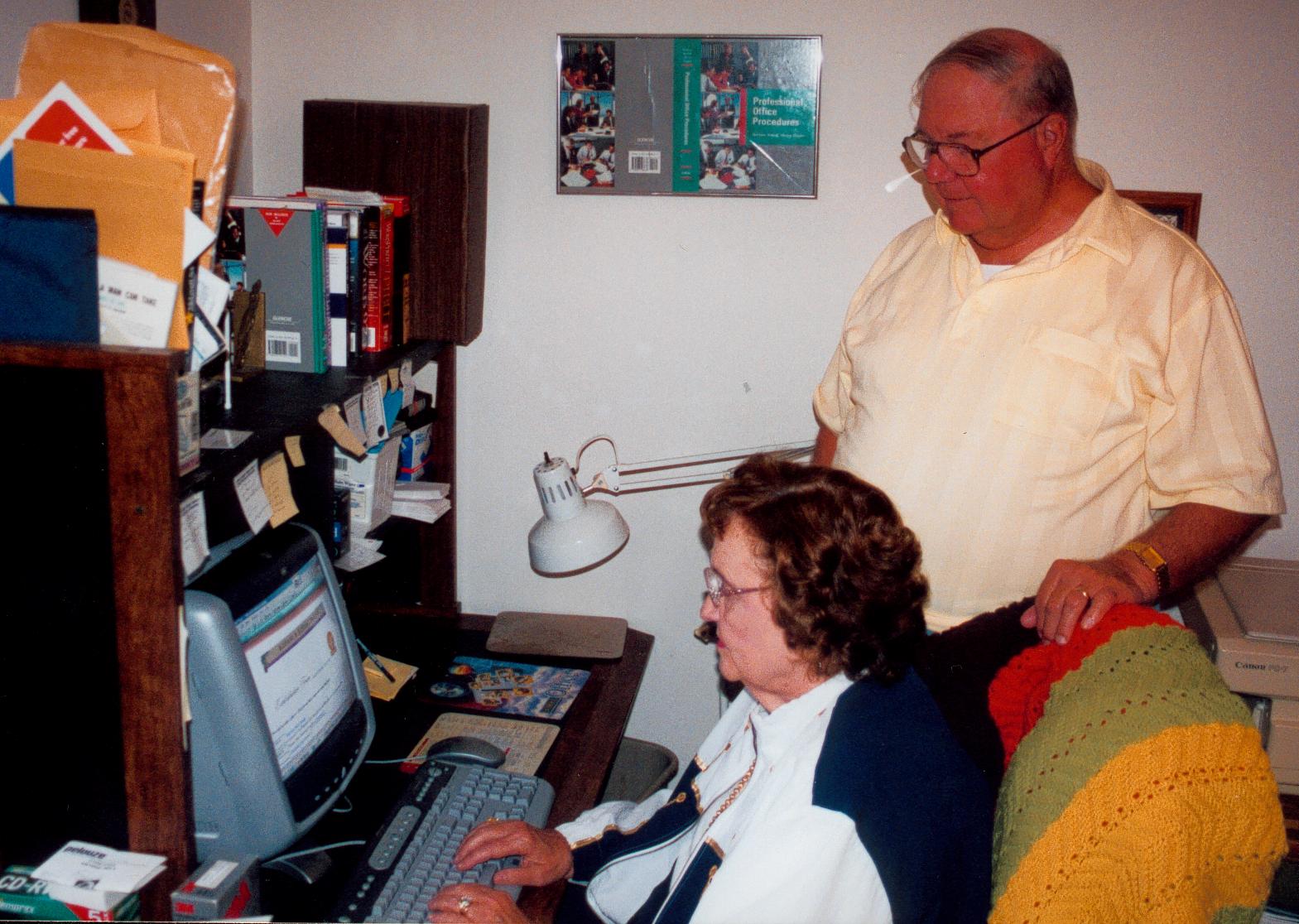 Don ('50) and Jolene Scriven ('54), surf the Magruder Hall
Web site and online contribution form to learn more about
the campaign from their home in DeKalb, Ill.
Truman student callers have already contacted thousands of alumni in the first weeks of the Tel Alumni national phonathon. Tel Alumni continues through the end of the semester and student callers hope to reach more than 25,000 alumni, parents and friends in order to update their address and employment information, and visit with them about making a gift to the Truman State University Foundation.
This year, all alumni, parents and friends are being asked to support the Magruder Hall Campaign to renovate and expand the science building. As part of this effort, those who give $100 or more will be recognized with a personalized brick to be placed in the plaza just north of Magruder Hall, between the clock tower and the Student Union Building. Non-science alumni have been receptive to the idea of "making their mark on campus" since about 40 percent of all Tel Alumni pledges have been designated to purchase bricks and support the Magruder Hall Campaign.
As part of this national effort, a new Magruder Hall Campaign Web site that includes an online contribution form has been developed and can be accessed at http://isupport.truman.edu/MagruderHallCampaign/index.html. Alumni and friends may access detailed illustrations of the new science facility, the three levels of personalized bricks that are available ($100, $250 and $1500), information about special projects in each of the science disciplines, and updates on the construction and renovation that is set to begin in January 2002.
Faculty and staff interested in contributing to the Magruder Hall Campaign and receiving a brick may pick up an order form in the Advancement Office, McClain Hall 100 or print the information from the Make Your Mark Brick Campaign Web site at http://isupport.truman.edu/MagruderHallCampaign/MakeYourMark_BrickCampaign.html.




---
Author to Examine Images in Advertising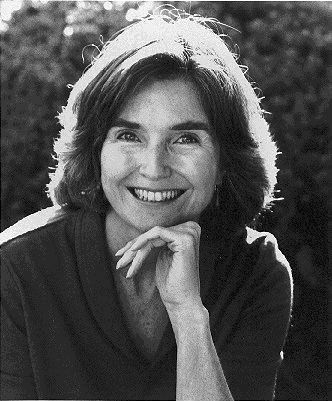 Author Dr. Jean Kilbourne will examine images in advertising in a presentation titled "The Naked Truth: Advertising's Image of Women," at 7:30 p.m., Oct. 17, in the Student Union Building Georgian Room. She will explore the relationship of media images to actual problems in society.
Kilbourne has twice been named Lecturer of the Year by the National Association of Campus Activities. She has also received a Leadership in Action award from the Women's Action Alliance and a Woman of the Year award from the National Organization for Women.
Kilbourne received her bachelor's degree in English from Wellesley College in Wellesley, Mass., and a doctorate in education from Boston University in Boston.
She has been a visiting scholar at Wellesley College since 1984. She serves on the Junior League, Women's Action Alliance, the Media Education Foundation and the Marin Institute for the Prevention of Alcohol and Other Drug Problems.
Kilbourne's latest publication is her book "Can't Buy My Love: How Advertising Changes the Way We Think and Feel." She has written many articles, including editorials in The New York Times, USA Today and The Journal of the American Medical Women's Association.
Her award-winning documentaries include "Killing Us Softly," "Slim Hopes" and "Pack of Lies."
Kilbourne's lecture is sponsored by the Residential College Program, Feminist Majority Leadership Alliance and the Funds Allotment Council..




---
Students Help with United Way Fund Drive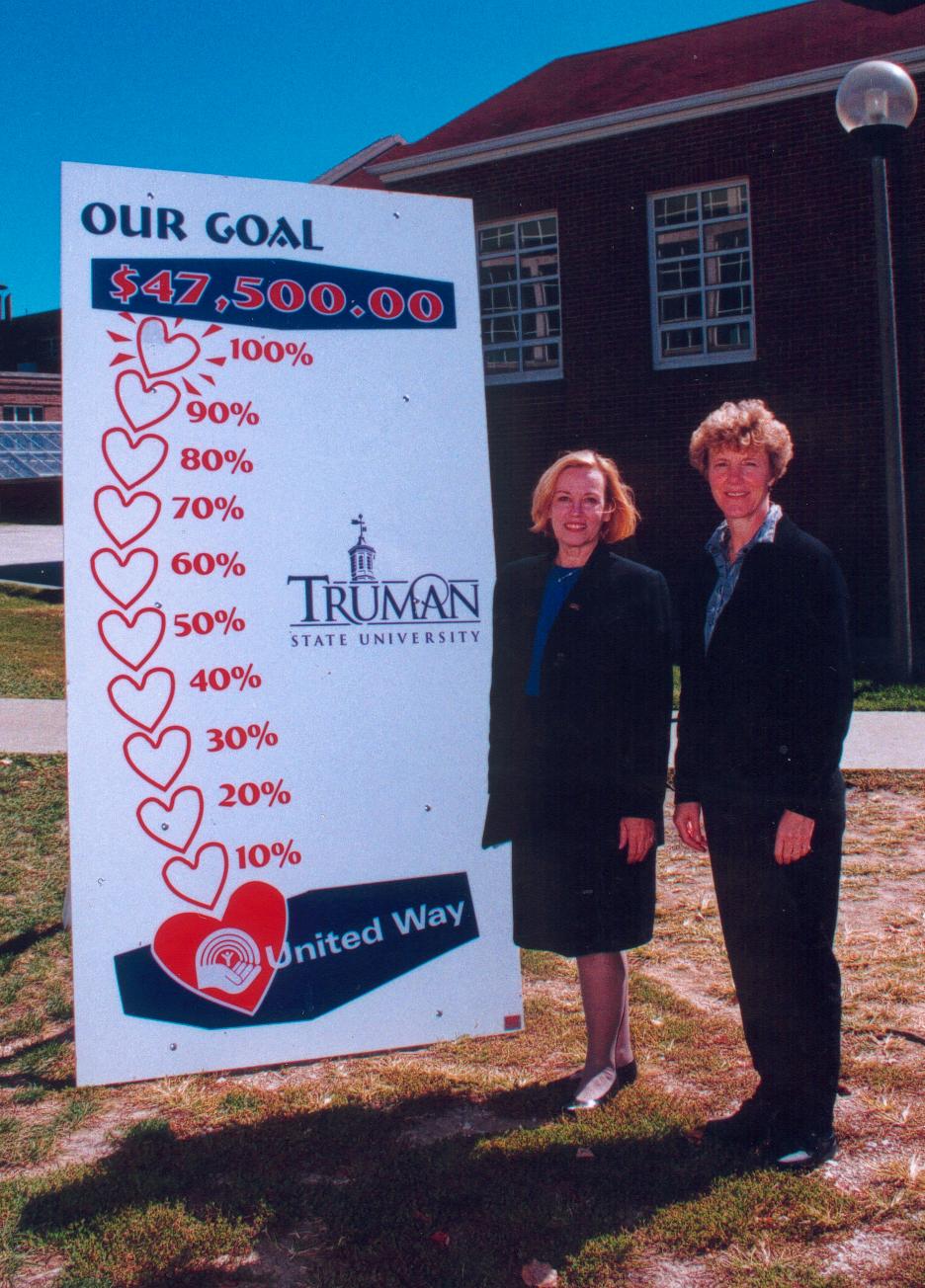 United Way Campus Fund Drive co-chairs Marianna Giovannini, Residential College Program,
and Donna Bailey, instructor in mathematics, are leading the way to reach Truman's goal.
The volunteer group leaders for the campus fund drive are continuing to contact all faculty and staff to give them an opportunity to contribute to one, two or all of the 15 agencies of the United Way of Adair County.
The various agencies provide services and programs to help people in need by providing food, shelter, elderly services, child care, family counseling, youth activities and crisis intervention. Some of the agencies are Adair County Family YMCA, Central Missouri Food Bank, Hospice 2000, Retired Senior Volunteer Program and Victim Support Services Inc. This week 60 percent of the $47,500 goal has been reached and the campus fund drive sign has 6 hearts.
In the residence hall communities, the student advisers are contacting each of their residents to give each one an opportunity to donate their dinner on Oct. 25 during the annual Food Fast. The student committee is also coordinating campus student organizations in a variety of fund-raising activities, including "Music on the Mall" and a raffle during the week of Oct. 22. The Truman community is supportive of improving the quality of life for others less fortunate in Kirksville and surrounding communities by stepping forward together to "Lead the Way!" Additional details about fund-raising events can be found at
http://www2.truman.edu/mgio/unitedway.



---
Jefferson City Legislative Internship Program
Interviews are now being scheduled for Spring 2002 Legislative Internships.
Interns receive a $2,200 stipend and up to 15 hours of credit.
All majors and those students with junior status are encouraged to apply.
Applications are available in McClain Hall 102 or at
http://www.truman.edu/newsevents/mogov_app.pdf
Information about the program is available at
http://www.truman.edu/newsevents/mogov_brochure.htm
Call 785.4016 for more information.
---
Career Center Workshop
Learn how to navigate the job search process from beginning to end with a three-hour
"Getting the Job" session at the Career Center.
This workshop can be divided into one-half, one and two hour segments.
Contact the Career Center at 785.4353 for more information.
---
Need a ride to the Train Station for Thanksgiving break?
The Department of Public Safety offers a shuttle to the train station:

depart for LaPlata
9 a.m.
Nov. 20

return to Kirksville
8:30 p.m.
Nov. 25

Cost is $5 for round trip shuttle service.
Call 785.4177 to sign up.

---
Bharat Gupt
associate professor of English at the University of Delhi
public lecture
"Ritual: A Unity of Mind, Speech and Body in the Hindu Universe"
7:30-8:45 p.m.
Oct. 16
Ryle Hall Main Lounge
public lecture
"Gandhi: A Critical Revisit"
7:15-8:45 p.m.
Oct. 18
Student Union Building Activities Room
Admission is free.
For more information, contact Ramesh Rao, associate professor of communication, at 785.7228.

---
Notables

Jim Barnes, writer-in-residence and professor of comparative literature, has had two short stories accepted for publication. His short story "Deacon Jim Miller's Last Known Address: Ada Kail, 19 April 1909" will appear in a forthcoming issue of The Connecticut Review. His short story "The Old Man" will appear in a future issue of Sou'wester. In addition, Barnes has been notified that his poem titled "Directions," from his 1997 book of poetry "Paris," will be aired Oct. 21 on "The Writer's Almanac" by Garrison Keillor, sponsored by Minnesota Public Radio.

Truman's Gamma Rho chapter of Eta Sigma Gamma National Professional Health Science Honorary has been awarded Eta Sigma Chapter of the Year for the fifth consecutive time. Melissa Seifert, May 2001 graduate of Excelsior Springs, Mo., was also awarded 2001 Gamman of the Year, and Dr. Carolyn Cox, chapter adviser, was awarded the Distinguished Service Award. The awards will be presented Nov. 9 at the American School Health Conference in Albuquerque, N.M.

Two music composition majors have received top honors in the 2001-2002 Missouri Music Teachers Association Composition Competition: Collegiate Division. Alfredo Santa Ana, junior music major from Mexico City, was awarded first place for his composition "Llego en la Noche" for voice and piano. Joshua Luetkemeyer, senior music major from Jefferson City, Mo., was named second place for his work "There's Never Enough Time" for flute quartet. Santa Ana's composition will be performed Nov. 10 at the Missouri Music Teachers Association 2001 Conference at Southwest Missouri State University. Performers will be tenor Daniel Trutwin, senior music major from Golden, Ill., and pianist Rachel AuBuchon, senior music major from Sullivan, Mo.

The Truman State University forensics team divided forces, sending debate competitors to Central Missouri State University and individual events competitors to Kansas State University and Hastings College Oct. 5-7. In total, the team brought home 47 awards from the weekend. Truman debaters won the Harold Lawson Invitational Debate Tournament sweepstakes championship at Central Missouri State University. At the Kansas State University half of the tournament, Truman placed second in tournament sweepstakes. At the Hastings College sponsored portion of the swing, Truman students captured 18 individual awards. In addition, Truman students swept all three awards in the pentathlon for both the Hastings half of the tournament and the swing..
---
Notes
The University Bookstore's new business hours are from 8 a.m. to 5 p.m. on Monday-Friday, and 10 a.m. to 4 p.m. on Saturday.

Kim Fink, professor of printmaking at the University of North Dakota, has an exhibition displayed in the Ophelia Parrish Atrium Gallery from today until Oct. 20.

The Art History Society is sponsoring a Practicum Forum at 6:30 p.m., Oct. 16, in Ophelia Parrish 2210. Nine students will present their field work, internships and study abroad experiences. For more information, contact Marjorie Iwai at 665.4904.

The Faculty Development Weekly Lunch Series will discuss "What Do Faculty Do When 'There's Nothing to Do in Kirksville or Northeast Missouri'" from 12:30-1:20 p.m., Oct. 17, in the SUB Spanish Room. For more information, contact Shirley Morahan, director of Faculty Development, at 785.4477.

The Division of Math and Computer Science Colloquium Series will continue with "Ranking Football Teams" at 3:30 p.m., Oct. 17, in Violette Hall 1010. Thomas Tegtmeyer will talk about computer polls ranking college football teams. For more information, contact Phil Ryan at 785.4592.

Teresa York and John Ishiyama will host a McNair Program informational meeting at 4 p.m., Oct. 17, in Violette Hall 1416. This is an opportunity to learn about the McNair Program, its eligibility requirements and pick up an application. All applications are due at 5 p.m., Nov. 10, at the Adair Building. For more information or to pick up application materials, please call York at 785.5393 or visit the office in the Adair Building.

The Dobson Hall International Film Series will continue with a screening of Vitaly Kanevski's film "Freeze, Die, Come to Life" at 7 p.m., Oct. 17, in Dobson Hall 247. For more information, contact Dennis Leavens, Dobson Hall College Rector, at 785.5145.

Applications for students interested in joining Student Together Educating Peers (S.T.E.P.) can be picked up at University Counseling Services. S.T.E.P. members educate the Truman community on issues related to sexual assault, sexual harassment and diversity. Applications are due Oct. 18. For more information, call 785.4014. Men and individuals from diverse backgrounds are encouraged to apply.

Faculty Development is sponsoring a town meeting for faculty and staff titled "Responding to Tragedy: How to Assist Students During Times of Crisis" from 3:30- 5:30 p.m, Oct. 22, in the SUB Georgian Room. For more information and to R.S.V.P., contact Vicki Duck at 785.4391 or
facdev@truman.edu.

Alpha Sigma Gamma will host a Breast Cancer Awareness Month fund-raiser titled "Show Your Support" from 10 a.m. until 4 p.m., Oct. 22-24, on the Quadrangle. Bras will be decorated and hung. Individuals can sponsor a bra for $3, and organizations can sponsor a bra for $20. All money will go to the National Alliance of Breast Cancer Organizations. Contact Erika Hernandez at 665.6715 for more information.

The University Observatory will be open to the public from 8 to 10 p.m., Oct. 22, Nov. 5, 19 and Dec. 3. Weather permitting, visitors are welcome to come and look through the telescope. Access to the observatory is via the stairs to the roof from the lobby outside of Magruder Hall 274.

The Student Activities Board is hosting a Bingo Night from 7 to 9 p.m., Oct. 23, in Ryle Main Lounge. The event is free and there will be many prizes to win. For more information, contact Danny Witzofsky at 785.5327.

Award-winning country recording star, Jessica Andrews, will perform at 7 p.m., Oct. 26, in Pershing Arena. Tickets are available at the Student Activities Board office, SUB lower level. Admission is $5 for Truman students with ID and $15 for the general public. Andrews' recent hits include "Who I Am" and "Helplessly, Hopelessly." For more information, contact SAB at 785.4722.

Students interested in applying to one of the military academies should submit an application by Nov. 8 to U.S. Rep. Sam Graves' district office. Application packets are available at http://www.house.gov/graves/. Packets can also be received by contacting Jacob Dipietre, Graves' academy coordinator, at jacob.dipietre@mail.house.gov.

Information Technology Services (ITS) is offering Application Workshops to Truman faculty and staff. The second workshop in this series is "Microsoft Access 2000 for Beginners" from 10 a.m until noon, Nov. 16, in Pickler Memorial Library, Room 103. Seating is limited. R.S.V.P. to itstrain@truman.edu.

Certified lifeguards are needed to work morning and afternoon hours. If interested and qualified, please apply at the Truman State University Natatorium in the lower level of Pershing Building.
.




---
On Campus

---

16 Tuesday
6:30 p.m.-Art History Society Practicum Forum, OP 2210; see Notes
7:30 p.m.-Bharat Gupt, "Ritual: A Unity of Mind Speech and Body," Ryle Hall Main Lounge; see Bharat Gupt's Lecture Schedule

17 Wednesday
12:30 p.m.-Faculty Development Lunch Series, SUB Spanish Room; see Notes
3:30 p.m.-"Ranking Football Teams," VH 1010; see Notes
4 p.m.-McNair Program informational meeting, VH 1416; see Notes
7 p.m.-Dobson Hall International Film Series show "Freeze, Die, Come to Life," Dobson Hall 247; see Notes
7:30 p.m.-Dr. Jean Kilbourne, "The Naked Truth: Advertising's Image of Women," SUB Georgian Room; see Author to Examine Images in Advertising

18 Thursday
S.T.E.P. Applications due, University Counseling Services; see Notes
5:30 p.m.-Dr. Harker to speak in Linda Hall Lecture Series, Kansas City, Mo.; see Harker to Speak in Linda Hall Library Series
7:15 p.m.-Bharat Gupt, "Ghandi: A Critical Revisit" SUB Activities Room, see Bharat Gupt's Lecture Schedule

19 Friday
Midterm Break, no classes

20 Saturday
4 p.m.-Women's volleyball vs. Southern Illinois University, Pershing Arena

21 Sunday
noon-Men's soccer vs. St. Mary's (Texas), soccer field

22 Monday
Classes resume
3:30 p.m.- "Responding to Tragedy: How to Assist Students in Times of Crisis," SUB Georgian Room; see Notes
8-10 p.m.-University Observatory open to the public, MG roof; see Notes
BACK TO THE TOP
---
Back to "News & Events"
[ HOME · DIRECTORIES · NEWS & EVENTS · SEARCH ]
Direct questions and comments to ksvoboda@truman.edu.
Deadline for entries is 5 p.m., the Wednesday preceding Tuesday's publication.
Copyright © 1996-2003 by Truman State University, Kirksville, Missouri. All Rights Reserved.
URL http://trumantoday.truman.edu