Volleyball Team Progresses to Elite Eight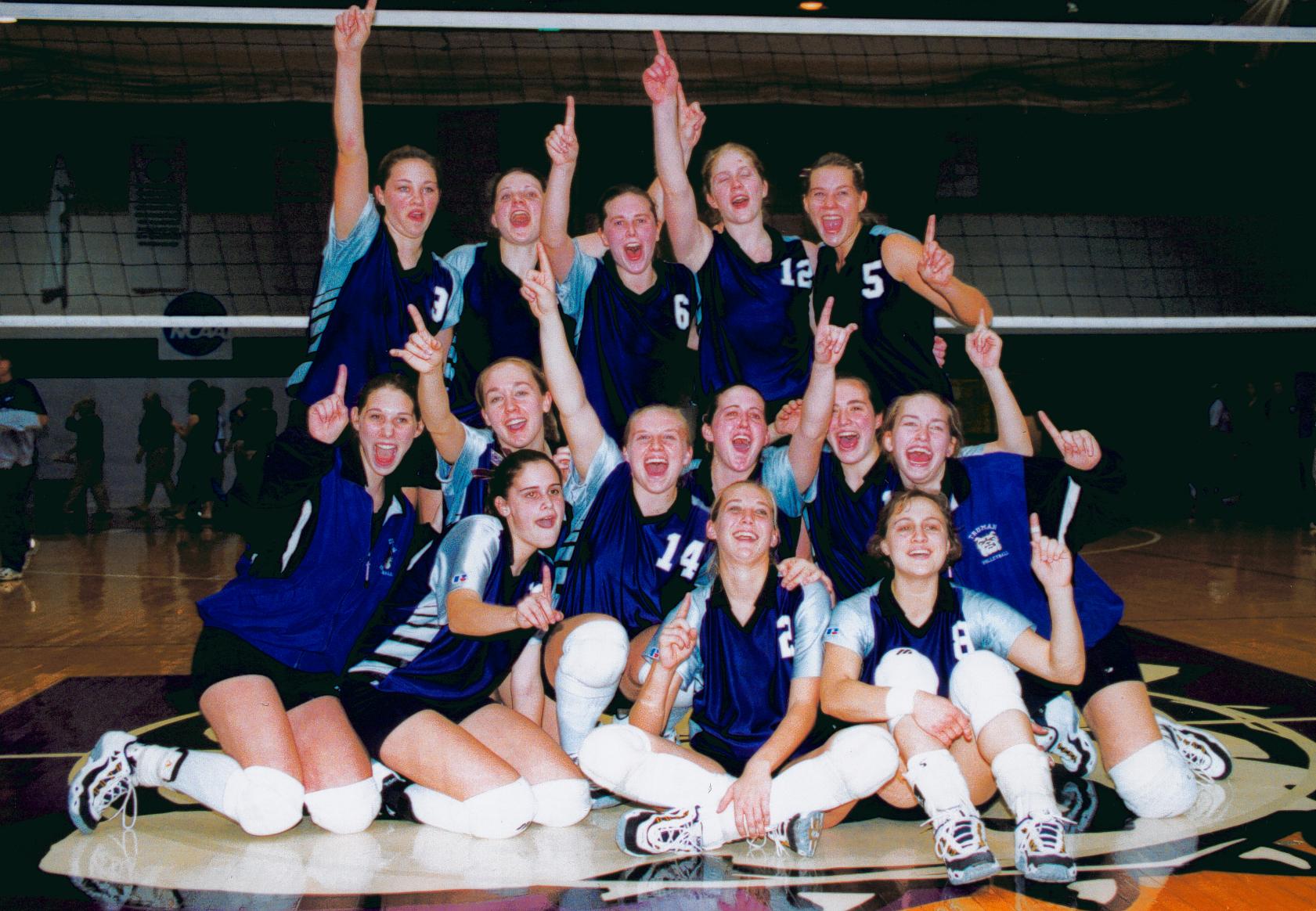 The 2001 Truman volleyball team celebrates their berth in the Elite Eight.
(front row l to r) Annie Nickolai, Jackie Knight, Rebecca Knefelkamp. (second row l to r)
Brandy Mreen, Lauren Dickbernd, Shelby Ortwerth, Jenna Buckner, Rachael Shedd, Kelly Vogel.
(back row l to r) Jessica Sears, Jenny Glenn, Monica Marlowe, Cassy Felkerson, Eliza Hoerner.
Rebekah Wedick and Brenda Ippensen are not pictured.
For the first time in Truman history the volleyball team qualified for the NCAA Division II Elite Eight Women's Volleyball Championship.
The No. 2 nationally ranked team's tournament record of 37-2 is the best in school history. Their 16-0 status in the Mid-America Intercollegiate Athletics Association is also a school record, a mark that allowed the team to collect its second straight, but first outright, conference championship.
Cassy Felkerson, senior chemistry major from Salem, Mo., was picked as a first-team All-American. Eliza Hoerner, senior business administration major from Augusta, Mo., was selected for the second team.
Additionally, head coach Qi Wang was named the South Central region's Coach of the Year and will be considered for national coach of the year recognition.




---
Truman Recycling
Truman recycles the following items - please separate if possible
Office Mix: white and colored paper, file folders, envelopes, pamphlets and brochures
Newspapers
Magazines and slick paper
Hardbound books
Aluminum cans
Cardboard
Contact Howard Worcester at 785.7672 for more information.

For a list that can be posted near recycling areas, please print out this week's Truman Today PDF version.




---
You are cordially invited to a
Retirement Reception
for
Patricia Ferguson
Cataloging Librarian who has served Truman for 17 years
1:30-3:30 p.m.
December 5
Student Union Building
Conference Room

---


Mark Your Calendars!

Truman Showcase
February 20
Death of a Salesman
March 4
Alan C. Page
April 6

For more information, call 785.4016.


---

Notables

Mike Cannon, women's head soccer coach, was named NCAA Regional Coach of the Year.

Salvatore Costa, assistant professor of psychology, was named Faculty Member of the Year by the women of Alpha Kappa Alpha for exemplifying outstanding contributions to the students of Truman State University.

Torbjorn Wandel, assistant professor of history, had his article titled "The Power of Discourse: Michel Foucault and Critical Theory" published in Cultural Values.

Casie Curfman, junior health science major from Kahoka, Mo., has been named the American Association for Health Education's (AAHE) "Outstanding Undergraduate Health Science Major of the Year 2002." She will be recognized at the 2002 AAHE National Convention in San Diego in April.
---
Notes

Art historian Louis A. Waldman will give a public lecture at 6 p.m., Dec. 4, in Ophelia Parrish 2210 titled "Here's Looking at You: Theater and Visual Communication in Renaissance Religious Painting." For more information, contact Julia DeLancey at 785.4430.

The Department of Public Safety is offering a van driving training class at 2:30 p.m., Dec. 4. For more information, call 785.4176.

The Faculty Development Weekly Lunch Series will discuss "Conversations with Recent Lee Advising Award Recipients" from 12:30-1:20 p.m., Dec. 5, in the SUB Spanish Room. For more information, contact Faculty Development at 785.4391.

The Dobson Hall International Film Series will continue with a screening of "Not One Less" at 7 p.m., Dec. 5, in Dobson Hall 247. Contact Dennis Leavens, Dobson Hall College Rector, for more information at 785.5145.

The registration deadline for the Chandler Monroe Oratorical Contest sponsored by the Language and Literature Division is Dec. 5. The contest is open to all Fundamentals of Speech students and will take place at 7 p.m., Dec. 11, in the SUB Governors' Room. The preliminary round will start at 6 p.m., Dec. 10, in Violette Hall. For information or to register, contact Keri Bodensteiner at 785.5885.

KTRM, the Serve Center and Sodexho are sponsoring a food drive until Dec. 7. Bring canned goods and/or sealed dry foods to the Serve Center desk outside of Mainstreet Market from 10 a.m. to 4 p.m. weekdays.

The 12th Annual Ryle Holiday Market to benefit Victim Support Services will be held from 9 a.m. to 3 p.m., Dec. 8, in the Ryle Hall Main Lounge.

The Board of Governors will have a meeting at 9:30 a.m., Dec. 8, in the SUB Conference Room.

Information Technology Services (ITS) is offering a Microsoft Powerpoint 2000 for Beginners workshop for faculty and staff from 10 a.m. to noon, Dec. 12, in Pickler Memorial Library 103. Seating is limited. R.S.V.P. to itstrain@truman.edu.

All faculty and staff are invited to a Holiday Open House from 3-5 p.m., Dec. 12, at the University Residence.

The University League invites faculty and staff and their families to the Holiday Extravaganza. The annual all faculty/staff holiday party will be held from 3-5 p.m., Dec. 15, in the SUB Alumni Room. There will be caroling, storytelling, a kids' craft corner and a special appearance by Santa Claus. Admission is a plate of treats to be shared and a canned good for the Kirksville Food Pantry.

The Chariton Valley Audubon Society is conducting the Kirksville Christmas Bird Count from dawn until dusk, Dec. 16, within 15 miles of Kirksville. The day culminates with a dinner hosted by the Audubon Society, where the results are compiled. Participants do not need to be experienced birders to make a valuable contribution. For more information, contact Pete Goldman at 785.4632.

Student volunteers are needed to help at the Recycling Center. If interested, please contact Howard Worcester at 785.7672.

The Truman State University Foundation is awarding 10 $1,500 Study Abroad Scholarships for summer faculty-sponsored programs. Only students who have not previously studied abroad are eligible. The application deadline is Jan. 21. Applications and instructions are available at the Center for International Education Abroad Office in Kirk Building 120.

Rape Aggression Defense (RAD) is offering a defense class for women on Saturdays throughout the month of February. The course fee is $10. For more information, call Tiffany Easley at 785.4176 or visit http://rad.truman.edu.




---
On Campus

---

3 Monday
7 p.m.-Jazz Lab Vand and Jazz Ensemble concert, Arnie's Place; see Master Calendar
8 -10 p.m.-University Observatory open to the public, MG roof; see Master Calendar

4 Tuesday
6 p.m.-Louis A. Waldman, "Here's Looking at You: Theater and Visual Communication in Renaissance Religious Painting," OP 2210; see Notes
8 p.m.-University Symphony Orchestra Concert with Sharon Moe Miranda, Baldwin Auditorium; see Master Calendar

5 Wednesday
12:30-1:20 p.m.-Faculty Development Lunch Series, SUB Spanish Room; see Notes
7 p.m.-Dobson Hall International Film Series show "Not One Less," Dobson Hall 247; see Notes
8 p.m.-Concert Band, Baldwin Auditorium; see Master Calendar

6 Thursday
8 p.m.-Brass Choir Concert, Baldwin Auditorium; see Master Calendar
8 p.m.-Directors Showcase, Baldwin Hall Little Theatre; see Master Calendar

7 Friday
7:30 p.m.-Chamber Choir Concert, First Presbyterian Church; see Master Calendar
8 p.m.-Directors Showcase, Baldwin Hall Little Theatre; see Master Calendar

8 Saturday
9 a.m.-3 p.m.-Ryle Holiday Market, Ryle Hall Main Lounge; see Notes
9:30 a.m.-Board of Governors meeting, SUB Conference Room; see Notes
1:30 p.m.-Women's basketball vs. Park, Pershing Arena
4 p.m.-Franklin Street Singers Concert, Baldwin Auditorium; see Master Calendar
8 p.m.-Directors Showcase, Baldwin Hall Little Theatre; see Master Calendar

9 Sunday
3 p.m.-Cantoria Concert, First Christian Church; see Master Calendar

10 Monday
7:30 p.m.-Men's basketball vs. Culver-Stockton, Pershing Arena
8 p.m.-University Wind Symphony Concert, Baldwin Auditorium; see Master Calendar

BACK TO THE TOP
---
Back to "News & Events"
[ HOME · DIRECTORIES · NEWS & EVENTS · SEARCH ]
Direct questions and comments to ksvoboda@truman.edu.
Deadline for entries is 5 p.m., the Wednesday preceding Tuesday's publication.
Copyright © 1996-2003 by Truman State University, Kirksville, Missouri. All Rights Reserved.
URL http://trumantoday.truman.edu