December 11, 2001 - Vol. 6 No. 16

Student Recreation Center Hours for Finals Week and Interim
Nursing Students Present Senior Capstones
Boeing Director of Finance to Address Graduates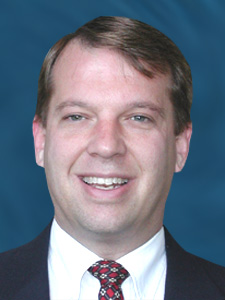 Charles "Chuck" Woods, a Truman State University alumnus, will deliver the commencement speech at 2 p.m., Dec. 22, in Pershing Arena.
Woods is director of finance, procurement financial analysis, for the Boeing Military Aircraft and Missile System Group. He is responsible for the development and deployment of world class financial processes, systems, training and cost prediction tools that enable optimal supply chains for military products.
In 1990, he joined McDonnell Douglas as a contracts administrator. Woods held positions of increasing responsibility within contracts and pricing and was promoted to senior manager of international new business in 1996. In this assignment he was responsible for all financial and contractual aspects of Asia/Pacific sales opportunities as well as selected European countries. In 1999, he was named as senior manager of integrated processes and systems for business management.
Woods received his bachelor's degree from Truman State University and a master's of business administration degree from Southern Illinois University. He is a member of the Boeing Estimating and Pricing Council, the Boeing University Relations Council, the National Contracts Management Association, the Society of Cost Estimators and Analyst and the International Society of Six Sigma Professionals. Also, as the Boeing executive focal for Truman State University, Woods plays a key role in developing Boeing's relationship with Truman.
In his spare time, he is active in scouting and church, enjoys bike riding, model railroading, snow skiing as well as spending time with his family. Woods and his wife Sherri have three children, Bryce, Ally and Justin, and reside in Hazelwood, Mo.



---
Graduates to Receive New Diplomas and Regalia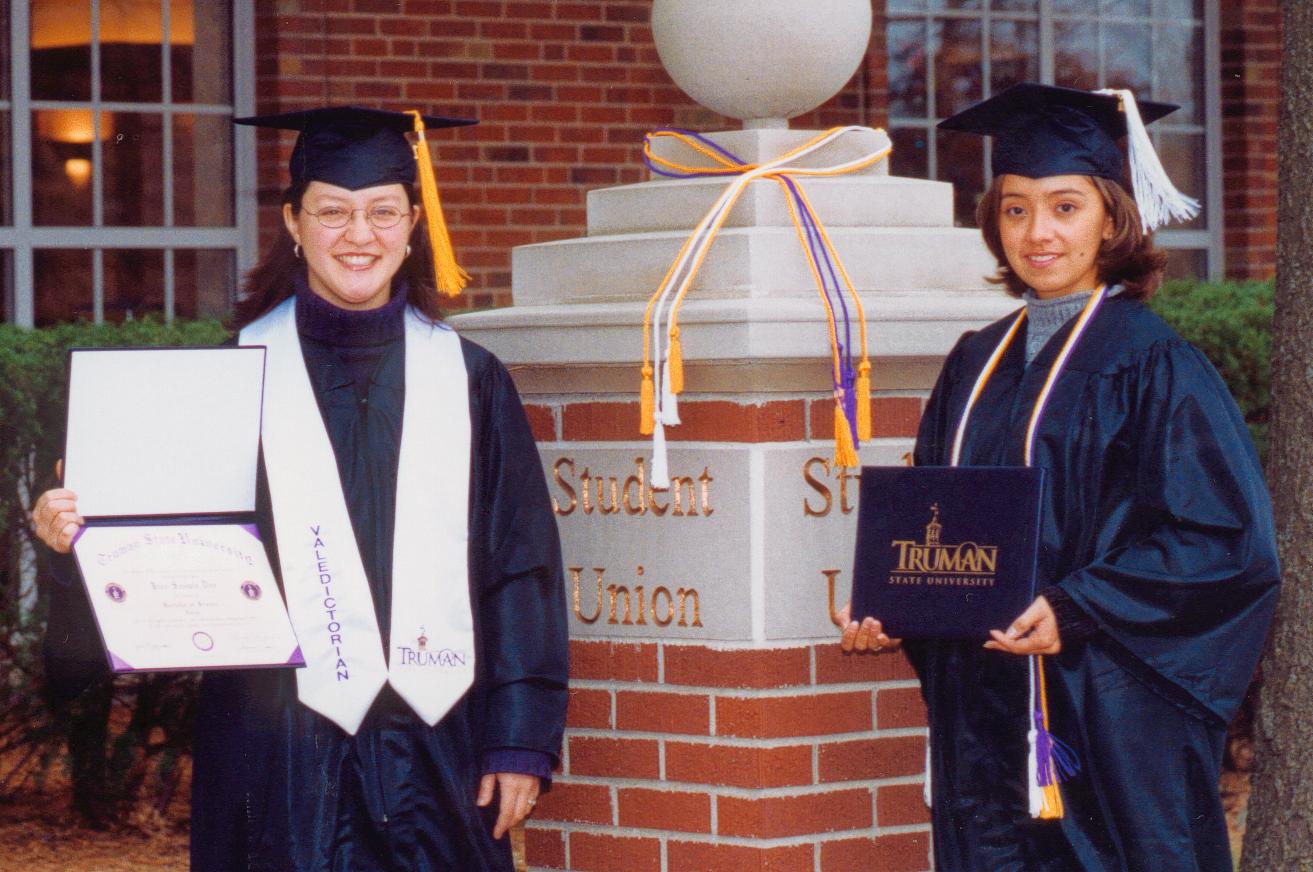 Students model and display the new graduation honor regalia and diplomas.
Undergraduate degree candidates and guests will see updated diplomas and honor regalia on Dec. 22.
The new diplomas feature a picture of Kirk Memorial Building in the background while the new diploma covers have a foil stamp imprint of the Truman State University logo.
The tasseled cords to be worn by some of the students signify the designation of "honor graduate." There are three levels of honor based on a student's cumulative GPA: a gold and white cord signifies cum laude, a 3.5-3.75 GPA; a purple and gold cord signifies magna cum laude, a 3.75-3.89 GPA ; and a purple, gold and white cord signifies summa cum laude, a 3.90-4.00 GPA.
An undergraduate with the highest GPA in each graduating class is given the honor of valedictorian and will now wear a white satin stole with the Truman State University logo embroidered on the left and "Valedictorian" embroidered on the right.
---
Winter Commencement 2001
Dec. 12
Graduation Pizza Party for graduates
11 a.m. to 2 p.m.
SUB Georgian Room
Free gift, pizza, drink and dessert

Dec. 22
Posed Graduation Photographs
12:30-1:30 p.m.
Pershing Small Gym
Free sitting fee

Commencement
2 p.m.
Pershing Arena

Reception
Immediately following Commencement
SUB Activities Room
Students, families, faculty and staff are welcome.

For more information on Commencement, contact the Vice President of Academic Affairs Office at 785.4105
---
Students to Intern in Missouri Capitol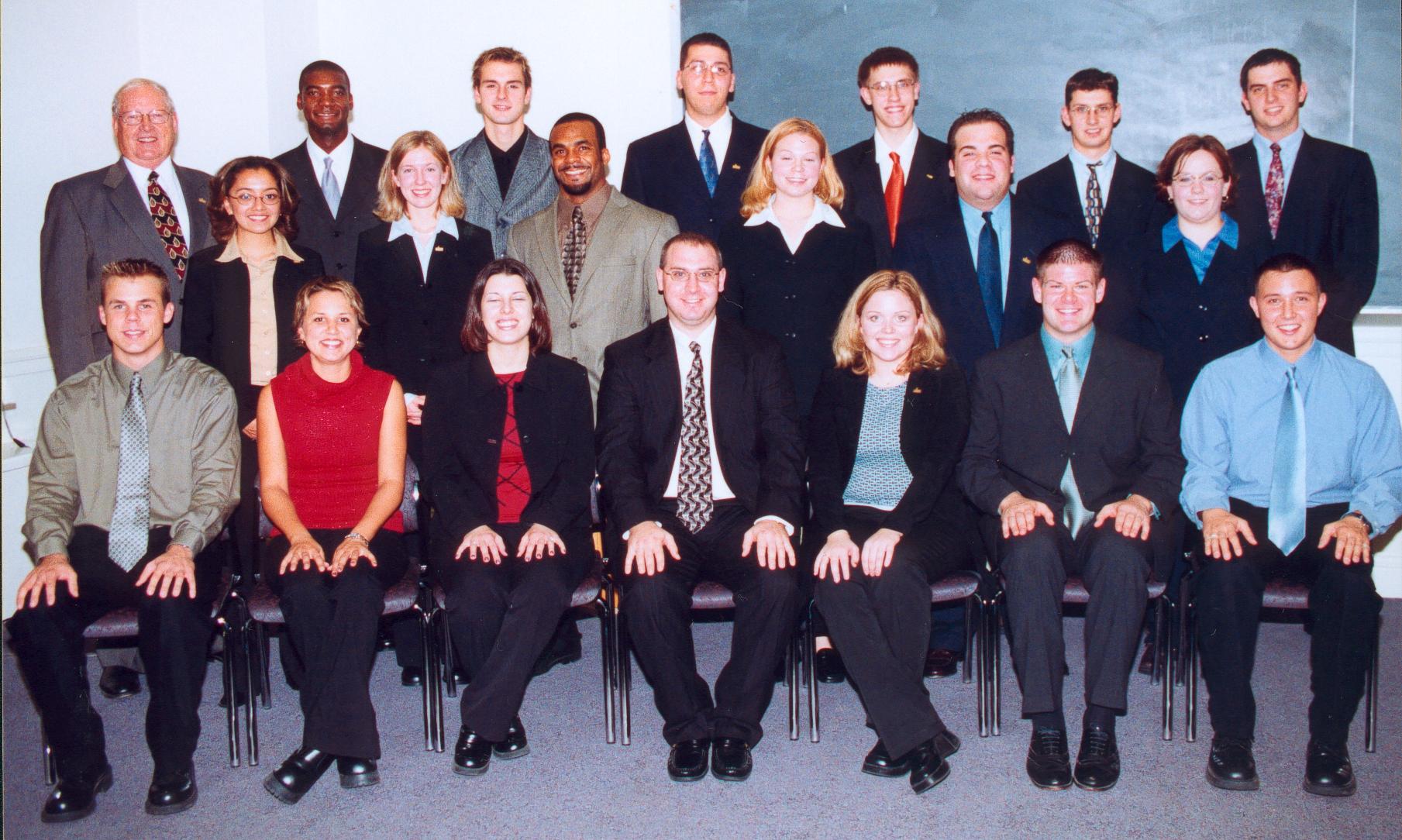 Pictured are interns (front row l to r) Doug Frieburg, Haleema Molberg, Jessica Loyet, Kyle Branson, Heather Pierce, Will Enochs and Joe Vincent; (middle row l to r) are Erika Hernandez, Beth Evers, Dominick Wright, Heather Lasher, Taylor Hall and Christie Hall; (third row l to r) President Jack Magruder, Rashad Myers, Mark Callicott, Rudy Arredondo, John Hilton, Brian Malone and Jeff Heisler. Joe Mossey, Brent Nelson and Sachiho Takabatake are not pictured.
Twenty-two Truman State University students will begin legislative internships at the Missouri State Capitol in Jefferson City next semester as part of the Missouri Government Internship Program.
The internship provides an inside look at state government. While in Jefferson City, the interns will be assigned to public officials based on compatibility and interests. The goal is to enhance the probability that each placement becomes a successful experience.
The Truman interns will begin working with state representatives, legislators and in statewide offices with the start of session on Jan. 8.
The spring interns are Rudy Arredondo, senior chemistry major from Kansas City, Mo.; Kyle Branson, junior political science major from Linn, Mo.; Mark Callicott, junior communication major from Hannibal, Mo.; Will Enochs, senior business administration major from Kansas City, Mo.; Beth Evers, senior psychology major from Leawood, Kan.; Doug Frieburg, junior communication major from Lisle, Ill.; Christie Hall, senior English major from Bolivar, Mo.; Taylor Hall, freshman political science major from Columbia, Mo.; Jeff Heisler, junior business administration major from Jefferson City, Mo.; Erika Hernandez, senior communication major from Schaumburg, Ill.; and John Hilton, senior political science major from St. Peters, Mo.
Other students interning at the Capitol are Heather Lasher, junior communication major from Hannibal, Mo.; Jessica Loyet, senior political science major from St. Peters, Mo.; Brian Malone, senior history major from Jefferson City, Mo.; Haleema Molberg, senior political science major from Republic, Mo.; Joe Mossey, senior health science major from Sterling, Ill.; Rashad Myers, senior business administration major from Manchester, Mo.; Brent Nelson, senior political science major from Nevada, Mo.; Heather Pierce, junior political science major from St. Peters, Mo.; Sachiho Takabatake, senior economics major from Suzu, Ishikawa, Japan; Joe Vincent, senior political science major from St. Charles, Mo.; and Dominck Wright, senior political science and French double major from Olathe, Kan.
---
Student Recreation Center Hours for Finals Week and Interim
Dec.12-13
11 a.m. to 11 p.m.

Dec. 14
11 a.m. to 9 p.m.

Dec. 15-18
11 a.m. to 7 p.m.

Dec. 19-21
11 a.m. to 2 p.m.

Dec. 22-26
closed

Dec. 27-28
11 a.m. to 2 p.m.

Dec. 29-Jan. 1
closed

Jan. 2-4
11 a.m. to 2 p.m.

Jan. 5-6
closed

Jan. 7-12
11 a.m. to 2 p.m.

Jan. 13
4 to 7 p.m.

posted at http://recreation.truman.edu
---
Upcoming Events
Dec. 19
Residence halls close for non-graduates;
December Interim begins

Dec. 21
General Honors medal ceremony

Dec. 22
Residence halls close completely;
Commencement

Dec. 24-26
Christmas holidays
(offices closed)

Dec. 31
New Year's Eve holiday
(offices closed)

Jan. 1
New Year's Day holiday
(offices closed)

Jan. 13
December Interim ends;
Residence halls open

Jan. 14
Spring semester begins

Jan. 21
Martin Luther King Jr. Day
(no classes)

Jan. 26
Winter Open House Visit Event

Jan. 30
January Conference
(no classes 7:30 a.m. to 5:30 p.m.)

---
Writing Center Hours
The Writing Center will be open during finals week with amended consultation hours.
Dec. 12
noon to 3:30 p.m.
Dec. 13
noon to 4 p.m.
Dec. 14-18
no consultation hours
For more information, contact the Writing Center at 785.4484.

---
Nursing Students Present Senior Capstones
The following senior nursing students will present their capstone research proposals from 1-4 p.m., Dec. 11, in the SUB Alumni Room. The public and campus community are invited to attend these presentations.

1:10 p.m.-Julie Noelker, "Interpersonal Influences on the Decision to Breastfeed"
1:30 p.m.-Brenda Ippensen, "Perceptions of Family Presence among ED Nurses"
1:50 p.m.-Marjorie Wheeler, "Perceptions of Registered Nurses Regarding End-of-Life Care in NICU and Hospice Clinical Settings"
2:10 p.m.-Jenika Johnson, "Patients' Explanatory Models of Migraine Headaches"
2:30 p.m.-Poster Session
Lanie Byrne, "The Experience of Triad Relationships on Adolescent Mothers"
Hayley Henrikson, "Occupational Hazards Presented to ED Nurses by Anhydrous Ammonia Exposure"
Jennifer Howser, "The Effect of Catheter Coating on Biofilm Growth on Urinary Catheters"
Kristen Leiby, "Development of Defining Characteristics for a Wellness Nursing Diagnosis: An Elderly Target Population"
Hayley Powell, "Differences in Pain Perceptions between Mexican American and Anglo Corporate Farm Workers"
Jaclyn York, "Professional Autonomy in Advanced Practice Nursing: The Perceptions of CRNAs"
3:00 p.m.-Stephanie Wheeler, "Breast Self-Examination Practices of College Age Women"
3:20 p.m.-Haley Barnes, "The Effect of Intrauterine Sounds on Neonatal Pain Responses to Circumcision"
3:40 p.m.-Laura Weiersmueller, "The Effect of Hyperbilirubinemia Treatments on Maternal-Infant Bonding"
---
Who's Who Inductees Announced
The following 66 students will be included in the 2001-2002 edition of Who's Who Among Students in American Universities and Colleges because of their academic achievement, character, leadership and service.
Nurtay Abdubek, Brian Amsden, Ellen Axmear, Michelle Bandy, Sara Bartek, Brian Beall, Christina Carr, Angela Carron, Melissa Derrick, Amanda Eggers, Angela Ernst, Maria Godefroid, Christine Gould, Aaron Gurlly, Rolena Hadwiger, John Hagen, Bryce Henderson, Stuart Henn, Kevin Heyen, John Hilton, Valerie Hopkins and Angela Ingraham are recipients of this distinction.
Elana Jakel, Thokozile Kachipande, Shannon Klepper, Douglas Knigge, Holly Lang, Zachary Lechner, Kristin Leiby, Sarah Lovern, Jessica Loyet, Beth Luebbering, Kimberlee Mastrangelo, Tanginia May, Adrianna Mayson, Mary McKenzie, Kelly Metcalf, Sarah Morehouse, Joseph Mossey, Scott Niermann, Sean O'Brien, Erica Poeschel, Heather Pogue and Craig Portell will also be included in the latest edition of Who's Who.
Also receiving this high honor are Ashley Porter, Lisa Reichard, Kacie Rice, Lauren Rider, Krista Romportl, Crystal Rowland, Jerry Schirmer, Catherine Schmidt, Rebecca Shabel, Ryan Shreve, Franita Smith, Kalynda Smith, Brian Stamm, Jon Stegen, Benjamin Story, Julie Strandquist, Ryan Sullivan, Brian Truschinger, Samantha Walters, Jayne Weiss, Amanda White and Yoto Yotov.
---
Notables
Jerrold Hirsch, associate professor of history, gave a presentation at the University of Memphis history department's annual Phi Alpha Theta dinner titled "'I Worked as Long as I was Able:' Slavery, Freedom and Disability in Federal Writers' Project (FWP) Slave Narratives." Hirsch presented a paper, "'The Thin Verneer of Civilization:' Survival Studies Among the Georgia Coastal Negroes, the FWP and Racial Essentialism," at the 2001 annual meeting of the American Folklore Society in Anchorage, Ala.
Jim Barnes, writer-in-residence and professor of comparative literature, has a poem titled "Zen" appearing in the current issue of Runes, a periodical of poetry published in Sausalito, Calif.
Wolfgang Hoeschele, assistant professor of geography, had his article titled "The Wealth of Nations at the Turn of the Millennium: A Classification System Based on the International Division of Labor" accepted for publication in Economic Geography.
Melinda Wood, financial aid director, was recently presented the Missouri Award by the Missouri Association of Student Financial Aid Personnel (MASFAP) for her outstanding contributions to the student financial aid community and profession. This is the highest award given by the association. Wood is also the current MASFAP president.
John Ishiyama, associate professor of political science, and Ryan Kennedy ('01), currently enrolled in a Ph.D. program at Ohio State University, had their article "Superpresidentialism and Political Party Development in Russia, Ukraine, Armenia and Kyrgyzstan" published in the December issue of the journal Europe-Asia Studies.
The Truman State University speech and debate team fielded students at four different tournaments in three different states during the weekend of Dec. 1. The Truman team won the tournament championship at the competitions at Ohio State University and Webster University, took second at the Otterbein College Tournament and placed several students in elimination rounds at the competition at Arizona State University.
The men of Blue Key, the women of Cardinal Key and Delta Sigma Pi collected more than 2,600 pounds of food for the community's hungry during their Fall Harvest Food Drive on Nov. 10.
Amari Stuart, junior piano performance major from Sturgeon, Mo., was awarded second place and a cash prize of $1,000 at the Career Awards Piano Competition sponsored by the National Society of Arts and Letters.
---
Notes
Faculty Development has scheduled three CourseInfo workshops for faculty. The workshops will take place from 9:30 a.m. to noon, Dec. 12, Dec. 19 and Jan. 9, in Violette Hall 1420. Please R.S.V.P. to facdev@truman.edu by 4 p.m. on Dec. 11.
The Clay People will present "Open House in the Art Studios" from 5-7 p.m., Dec. 11, in the ceramics, fibers, printmaking, and painting studios in Ophelia Parrish. Student artwork will be on display, including some work for sale. For more information, contact Ed McEndarfer at 785.4435.
The Chandler Monroe Oratorical Contest finals will take place at 7 p.m., Dec. 11, in the SUB Governors' Room. For more information, contact Keri Bodensteiner at 785.5885.
The Staff Development Committee is offering a program titled "Regional History of Native Americans & Artifact Hunting" at 9 a.m., Dec. 12, in the SUB Alumni Room. This event is part of the Continuing Enrichment Series. For more information and to R.S.V.P. call Human Resources at 785.4031 or visit
http://hr.truman.edu/staffdev.
Information Technology Services is offering a Microsoft Powerpoint 2000 for Beginners workshop for faculty and staff from 10 a.m. to noon, Dec. 12, in Pickler Memorial Library 103. Seating is limited. R.S.V.P. to itstrain@truman.edu.
All faculty and staff are invited to a Holiday Open House from 3-5 p.m., Dec. 12, at the University Residence.
The Dobson Hall International Film Series will continue with a screening of "Dust in the Wind" at 7 p.m., Dec. 12, in Dobson Hall 247. Contact Dennis Leavens, Dobson Hall college rector, for more information at 785.5145.
Environmental Campus Organization (E.C.O.) will sponsor a Recycled School Supplies Drive during finals. Slightly used notebooks, binders, folders, pens and pencils can be dropped off at convenient locations throughout campus.
The Department of Economic Development will meet to discuss Missouri's economic prosperity from 6:30-8:30 p.m., Dec. 13, in the SUB Activities Room. The meeting is open to the public.
The University League invites faculty and staff and their families to the Holiday Extravaganza. The annual all faculty/staff holiday party will be held from 3-5 p.m., Dec. 15, in the SUB Alumni Room. There will be caroling, storytelling, a kids' craft corner and a special appearance by Santa Claus. Admission is a plate of treats to be shared and a canned good for the Kirksville Food Pantry.
Faculty and staff interested in giving blood at The University Wellness Program sponsored faculty/staff blood drive should sign up by Dec. 12 on the sheets distributed to campus offices. The blood drive runs from 10 a.m to 3 p.m., Dec. 19, in the SUB Activities Room. Appointments are not necessary but are preferred.
The 2002 Missouri Fine Arts Academy is accepting applications from faculty and students for teaching and resident adviser positions until Dec. 17. The academy is held from June 9-29. For more information and application procedures, contact Julie Bloodworth at 417.836.6607.
The Staff Development Committee will offer a two-session workshop on professional etiquette Jan. 8. Session one runs from 10:30-11:30 a.m. and covers topics such as rules of introduction and how to exchange business cards. Session two is an etiquette luncheon that runs from 11:30 a.m. to 1 p.m. with a cost of $7.75. To register for either or both sessions, contact Human Resources at 785.4031.
Student volunteers are needed to help at the Recycling Center. If interested, please contact Howard Worcester at 785.7672.
The Family Advocacy Center is requesting volunteers to help with tutoring next semester. If interested or need more information, please contact Peggy Hills at 665.4985.
The Truman State University Foundation is awarding 10 $1,500 Study Abroad Scholarships for summer faculty-sponsored programs. Only students who have not previously studied abroad are eligible. The application deadline is Jan. 21. Applications and instructions are available at the Center for International Education Abroad Office in Kirk Building 120.
Rape Aggression Defense (RAD) is offering a defense class for women on Saturdays throughout the month of February. The course fee is $10. For more information, call Tiffany Easley at 785.4176 or visit http://rad.truman.edu.
An International Education/Travel program will be offered from May 15 to June 1. The experience will combine study and field trips related to the European Union, Ireland, Scotland and England. The opportunity is appropriate for all majors. For a brochure and further information, contact Mary Giovannini at 785.4365 or the CIEA Office at 785.4076.




---
On Campus

---

10 Monday
7:30 p.m.-Men's basketball vs. Culver-Stockton, Pershing Arena
8 p.m.-University Wind Symphony Concert, Baldwin Auditorium; see Master Calendar

11 Tuesday
5 p.m.-"Open House in the Art Studios," OP; see Notes
7 p.m.-Chandler Monroe Oratorical Contest finals, SUB Governors' Room; see Notes

12 Wednesday
Reading Day
9 a.m.-"Regional History of Native Americans & Artifact Hunting," SUB Alumni Room; see Notes
9:30 a.m.-CourseInfo workshop, VH 1420; see Notes
10 a.m.-ITS Microsoft Powerpoint 2000 workshop, PML 103; see Notes
11 a.m.-2 p.m.-Graduation Pizza Party, SUB Georgian Room; see Winter Commencement Events
1 p.m.-Undergraduate Council meeting, SUB Alumni Room; see Master Calendar
3-5 p.m.-Holiday Open House, University Residence; see Notes
7 p.m.-Dobson Hall International Film Series show "Dust in the Wind," Dobson Hall 247; see Notes

13 Thursday
First day of final exams
6:30 p.m.-Department of Economic Development meeting, SUB Activities Room; see Notes

15 Saturday
1:30 p.m.-Women's basketball vs. Kentucky St., Pershing Arena
3-5 p.m.-University League Holiday Extravaganza for faculty, staff and families, SUB Alumni Room; see Notes

18 Tuesday
Last day of final exams
BACK TO THE TOP
---
Back to "News & Events"
[ HOME · DIRECTORIES · NEWS & EVENTS · SEARCH ]
Direct questions and comments to ksvoboda@truman.edu.
Deadline for entries is 5 p.m., the Wednesday preceding Tuesday's publication.
Copyright © 1996-2003 by Truman State University, Kirksville, Missouri. All Rights Reserved.
URL http://trumantoday.truman.edu