March 5, 2002 - Vol. 6 No. 24

SPJ Presents "Meet the Post-Dispatch Pros"
Simmons to Present Smits Lecture
Residential Living Student Advisers Chosen
Students Recognized for High Scores
Scholarship Opportunities Available
The Truman Today will not be published next week due to midterm break



Truman Receives $1 Million Bequest for Scholarships from 1941 Alumnus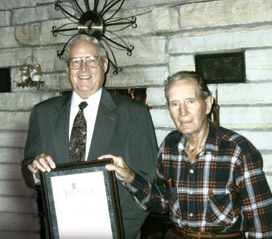 A $1 million gift has been given to the Truman State University Foundation from the estate of Lydle Staggs, formerly of Shelbina, Mo. The gift will establish the Lydle and Bessie Staggs Scholarship fund that will provide support for Truman State University students from Missouri.
During the Great Depression, Staggs attended Northeast Missouri State Teachers' College primarily during the summer while working to pay his way through college. After 10 years of study, Staggs graduated from the Teachers College in 1941 with a degree in agriculture business. He married Bessie Otten in 1933, who was his wife until her death in 1993. Staggs was a well-respected grain farmer, agriculture instructor and citizen of Shelby County, Mo., for many years. He passed away on May 19, 2001.
University President Jack Magruder reflected on Staggs' gift when he stated, "Mr. Staggs was a humble and generous man who fondly remembered the way faculty mentored and cared for him over 60 years ago. His wish was to help the next generation of students. This tremendously generous gift will touch the lives of many Truman students for years to come."
As an endowed account within the Truman State University Foundation, the Lydle and Bessie Staggs Scholarships will provide financial support for Truman students in perpetuity. It is anticipated that more than 1,000 students will receive the scholarship over the next 20 years.



---
Undergraduate Research Submissions Due
Abstract submissions for the 14th Annual Undergraduate Research Conference are due by 10 p.m., March 8. The Undergraduate Research Conference will be April 11. To allow students and faculty to participate in the conference, daytime classes will not be held.
Presentations will be scheduled in the order in which they are received, so earlier submissions will receive greater preference in meeting any special requests made.
Single-author or multiple-author student presentations are acceptable. Each presentation must be sponsored or co-sponsored by one or more Truman faculty mentors who take responsibility for the overall quality of the presentation.
Abstracts should be e-mailed to research@truman.edu . For more information and abstract submission guidelines, contact James Padfield at 785.4406 or at padfield@truman.edu .




---
Finding Your Fortune:
Majors, Minors and Life beyond Truman
Liberal Arts and Sciences Alumni Panel
4-5:30 p.m.
March 4
SUB Governors' Room

Majors & Minors Fair
noon to 4 p.m.
March 5
SUB Activities Room



Co-sponsored by the Residential College Program and theUniversity Career Center.



For more information, visit http://rcp.truman.edu/majorsfair.

---
"Safe Brake"
Rollover Vehicle Demonstration
1-3 p.m., March 5
Violette Hall parking lot

Sgt. Bernhardt of the Missouri State Highway Patrol will be available for questions.

"Stop the Knock"
presented by Sgt. Bernhardt
7-8 p.m., March 5
Violette Hall 1000

The presentation is free and everyone is invited to attend.

Events sponsored by Eta Sigma Gamma.


---
SPJ Presents "Meet the Post-Dispatch Pros"
The Society of Professional Journalists will inform students about different journalism career paths with "Meet the St. Louis Post-Dispatch Pros" on March 6. Two accomplished journalists will describe their real-life experiences to students wanting to pursue a career in journalism.
Rob Schneider, Post-Dispatch sports design editor and Truman alumnus, will conduct a design class at 10:30 a.m. in Pickler Memorial Library 204 and a reporting class at 1:30 p.m. in Pickler Memorial Library 204.
Schneider will also have a session "Preparing Your Resume and Portfolio" at 6 p.m. in Violette Hall 1010. He will also give a presentation titled "Designing For a Metro Paper" at 7 p.m. in VH 1010.
Bob Larouche, Post-Dispatch photographer, will conduct an editing class at 9:30 a.m. in Pickler Memorial Library 204. He will also teach a feature writing class at 11:30 a.m. in Pickler Memorial Library 204.
The events are free and open to the public. Individual critiques have been reserved exclusively for SPJ members. SPJ meets at 9 p.m., every other Monday, in the Index office. For more information, contact SPJ President Kristen Crenshaw at 627.5162.




---
Simmons to Present Smits Lecture
John K. Simmons will give the annual Henry Smits lecture at 4 p.m., March 20, in Violette Hall 1000. The lecture is sponsored by the philosophy and religion discipline of the Social Science Division.
Simmons is the professor of religious studies at Western Illinois University. His topic will be the "Tragedy and Transcendence: Reflections on Sept. 11, 2001."
Simmons holds a doctorate in religious studies from the University of California at Santa Barbara. His specializations are religion in the United States, especially issues of gender, alternative or marginal religions, and the intersection of religion and culture.
He has followed religious and cultural responses to the tragedy of Sept. 11 very closely. The Henry Smits lecture will be a reportage of his observations and gathering of evidence.
Simmons is a pioneer in distance learning at Western Illinois University and an active member of the American Academy of Religion.
Simmons will also lead a discussion "Religion and Pop Culture" at 7 p.m., March 20, in Ryle Hall Main Lounge. The event is sponsored by the Residential College Program.
For more information, contact Mike Ashcraft at 785.7531.




---
Residential Living Student Advisers Chosen
Residential Living is pleased to announce 45 new student advisers were offered a position and several were placed on an alternate list. Residential Living had 97 applicants for this competitive position that offers tremendous leadership opportunities and educational growth experiences.
The Student Advisers at Truman live in the residence halls and work with on-campus students. Some of the responsibilities include social, personal growth and educational programming, community building, supporting of University policies and collaborating with the Residential College Program.
The following are the student advisers for the 2002-2003 academic year: Matthew Anderson, Rachele Arntz, Dustin Barnes, Emily Buford, Elizabeth Carpenter, Ryan Durham, Suzanne Dusek, Jeff Fleming, Kayla Flynn, Rebecca Foster, Adam Glick, Katy Green, Robbie Hackett, Lisa Hanewinkel, Nick Harbison, Sara Hayden, Jason Hoang, Sara Humlicek, Kendra Knoll, Katrina Kouba, Nick Kremer, Laura Lash, Chris LeBeau, Joel Lightfoot, Michael Malone Jr., Bill Overson, Cassie Phillips, Brantley Ping, Emily Rackers, Mirjam Schnabel, Lisa Sieren, Kari Skillman, Teresa Smith, Brooke Sorrell, Sarah Starnes, Kenneth Susman, Mark Swanson, Matthew Thomas, Mike Tolliver, Jonathan Tucker, Kaleb Unger, Russell Warner, Amy Whitaker, Elaine Wright, and Michelle Zieres.




---
Voter Registration Deadline
March 6, 2002
Anyone interested in voting in the upcoming April 2, 2002 election
must be registered by Wednesday, March 6, 2002.
For more information, contact the Kirksville County Clerk's Office at 665.3350.


---
Mark Your Calendars
Forum on U.S. Highway 63 Proposal and City Council Candidates
7 p.m., March 18
Kirksville Junior High School

Adopted Street & Highway Cleanup
March 21

2002 Women's Conference
"Global Feminisms: Past and Present"
March 21-23

Juried Student Art Exhibition
March 25

Diversity Day
10 a.m.-4 p.m., March 26
Student Union Building

Distinguished Visiting Scholar
Manning Marable
March 27-28
---
Students Recognized for High Scores
The President's Certificate of Recognition for Outstanding Achievement was given to the following fall 2001 graduates
who achieved the 97th percentile or above on the required national senior test.

Accounting
Michael Braun

Business
Jonathan Best
Nathan Cornelius
Katherine Emge
Matthew Fowler
Jeffrey Gamber
Megan Hackmann
Jason Harkins
James Howard
Michael Jorgensen
Margaret Wiechert

Business and Political Science
Peter Eatherton

Mathematics and Computer Science
Eric Norige

Psychology
Christy Johnson
Michael Magill-Collins
John Neudecker

Sociology and Anthropology
Olivera Bratich

---
Scholarship Opportunities Available
Scholarship deadlines for March are quickly approaching.
The 26th Annual Glenn Miller Scholarship Competition is open to high school seniors and first year college freshmen. Vocal or instrumental audition tape and application must be received by March 15. For more information, visit http://www.glennmiller.org or contact the Financial Aid Office at 785.4130.
The Journalism Foundation of Metropolitan St. Louis announces the 2002-2003 Journalism Scholarship Program. Applicants must be residents of the St. Louis metropolitan area and be enrolled for the 2002 fall term in journalism, communications and be completing their freshman year in college. Applications are available in the Financial Aid Office, McClain Hall 103, and are due by March 18.
The Kirksville Noon Rotary Club is awarding grants from $200-$1,000. The club's Youth Grants Program supports non-profit or public organizations with worthy projects for young people in Adair County. Next year's winning grant applications will be notified in April 2002, with money awarded in January 2003. The deadline to apply is March 22, and the online application form is available at http://www.kmvo.net/~rotary. For more information, contact Lesa Ketterlinus at 785.4353.
Opportunities are available for juniors in Phi Kappa Phi. Two $250 scholarships will be awarded to juniors or returning seniors for their next year of study. Eligible students must have a membership in Phi Kappa Phi Honor Society and at least two semesters remaining at Truman. Completed applications should be sent to Mike Ashcraft, Social Science Division, McClain Hall 211E, by March 22. For more information, contact Ashcraft at 785.7531 or washcraf@truman.edu.
The Missouri Travel Council Scholarship is open to students pursuing a hospitality related major, residents of Missouri, and those with a GPA of 3.0 or higher. Applicants must write an essay on "The Value of Missouri's Tourism Industry." Deadline for applications is March 28, 2002. For more information, contact the Financial Aid Office at 785.4130.
The American Institute for Certified Public Accountants is offering the John L. Carey Scholarship. This $5,000 award is open to students pursuing a graduate accounting degree. Applications are due April 1. Applications are available in the Financial Aid office or by visiting their Web site at http://www.aicpa.org/members/div/career/edu/jlcs.htm.
Beta Zeta Chapter of Delta Kappa Gamma International is offering a recruitment grant in the amount of $120 to a female student who graduated from a high school in Atchison, Holt, or Nodaway county in Missouri. The qualified applicant must be an education major with a 2.5 GPA or higher. The student must also apply in the spring of her sophomore or junior year. For an application, contact the Financial Aid Office in MC 103.




---
The Truman Today will not be
published next week due to midterm break.
Please note entries for the week of
March 19 should be turned in by March 8.

For more information, call 785.4243 or e-mail ksvoboda@truman.edu.
---
Notables

R. Paul Crabb, professor of music, recently served as guest conductor for the Maryland Music Educators Association High School All-State Choir. Crabb was invited to rehearse an auditioned choir of 180 students from throughout the state of Maryland. The choir performed for the state's music educators in the Baltimore Convention Center.

Amber Johnson, assistant professor of anthropology, will have a paper titled "Cross-Cultural Analysis of Pastoral Adaptations and Organizational States: A Preliminary Analysis" published in the May issue of the journal Cross Cultural Research, Vol. 36, No. 2. Johnson has also signed a book contract with Greenwood Publishers to edit a volume of original research papers titled "Processual Archeology: Exploring Analytical Strategies, Frames of Reference, and Culture Process."

Alfredo Santa Ana, junior music composition major, has been awarded third prize in the 2002 Music Teachers National Association Student Composition competition (collegiate category). Santa Ana's winning composition is titled "Llego en la Noche," for tenor voice and piano. This composition was awarded first place this past fall in Missouri state competition of the MTNA, and was awarded first place in January for the MTNA West Central District.

Sherron Seals, freshman exercise science major from O'Fallon, Mo., and Rose Buza, freshman exercise science major from Kansas City, Mo., presented their research titled "Psychological Factors Associated With Exercise: The Influence of Age and Multiethnicity" at the 11th Annual Midwest Sport and Exercise Psychology Symposium. The research was mentored by Chris Lantz, associate professor of health and exercise sciences, who was also a keynote speaker at the conference.

The Truman State University College Bowl Team competed in the Midwest Regional Tournament on Feb. 16. The team finished fourth out of 12 teams. Team members included: Brian Baker, freshman business major from Hannibal, Mo.; Greg Brown, sophomore history major from Waterloo, Neb.; Matt Magruder, freshman from Kirksville, Mo.; Kerrith Quigley, junior music performance major from Springfield, Mo.; and Ray Shell, junior mathematics major from Godfrey, Ill. The team lost in the finals to the University of Oklahoma, the eventual champion.



---
Notes

The University Wellness Program in cooperation with the staff of the Student Health Center will be offering blood pressure, cholesterol, glucose, prostate and thyroid screening for faculty, staff and spouses from 7:30-9 a.m., March 5, in the Student Health Center. A 12-hour fast is required before the screening. This service is provided free to all who are covered by the University's insurance plan. Other faculty, staff and spouses are welcome to participate for a minimal cost.

The Faculty Development Weekly Lunch Series will present "FERPA Revisited: Family Education Rights and Privacy Act" from 12:30-1:25 p.m., March 6, in the SUB Spanish Room. For more information, contact Faculty Development at 785.4391 or email facdev@truman.edu.

The Math and Computer Science Division will present a colloquium "Who Turned the Lights Out?" by Dave Garth at 3:30 p.m., March 6, in VH 1200. Refreshments will follow the event. For more information, contact Phil Ryan at 785.4592.

The Art of Living Club will have Guided Meditation at 4:30 p.m., March 6, in the Missouri College Classroom 365. For more information, contact Michael Heinz at 627.7482.

Dr. Gene Alpert, vice president of the Washington Center for internships and academic seminars, will have informational meetings for potential internship possibilities from 12:30-2 p.m., March 6, in Ryle Hall Private Dining Room and from 5-6 p.m., March 6, in OP 2250. Alpert will speak to students about the benefits of attaining an internship through the Washington Center. For more information, contact Emily Hagemann at 665.9941.

The Dobson Hall Film Series and the Fine Arts Division will show the film "Devi" at 7 p.m., March 6, in OP 2210. For more information, contact Dennis Leavens at 785.5145.

There will be a Chamber Ensemble and Concert Band Concert at 8 p.m., March 6, in Baldwin Auditorium. For more information, e-mail pete@truman.edu.

The Staff Development Committee is sponsoring "Copy(it)Right" from 10-11:30 a.m., March 7, in the SUB Alumni Room. Reservations are required.

Andrea Adamcova and Pavel Wlosok will have a concert Classical Meets Jazz VI at 8 p.m., March 7, in Baldwin Auditorium. For more information, e-mail pwlosok@truman.edu.

Positions for student ambassadors are currently available. Applications are due to the Admissions Office, MC 205, by 5 p.m., March 8. For more information, contact Neesheet Parikh at 665.5641.

The Department of Public Safety will offer a shuttle to the train station for spring break. Departure for LaPlata will be at 9 a.m., March 9, and the return to Kirksville will be at 8:30 p.m., March 17. The cost is $5 for round trip. For more information, call 785.4177.

The 2002 AgriExpo will be on campus March 15-16. AgriExpo offers sessions to help agricultural producers develop their value-added businesses.

The Division of Fine Arts will present a public lecture by visiting artist and printmaking specialist Brooke Cameron at 7 p.m., March 18, in OP 2210.

The University Observatory will be open to the public from 8-10 p.m., March 18. Weather permitting, visitors are able to look through the telescope. Access to the observatory is via the stairs to the roof from the lobby outside of MG 274.

The French play "La Grammaire" by Labiche will be at 8 p.m., March 19-20, in the SUB Down Under. For more information, contact Patrick Lobert at 785.0462.

Organizations that have adopted a street or highway will be honored in a city effort to clean up the adopted areas from 4-6 p.m., March 21, on the Mall. For more information, contact the Center for Student Involvement at 785.4222.

The Truman State University University Club invites faculty and staff for light refreshments at 4:30 p.m., March 22, at the University Club. Childcare will be provided at no cost.

Beta Beta Beta Biology Honor Society will host a Tri-Beta Coffeehouse at 7:30 p.m., March 22, in the SUB Down Under. Contact Robbi Kupfer at c1558@truman.edu for more information.

Beta Alpha Psi and Accounting Club will offer Volunteer Income Tax Assistance (VITA) from 8 a.m. to 4 p.m., March 23, in VH 1010. This service is free of charge. For more information, contact Chad Epps at 785.5760.

The 7th Annual Psi Chi Research Conference will be from 10 a.m. to 4 p.m., March 23, in the Violette Hall upper commons. For more information, contact Kelley Marie Rudolph at 627.0964.

Truman will host the Truman Open Track and Field Meet on March 30. Any faculty, staff or students interested in helping with the meet can contact John Cochrane at cochrane@truman.edu or Michelle Baier at mlbaier@truman.edu or call 785.4341.

The 2nd Annual Big Event, an opportunity for students to give back to the Kirksville community, will be April 6. Contact the Serve Center at 785.7222 for more information.

Applications are now available for the 21st Century Leadership Academy. The Academy is designed to teach women leadership skills, allow them to meet key public policy people in government and learn more about public policy. The training program will be May 19-24 at the University of Missouri-St. Louis. For more information, contact Patricia A. Miller at 785.4260.

The 2002-2003 Free Application for Federal Student Aid is available on the Internet at http://www.fafsa.ed.gov. Apply soon to be considered for all available federal and state funds. For more information, contact the Financial Aid Office at 785.4130.

Faculty and Staff are encouraged to advise an on-campus organization. There are more than 200 chartered student organizations on campus. Contact the Center for Student Involvement at 785.4222 for more information.



---
On Campus

---

5 Tuesday
7:30-9 a.m.-University Wellness Program for faculty and staff, Student Health Center; see Notes

6 Wednesday
Voter registration deadline
12:30-1:25 p.m.-Faculty Development Weekly Lunch Series, SUB Spanish Room; see Notes
12:30-2 p.m.-The Washington Center informational meeting, Ryle Hall Private Dining Room; see Notes
3:30 p.m.-Colloquium "Who Turned the Lights Out?," VH 1200; see Notes
4:30 p.m.-Art of Living Club Guided Meditation, MC 365; see Notes
5-6 p.m.-The Washington Center informational meeting, OP 2250; see Notes
7 p.m.-Film "Devi," OP 2210; see Notes
8 p.m.-Chamber Ensemble and Concert Band Concert, Baldwin Auditorium; see Notes

7 Thursday
8 p.m.-Andrea Adamcova and Pavel Wlosok concert Classical Meets Jazz VI, Baldwin Auditorium; see Notes

8 Friday
5 p.m.-Student Ambassador Applications Due, MC 205; see Notes

9 Saturday
9 a.m.-Bullets rugby vs. Central Missouri State University, South Field; see Master Calendar

11 Monday
Midterm break begins

18 Monday
7 p.m.-Visiting Artist Brooke Cameron, OP 2210; see Notes
7 p.m.-U.S. Highway 63 Proposal and City Candidates Forum, Kirksville Junior High School; see Mark Your Calendars
8-10 p.m.-University Observatory open to the public, MG 274; see Notes



BACK TO THE TOP
---
Back to "News & Events"
[ HOME · DIRECTORIES · NEWS & EVENTS · SEARCH ]
Direct questions and comments to ksvoboda@truman.edu .
Deadline for entries is 5 p.m., the Wednesday preceding Tuesday's publication.
Copyright © 1996-2003 by Truman State University, Kirksville, Missouri. All Rights Reserved.
URL http://trumantoday.truman.edu