Nineteen Graduates Named Valedictorians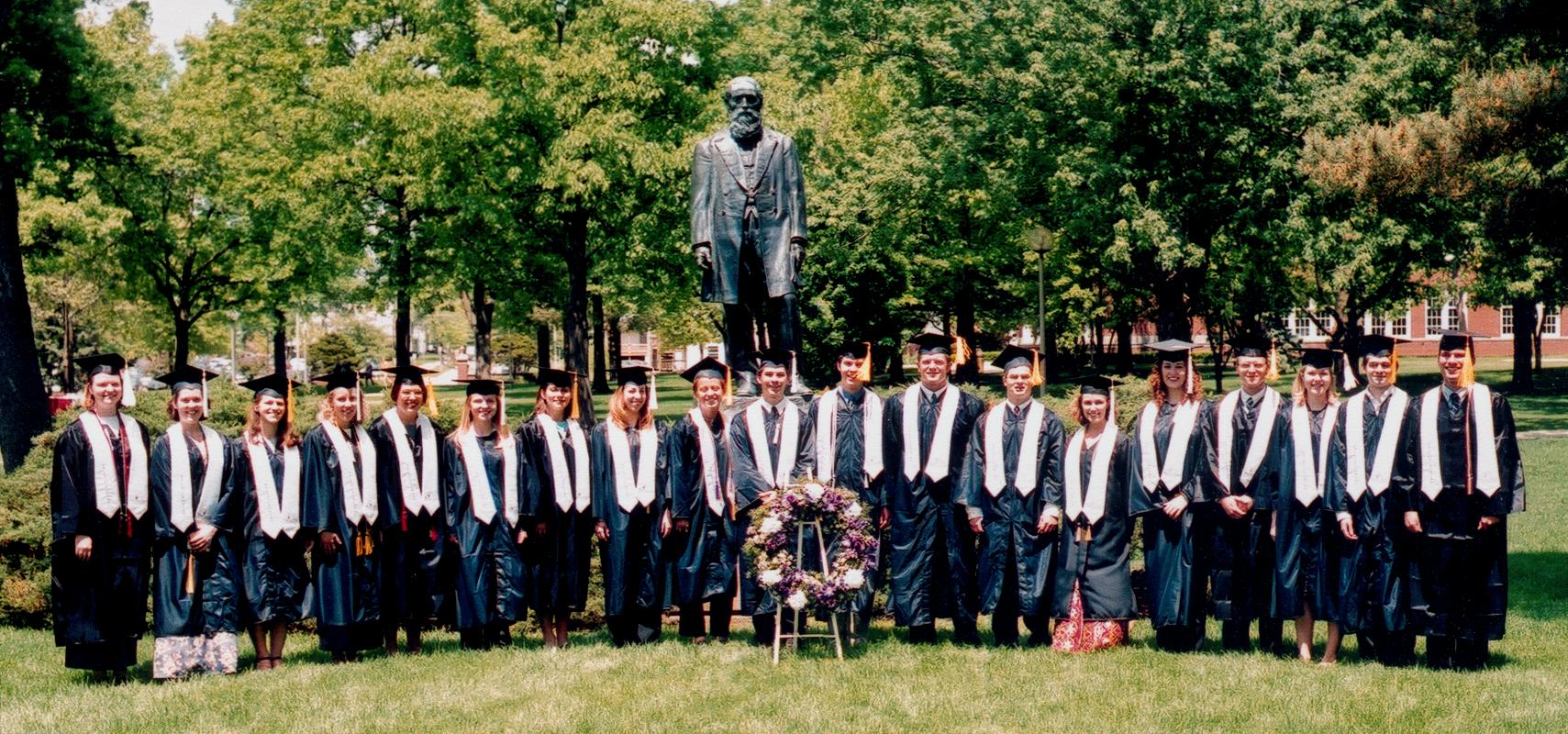 Nineteen graduates received top honors at Truman's spring 2002 commencement exercises held May 18 at Stokes Stadium. Each valedictorian had a perfect 4.0 GPA for all subjects. Pictured from left to right are Katherine Krueger, Anne Wood, Natalie Melrose, Erica Poeschel, Angela Ingraham, Heather Siegele, Andrea Snobl, Stephanie Merritt, Christine Gould, Sean O'Brien, Nathaniel Curl, Jeremy Youse, Lance Dorsey, Shanee Perkins, Lauren Rider, Daniel Chavez, Melissa Forbes, Gregory Knese and Aaron Dean.
---
General Honors Medals Awarded to 10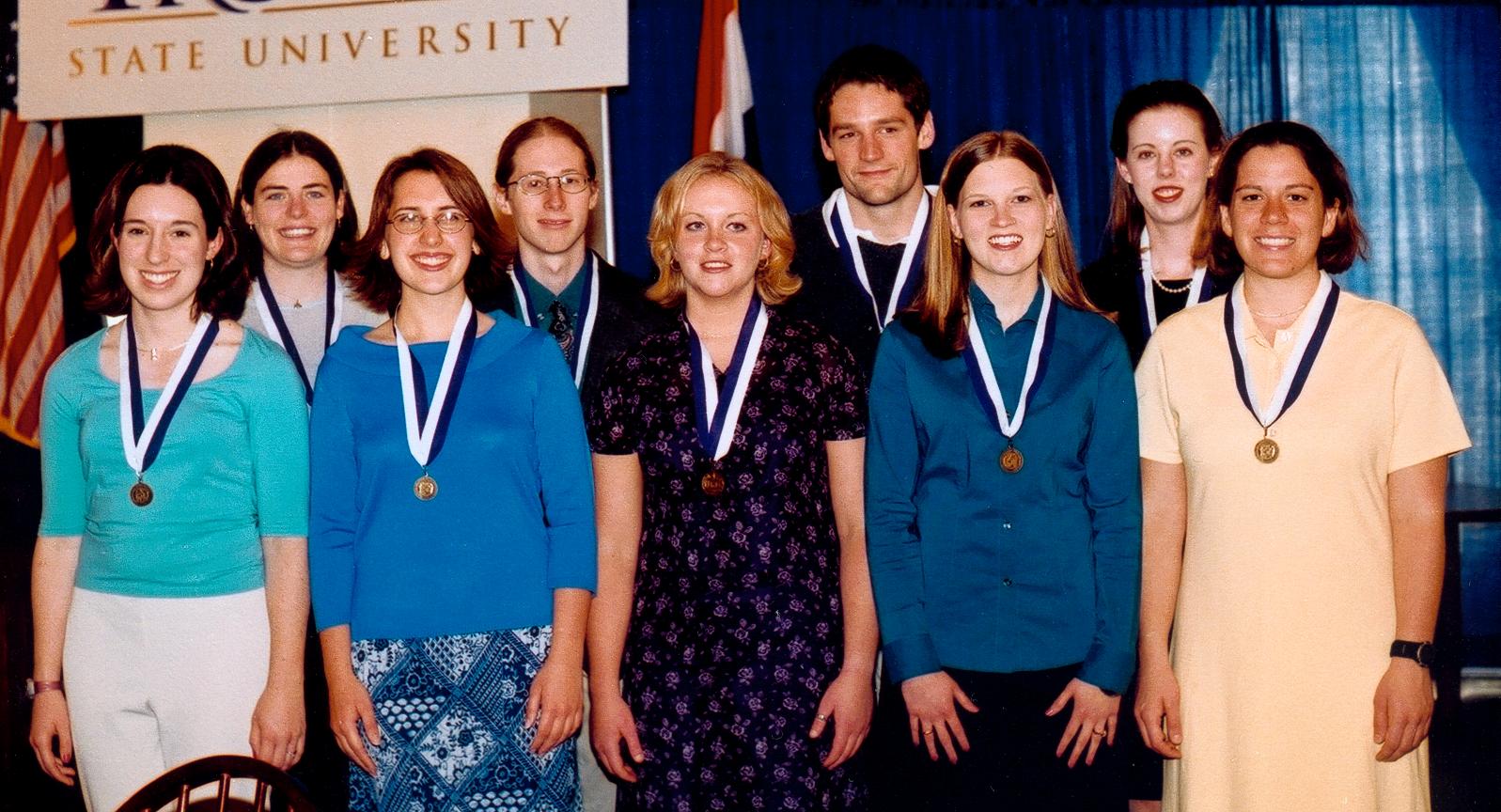 Truman faculty from a wide variety of disciplines awarded General Honors medals to 10 Truman graduates during the General Honors Program Medal Ceremony held May 17 in the SUB Georgian Room. The medals signify superior achievement in rigorous courses within the liberal arts and sciences, but outside the major field. They hang from purple and white ribbons and feature the University seal on the front with an image of Kirk Memorial on the back. Those receiving General Honors were (left to right)Andrea Lammon, Catherine Schmidt, Jacklyn Lock, Shawn Gilmore, Sarah Spader, Les Horton, Stephanie Klaus, Sarah Davenport and Ellen Axmear. Not pictured is Timothy Horan.
---
Santa Ana Named Presser Scholar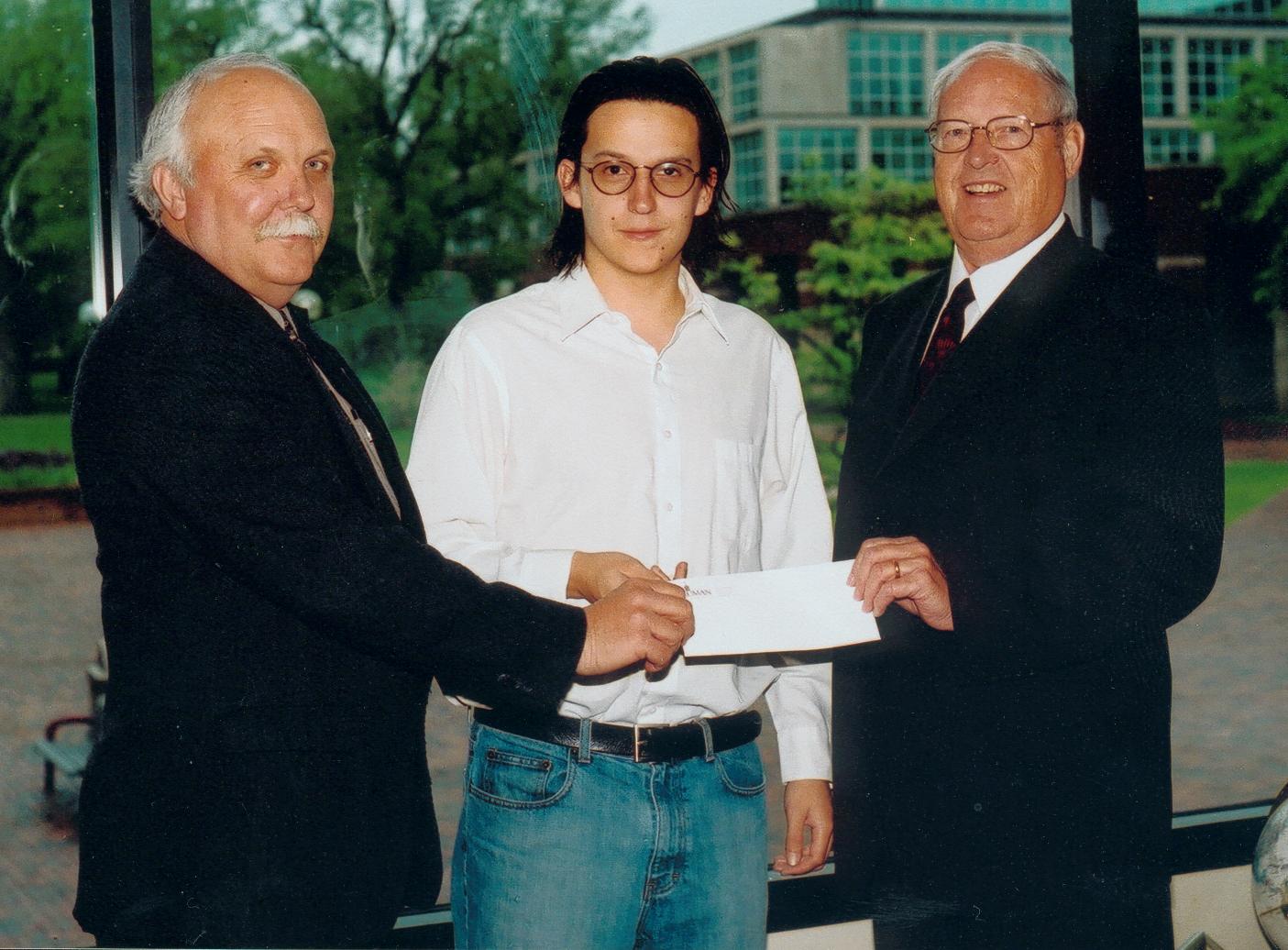 Bob Jones, Fine Arts division head, (left) and President Jack Magruder (right)
present Alfredo Santa Ana (center) his Presser Scholar grant.
Alfredo Santa Ana, junior composition major of Mexico City, Mexico, has been named a Presser Scholar for the 2002-2003 academic year.
The Presser Scholarship is given to an outstanding music major at the end of his or her junior year. The foundation's grant of $4,200 was awarded to Santa Ana at the spring Fine Arts award ceremony in April.
Santa Ana won the composition portion of the Gold Medal Awards and had his piece performed in concert by the Truman Symphony Orchestra during his sophomore year. This year he won first place in the state MTNA Student Composition Competition, first place in the Regional MTNA Student Composition competition and third place in the National Student Composition Competition.
---
Students Present Research on Capitol Hill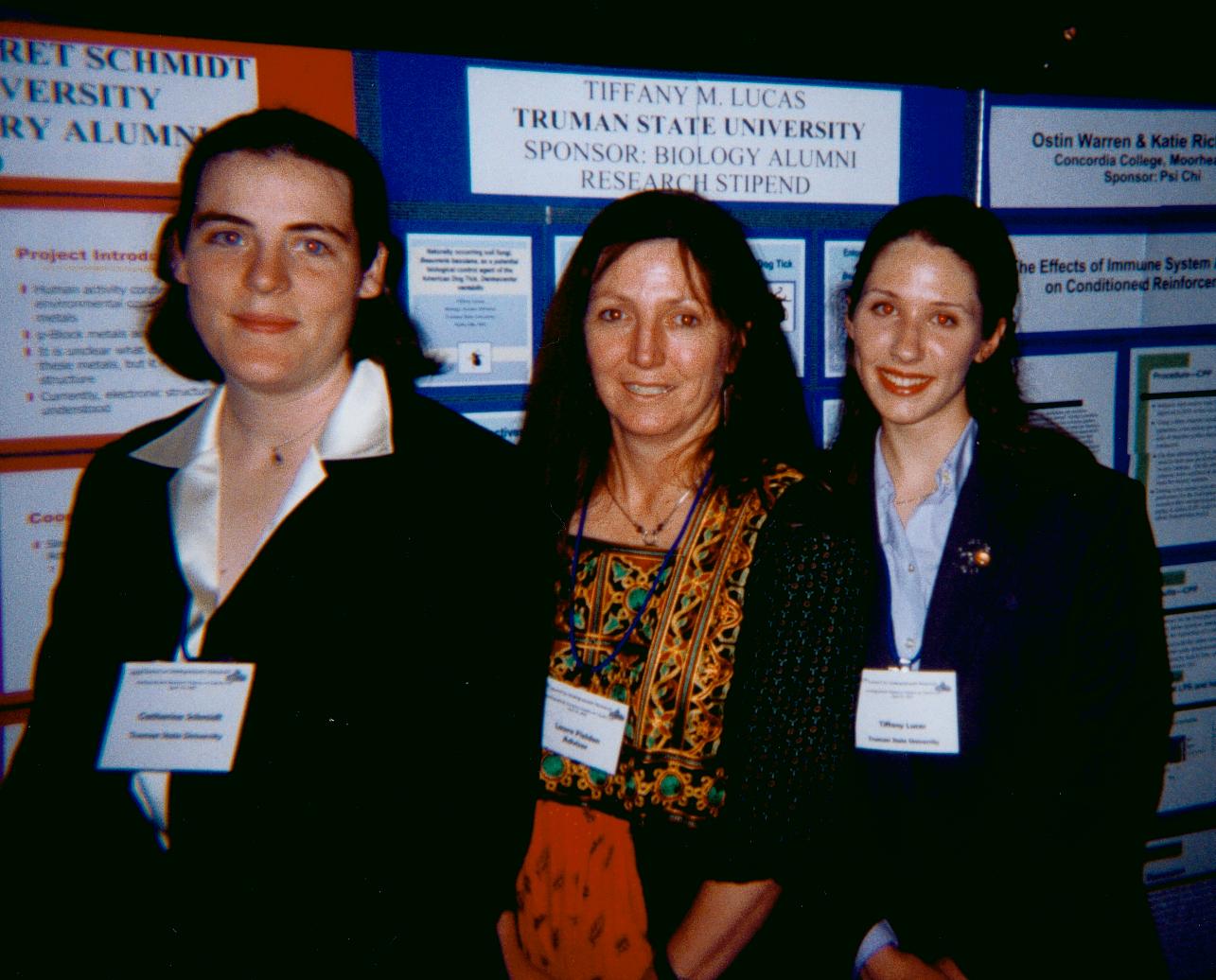 (Left to right) Catherine Schmidt, Laura Fielden and Tiffany Lucas at the "Posters on the Hill" program.
Two Truman students recently presented the results of their undergraduate research in Washington, D.C., as part of the "Posters on the Hill" program sponsored by the Council on Undergraduate Research.
Tiffany Lucas, junior biology major from Springfield, Ill., and Catherine Schmidt, senior chemistry major from Albuquerque, N.M., joined 57 undergraduates from around the country to present their research to legislators and other guests. Lucas and Schmidt were the only participants from the State of Missouri.
The students also visited offices of several Missouri legislators as part of the program. Faculty mentors for Lucas and Schmidt were Laura Fielden, assistant professor of biology, and James McCormick, assistant professor of chemistry, respectively. Lucas' project was Evaluation of Infection by Beauvaria bassiana and other Naturally Occurring Entomopathogenic Fungi on the Tick Dermacentor variabilis. Schmidt's project was Coordination Geometry of Heavy P-Block Metals.
---
Student Union summer hours beginning May 29
7 a.m. to 5 p.m.
Monday-Friday
Closed; open as needed*
Saturday-Sunday
Mainstreet Market hours
7:30 a.m. to 3 p.m.
Monday-Friday
Closed
Saturday-Sunday
Truman Bookstore hours
8 a.m. to 5 p.m.
Monday-Friday
Closed
Saturday-Sunday
Requests to extend hours for special events will be accommodated.
(*Restrictions apply)
Reservation forms for any events, which will extend past 5 p.m. should be submitted to the Student Union Administrative Office as soon as possible (preferably at least two weeks in advance)so that staffing arrangements can be made.
---
Four students won roundtrip tickets from Corporate Airlines at the Truman Birthday picnic May 8.
The winners are Michelle Bandy, Jo Ann Croghan, Beth Eckardt and Stacey Swenson.
---

Notables

Michael Mann, assistant professor of counseling, recently had a chapter titled "Multicultural Group Counseling" accepted in the forthcoming book "Multicultural Counseling: Context, Theory, and Competence" edited by J. Trusty, E. J. Looby and D. S. Sandhu. It will be published by Nova Science.

Stephanie Powelson, assistant professor of nursing, and Kristen Leiby, senior nursing major from Kearney, Mo., presented two poster sessions "Comparative Analysis of the Implementation of Standardized Nursing Language at a Midwestern University" and "Potential for Enhanced Exercise: A Study of Wellness in College Students" at the Nursing Diagnosis Conference (NNN) in Chicago, April 11-13.

Mike Redding, junior business administration major from Lake Zurich, Ill., and Tameem Yehyawi, sophomore biology major from Keokuk, Iowa, were recently named first-team Arthur Ashe, Jr. Sports Scholars by the magazine Black Issues in Higher Education. Black Issues in Higher Education established the Sports Scholar Award in Ashe's honor to recognize undergraduate students of color who exemplify the standards set by him. This is the second year Redding has been selected for the award. The two play football for Truman.

Bridget Riley, senior biology major from Olathe, Kan., will be honored with the Kansas City Collegiate Female Athlete of the Year award at the 30th Annual Sports Commission Awards Banquet June 12. This is only the second year for the Kansas City Collegiate Athlete of the Year award. Riley was chosen for her decorated collegiate career in swimming.

Lynn VanDolah, justice systems instructor, recently was notified of her acceptance in the National Victim Assistance Academy. The academy is sponsored by the U.S. Department of Justice, Office for Victims of Crime and will be held at Washburn University in June 2002.
---

Notes

Two different programs are being offered by the Staff Development Committee. Faculty and staff of agricultural science will discuss "The Role of Agriculture in a Liberal Arts and Sciences Education" from 4-5 p.m., May 30, at the University Farm. "The Physical Plant and You" will be presented from 9:30-11 a.m., June 20, in the SUB Alumni Room. For this program, R.S.V.P. to Human Resources at 785.4031 by June 14.
---
On Campus

---

28 Tuesday
7:30 a.m.-First five week graduate courses begin

30 Thursday
4-5 p.m.-Staff Development Enrichment Program, University Farm; see Notes

3 Monday
7:30 a.m.-Summer session begins for undergraduates

BACK TO THE TOP
---
Back to "News & Events"
[ HOME · DIRECTORIES · NEWS & EVENTS · SEARCH ]
Direct questions and comments to ksvoboda@truman.edu.
During the summer, the Truman Today is a biweekly publication. The next issue will be June 10.
Deadline for entries is 5 p.m., the Wednesday preceding Monday's publication.
Copyright © 1996-2003 by Truman State University, Kirksville, Missouri. All Rights Reserved.
URL http://trumantoday.truman.edu