December 10, 2002 - Vol. 7 No. 16

FeaturesDirector of Harry S. Truman Presidential Library to Address December Graduates
Volleyball Team is Second in Division

Two Students to Receive General Honors
Truman Jazz Lab Band and Jazz Ensemble Concert
Director of Harry S. Truman Presidential Library to Address December Graduates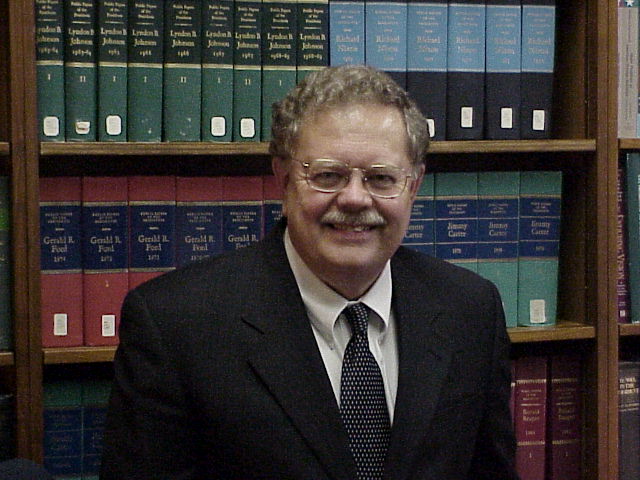 Michael J. Devine, director of the Harry S. Truman Presidential Library and president of the Truman Library Institute for National and International Affairs, will deliver the commencement address to just more than 300 graduates at 2 p.m., Dec. 21, in Pershing Arena.
The Harry S. Truman Presidential Library is one of the nation's ten federal presidential libraries in the National Archives and Records Administration system.
Before taking the position of director, Devine served a variety of different positions including professor of history and director of American Heritage Center at the University of Wyoming, director of the Illinois Historic Preservation Agency and Illinois State Historian for the Illinois State Historical Society.
Devine received his Bachelor of Arts degree and graduated cum laude with history honors at Loras College in Dubuque, Iowa, in 1967. He did graduate studies in history at the University of Chicago. Devine received his master's degree and doctorate from Ohio State University in 1968 and1974, respectively.
His list of honors and awards include an honorary doctorate in humanities from Lincoln College of Illinois, Houghton Freeman professor of American History at the Johns Hopkins University, Fulbright Senior Lecturer in American studies and history to Argentina and Korea. He also has received a fellowship from the National Endowment for the Humanities and a research grant for the American Philosophical Society.
Devine resides in Lee's Summit, Mo.
---

Volleyball Team is Second in Division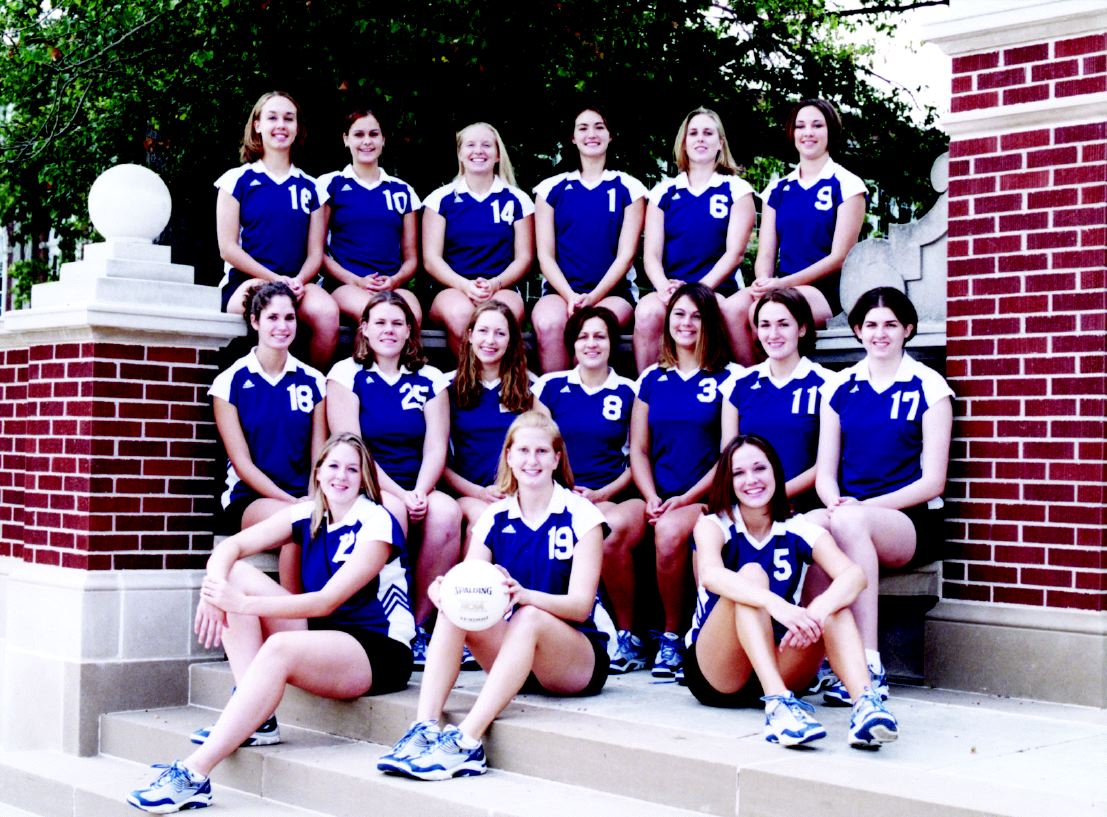 2002 volleyball team (front row left to right): Tiffany Graham, Megan Remley and Micaela Walter. Middle row: Amy Kreimer, Melanie Jones, Kelly Vogel, Rebecca Knefelkamp, Jennifer Hunter, Jenna Kearns and Jordanne Foster. Top row: Lauren Dickbernd, Annie Nickolai, Shelby Ortwerth, Rachael Shedd, Monica Marlowe and Jessica Sears.
For the first time in Truman history the volleyball team qualified for the NCAA Division II Championship game. The Bulldogs lost 3-0 to BYU-Hawaii.
Truman drew a tough Elite Eight matchup, facing the number one team in the country and the host school West Texas A&M. The Bulldogs disappointed one of the largest crowds in Division II Tournament history by knocking the home team off by a 3-1 score. In the NCAA semifinals, the Bulldogs won another 3-1 victory, this time over fourth-ranked Grand Valley State, and advanced to their first-ever championship final.
This was the second consecutive year the Truman squad made it to the Elite Eight Women's Volleyball Championship.
---
Winter Commencement
Dec. 21
Posed Graduation Photographs

12:30-1:30 p.m.
Pershing Small Gym
No sitting fee
Commencement

2 p.m.
Pershing Arena
Reception
Immediately following Commencement
SUB Activities Room
Students, families, faculty and staff are welcome.


Contact the Vice President of Academic Affairs Office at 785.4105 for more information about Commencement.
---
DeLancey Receives Governor's Award for Excellence in Teaching
Julia DeLancey, associate professor of art, received special recognition from Gov. Bob Holden during the 2002 Governor's Award for Excellence in Teaching Luncheon on Dec. 4 at the Capitol Plaza Hotel in Jefferson City, Mo.
DeLancey was one of 65 outstanding faculty members, each representing a Missouri college or university, to be recognized for her commitment to excellent education for Missouri citizens. DeLancey was selected for her effective teaching and advising, service to the University, commitment to high standards of excellence and success in nurturing student achievement.
DeLancey began teaching at Truman in 1995. She received her bachelor's degree with honors from the University of Michigan and her doctorate from the University of St. Andrews in Scotland. DeLancey was awarded the 2002 Educator of the Year award.
Each educator of the year finalist was asked to respond to the question, "What does excellence mean to you?"
"As members of a community of which we have each chosen to be a part of, we each have a responsibility to model, encourage and thereby perpetuate excellence," DeLancey responded. "In the same way that knowledge cannot exist in a vacuum, neither can excellence. It must be supported, shaped and demonstrated to continue."
---
Two Students to Receive General Honors
Jeremy Gray, senior philosophy/religion and political science double major from Liberal, Kan., and Rachel Johnson, senior psychology major from Chillicothe, Ill., will be recognized at Truman's General Honors Program medal ceremony at 3:30 p.m., Dec. 20, in the Student Union Building Quiet Lounge. A reception will follow.
Truman's General Honors Program offers outstanding students the opportunity to select rigorous courses in the liberal arts and sciences component of their programs. General Honors in Arts and Sciences will be awarded to graduating seniors who have completed five approved courses, with at least one from each of the four areas of mathematics, natural science, social science, and humanities. They must achieve a grade point average of at least 3.5 in those courses.
Students who complete a single undergraduate major may not satisfy general honors requirements with any course in their major field. All Truman students are eligible to pursue General Honors in Arts and Sciences by taking the courses designated by the respective disciplines as being those courses whose successful completion by a non-major is especially noteworthy.
The medals have been donated through the generosity of the Phi Beta Kappa Association of Northeast Missouri. This regional association has given medals to Truman students since 1994. The medals feature the Truman University seal on the front and Kirk Memorial on the obverse. These medals are hung from purple and white ribbons.
For more information, please contact Patricia Burton, director of the General Honors Program, at 785.7247 or 785.4636. The General Honors Web site is http://honors.truman.edu.
---
Truman Jazz Lab Band and Jazz Ensemble Concert

8 p.m.
Dec. 10
Baldwin Auditorium
They will be performing compositions by Duke Ellington, Bob Florence, Pat Metheny, Thad Jones, Oliver Nelson, Count Basie and others
Admission is free
---
Student Recreation Center
December-January
Final Exam Week and Interim Hours

Specific areas may be closed for periods of time without advance notice for cleaning or contractor projects
11 a.m.-11 p.m.
Dec. 11-12
11 a.m.-9 p.m.
Dec. 13
11 a.m.-7 p.m.
Dec. 14-17
11 a.m.-2 p.m.
Dec. 18-20
closed
Dec. 21-29
11 a.m.-2 p.m.
Dec. 30
closed
Dec. 31-Jan. 1
11 a.m.-2 p.m.
Jan. 2-3
closed
Jan. 4-5
11 a.m.-2 p.m.
Jan. 6-11
4 p.m.-7 p.m.
Jan. 12
---
Faculty and staff are cordially invited toattend the
Holiday Open House

3-5 p.m.
Dec. 11
University Residence
706 S. Halliburton
---
University to Celebrate Student Research and Creative Achievement in April
Truman will convene a University-wide Celebration of Student Research, Scholarship, and Creative Achievement on April 10, 2003. This umbrella event will include two separate meetings, the 16th Annual Undergraduate Research Conference and the Graduate Research Conference, that are united by a cohesive program. The Graduate Research Conference will become an annual event. The formal 'Call for Abstracts' will be distributed in January after classes resume. The Call will include submission guidelines and the formal deadline, which will be in mid-to late-February. Students from all academic disciplines and divisions are encouraged to present.
The daylong Celebration event is an expansion of Truman's very successful Undergraduate Research Conference. Scheduled classes will not meet during the day on April 10, and it is hoped that faculty will formally integrate the event into course schedules and syllabi by incorporating relevant assignments. In addition to providing a venue for graduate student presentations and implementing online abstract submissions, the Celebration event will feature a number of other new features such as round table discussions for faculty.
Please direct any questions or suggestions for the event to a member of the Planning Committee: Andrew Mun, business and accountancy division, amun@truman.edu; Dale Blesz, education division, dblesz@truman.edu; Marc Rice, fine arts division, mrice@truman.edu; Jeremy Houser, human potential and performance division, jhouser@truman.edu; Janet Davis, language & literature division, fl06@truman.edu; Jason Miller, math and computer science division, millerj@truman.edu; Mark Campbell, science division, campbell@truman.edu; Karen Smith, social science division, ksmith@truman.edu; and Jeffrey Osborn, committee chair, josborn@truman.edu.
---
Scholarship Opportunity Available
A scholarship opportunity is available to Truman students.
The Conservation Foundation of Missouri Charitable Trust and the Conservation Federation of Missouri is now accepting applications for the Charles P. Bell Conservation Scholarships. One graduate level scholarship is offered in the amount of $600, one undergraduate scholarship for $500 and six scholarships for elementary, high school or youth group projects each in the amount of $250. Graduate and undergraduate applications must be Missouri residents enrolled in a field of study related to management of natural resources, specifically fish, wildlife, forest, soil and water. Undergraduate applicants must have completed at least 60 hours of college credit. Applications are available in the Financial Aid Office in McClain Hall 103 and must be submitted by Jan. 15.
---
Who's Who Inductees Announced
The following 57 students will be included in the 2002-2003 edition of "Who's Who Among Students in American Universities and Colleges" because of their academic achievement, character, leadership and service.
Neetu Abad, Alexis Andrews, Angela Ballard, Nishant Bhajaria, Anthony Binion, Rebecca Blue, Kyle Branson, Leigh Christain, Casie Curfman, Jamille Curry, Carlos Di Stefano, Christy Dicks, Daniel Doerr, Mary Dziewa, Elizabeth Evers, Sarah Freund, Amanda Fritz, Audrey Gilmore, Elizabeth Hahn, Brittan Hallar, Brandonn Harris, Sarah Harrison, Robyn Hiatt, Jacquelyn Holzmann, Samadhini Jayakody, Rachel Johnson, Justinas Juknys, Tara-Louise Kachipande, Sitingawawo Kachipande, Sara Langenfeld, Heather Lasher, Erin Lesczynski, Andrew Lewis, Tiffany Lucas, Jennifer Main, Jeremiah McCluney, Jiri Mikl, Heather Molle, Meghana Patel, John Pinkston II, Toyia Poole, Stefan Popov, Anna Rudroff, Tonya Sanders, Merideth Schneider, Charlotte Schnellbacher, Cari Schulte, Katherine Stoverink, Anita Stoyanova, Charity Thompson, Matthew Walczewski, Eileen Webber, Devin Weishuhn, Tisha Wiley, Megan Williams, Timothy Wolf and Vijay Yalamanchili.
A dinner will be held from 6 p.m. until 8 p.m., Jan. 17, in the SUB Georgian Room in celebration of these students and their achievements. The keynote speaker will be Fontaine Piper, head of the division of human potential and performance.
---
Mark These Dates on Your Calendar
DECEMBER
10 Last Day of Classes
11 Reading Day
12-17 Final Examinations
21 Winter Commencement
SPRING SEMESTER 2003
JANUARY
12 Residence Halls Open
13 Classes begin
20 Martin Luther King Holiday
28 Lyceum Event Kansas City Symphony
29 January Conference (No day classes)
FEBRUARY
11 Lyceum Event San Jose Taiko
MARCH
10-16 Mid-term Break
25 Lyceum Event Peking Opera
APRIL
10 Undergraduate Research Symposium (No day classes)
21 Spring Vacation Day
22 Earth Day Observance
MAY
6 Last Day of Classes
7 Reading Day
8-13 Final Examinations
17 Spring Commencement
---
Notables

Janet Gooch, associate professor of communication disorders, and Melissa Passe, clinical supervision coordinator, speech and hearing clinic, recently presented a session titled "Professional Writing Seminar: Effects on Student Writing" at the 2002 American Speech-Language-Hearing Association annual meeting in Atlanta, Ga.
Mark Spitzer, assistant professor of English, published his translation of Arthur Rimbaud's never before translated "Evangelical Poem #4" in the online journal Drunken Boat at http://www.drunkenboat.com.
Four senior communication disorder majors, Regan Fuemmeler from Salisbury, Mo., Jennifer Main from Bucklin, Mo., Kate Kelly from Farmington, Mo., and Heather Craig from O'Fallon, Mo., won a college bowl style Hollywood Squares game sponsored by the National Student Speech-Language-Hearing Association at the 2002 American Speech-Language-Hearing Association annual meeting in Atlanta, Ga. The four students are members of the Communication Disorders Association.
---
Notes
The University community is invited to attend the Autumn Capstones presentations by senior nursing students from 1-5 p.m., Dec. 10, in the SUB Activities Room. There will be 12 oral presentations and 13 poster presentations of research proposals by senior nursing students. Refreshments will be provided by the Truman State University Nursing Honor Society.

Want to teach English in France for a year? The French faculty will hold an informational discussion for students interested in this paid internship from 2:30-3:50 p.m., Dec. 10, in MC 302. Some background in French is necessary for the internship. Applications are due in to the French Consulate by Jan. 10. Contact Greg Siewert at gsiewert@truman.edu for more information.

The Chariton Valley Audubon Society will sponsor the Kirksville Christmas Bird Count Dec. 14. Contact Pete Goldman at pgoldman@truman.edu or at 785.4632 for more information.

The University League will host the Holiday Extravaganza for faculty and staff families, 3-5 p.m., Dec. 14, in the SUB Alumni Room. There will be caroling, storytelling, kid's craft corner and an appearance by Santa Claus. Admission is a plate of treats to share with everyone and an item of canned goods to be donated to the Kirksville Food Pantry. For more information, call Barbara Smith-Mandell at 665.6781, Betsy Tornatore at 627.1907 or Jana Arabas at 665.7551.

Faculty and staff interested in giving blood at the University Wellness Program sponsored faculty/staff blood drive should sign up by Dec. 13 on the sheets distributed to campus offices. The blood drive runs from 10 a.m. until 3 p.m., Dec. 18, in the SUB Activities Room. Appointments are not necessary, but are preferred. All participants should bring identification.

There will be a Truman Baseball Camp Dec. 22 in Pershing Arena. A pitching session will be held from 1-3:30 p.m. and a hitting session from 3:30-6 p.m. One session is $25 and both sessions are $30. All age groups are welcomed and divided into two groups: high school age players and below high school age players. The camp is limited to 42 players to ensure individualized instruction. Contact Lawrence Scully, Truman head baseball coach, at 785.6003 for more information.

The Faculty Development Weekly Lunch Series will meet from 12:30-1:30 p.m., Wednesday, Jan. 22, in the SUB Georgian Room. The topic "The Inaugural Celebration: Center for Teaching and Learning" will be lead by the Faculty Development Committee. There will be a $5 meal subsidy for this date only. Cake will be available.

Interested in a long term immersion experience in French and German without actually leaving the country? Then help create a French/German House by letting your faculty know you're interested. Contact Timothy Farley by e-mail at tfarley@truman.edu or Andrea Davis by e-mail at
andavis@truman.edu for French and/or German. They need student input.




---
On Campus

---

10 Tuesday

1-5 p.m.-Nursing students Autumn Capstones, SUB Activities Room; see Notes
2:30-3:50 p.m.-Teach English in France informational discussion, MC 302; see Notes
7 p.m.-Women's Basketball vs. Quincy (Ill.); Pershing Arena; see http://gobulldogs.truman.edu


11 Wednesday

Reading Day
3 p.m.-Faculty/staff Holiday Open House, University Residence; see Holiday Open House


12 Thursday

Finals begin


13 Friday

Last Day to Sign Up for the University Wellness Program faculty/staff blood drive; see Notes


14 Saturday

1:30 p.m.-Women's basketball vs. Lincoln, Pershing Arena; see http://gobulldogs.truman.edu
3-5 p.m.-University League Holiday Extravaganza for faculty and staff, SUB Alumni Room; see Notes
The Chariton Valley Audubon Society Kirksville Christmas Bird Count; see Notes


17 Tuesday

Finals end


18 Wednesday

10 a.m.-3 p.m.-Faculty/staff blood drive, SUB Activities Room; see Notes


19 Thursday

7 p.m.-Women's basketball vs. Drury, Pershing Arena; see http://gobulldogs.truman.edu
BACK TO THE TOP
---
Back to "News & Events"
[ HOME · DIRECTORIES · NEWS & EVENTS · SEARCH ]
Direct questions and comments to ksvoboda@truman.edu.
Deadline for entries is 5 p.m., the Wednesday preceding Tuesday's publication.
Copyright © 1996-2003 by Truman State University, Kirksville, Missouri. All Rights Reserved.
URL http://trumantoday.truman.edu