Features
Woolf to Deliver 12th Annual Barbara Early-Vreeland Lecture
Safebrake Encourages Highway Safety Awareness for Midterm Break
Third Presidential Candidate to Visit Campus

University Bands to Present Concerts
Ward to Present Human Origins Lecture

The Truman Today will not be published next week due to midterm break
Student Recreation Center Spring Break Hour
Scholarship Opportunites Available
Registrar's Office to be Closed for Training at the Following Dates and Times
Woolf to Deliver 12th Annual Barbara Early-Vreeland Lecture
Daniel Woolf will be delivering the 12th annual Barbara Early-Vreeland Lecture at 7:30 p.m., March 6, in the Baldwin Hall Little Theatre. Woolf, professor of history and classics and dean of the faculty of arts at University of Alberta, Edmonton, Canada, will speak about "Ancestry and Authority in Early Modern England."
He will discuss the topic from his forthcoming book, "The Social Circulation of the Past: English Historical Culture, 1500-1730," at his lecture. The book will be published by Oxford University Press.
Woolf holds a doctoral degree from Oxford University. He has published widely on Renaissance Europe and early modern England. His most recent book is titled "Reading History in Early Modern England," published by Cambridge University Press in 2000.
The Barbara Early-Vreeland Lecture, established by Joseph Vreeland in memory of his wife who graduated from the University in 1973, gives the Truman community the opportunity to hear public lectures by scholars of international reputation.
Contact David K. Robinson, associate professor of history, at 785.4321 or e-mail drobinso@truman.edu if you would like more information about the lecture.
---
Safebrake Encourages Highway Safety Awareness for Midterm Break
"Safebrake," a highway safety awareness campaign sponsored by Eta Sigma Gamma, will be held on campus March 3-7.
Penny Bailey, a motivational speaker on highway safety, has canceled her presentation for March 4, due to the weather conditions in the area.
Eta Sigma Gamma is Truman's national professional health science honorary. They have chosen this week for Safebrake to promote safe driving throughout the upcoming midterm break. An information table will be set up from 10 a.m. to 5 p.m., March 5-7, in the Student Union Building.
The Flame to the Second Century will be lit from 8 a.m. to 7 p.m., March 4, dedicated to those who have lost their lives in highway collisions. A poster with the names of Truman students who have died on local highways will be placed adjacent to the flame. Truman has lost a total of 11 students to automobile-related crashes since 1995.
"Safebrake is a safe driving campaign that allows our students who have died on the highways to not have lost their lives in vain," Liz Carpenter, Eta Sigma Gamma president and head of Safebrake, said. "Their memories can help save more students lives. In the four years that Safebrake has been active on Truman campus a decrease in student deaths due to automobile accidents has been witnessed and last year every Truman student returned safely."
Students are encouraged to stop by the SUB to take an active role and see what can be done. Contact Emily Forsyth at 785.5645 for more information.
---

Third Presidential Candidate
to visit campus
David E. Payne
vice president for academic affairs at Sam Houston State University

Open Forum for Staff
1 p.m.
March 4
Violette Hall 1000

Open Forum for Faculty
3:30 p.m.
March 4
Violette Hall 1000

Open Forum for Students
5 p.m.
March 4
Violette Hall 1000

For those who cannot attend the forums,
they will be aired on Channel 36 starting at 6 p.m., March 5.
---

Kohlenberg Lyceum Series will present
the Peking Opera
7:30 p.m.
March 25
Baldwin Auditorium
Free tickets will be available March 18 for students, faculty and staff at the SAB Office and the Center for Student Involvement, lower level of the SUB.
Preferred Family Healthcare is a gold level sponsor of the Series and a special guest at this performance.
Call 785.4016 for more information
---
University Bands to Present Concerts
The Truman State University Bands will be presenting two concerts this week.
The University Concert Band will perform at 7:15 p.m., March 5, in the Ophelia Parrish Performance Hall. They will perform "Americans We" by Henry Fillmore, "Puszta" by Jan Van der Roost, "First Suite in F" by Thom Ritter George, and others.
The group will be conducted by Dan Peterson, and assisted by Graduate Teaching Assistants Katy Anselmo and Michael James.
The Wind Symphony will perform at 8 p.m., March 6, in the Ophelia Parrish Performance Hall. Among the works performed will be "Lincolnshire Posy" by Percy Grainger, "Be Thou My Vision" by David Gillingham, and "Theme and Variations" by Arnold Schoenberg.
The Wind Symphony will be conducted by Dan Peterson, and assisted by Graduate Teaching Assistant Michael James.
Both concerts will last no more than one hour and are free and open to the public.
---
Ward to Present Human Origins Lecture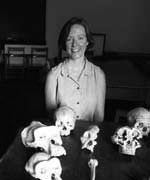 Carol Ward, from the department of anthropology at the University of Missouri-Columbia, will lead a seminar titled "Human Origins: Newest Evidence of our Earliest Ancestors" at 7 p.m., March 18, in the SUB Alumni Room.
Ward's expertise is in anthropology and anatomy and her interests include the evolution of humans and their closest relatives, ape and monkeys. Ward's research focuses on fossils from East and South Africa, primarily Kenya. She takes a mechanical approach to the interpretation of the postcranial skeleton and uses these principles to reconstruct the behavior of extinct animals.
Ward's current research involves the description and interpretation of early hominid fossils from Ethiopia. She studies the functional anatomy of the spines and the hands of modern and fossil humans and of earlier relatives.
Ward's visit to Truman is co-sponsored by Truman State University, Kirksville College of Osteopathic Medicine and Sigma Xi, the scientific research society. Contact Cynthia Cooper at 785.4082 for more information or if you wish to meet with Ward during her visit to Truman March 18. Admission is free and open to the public.
---
Students Present Research at State Capitol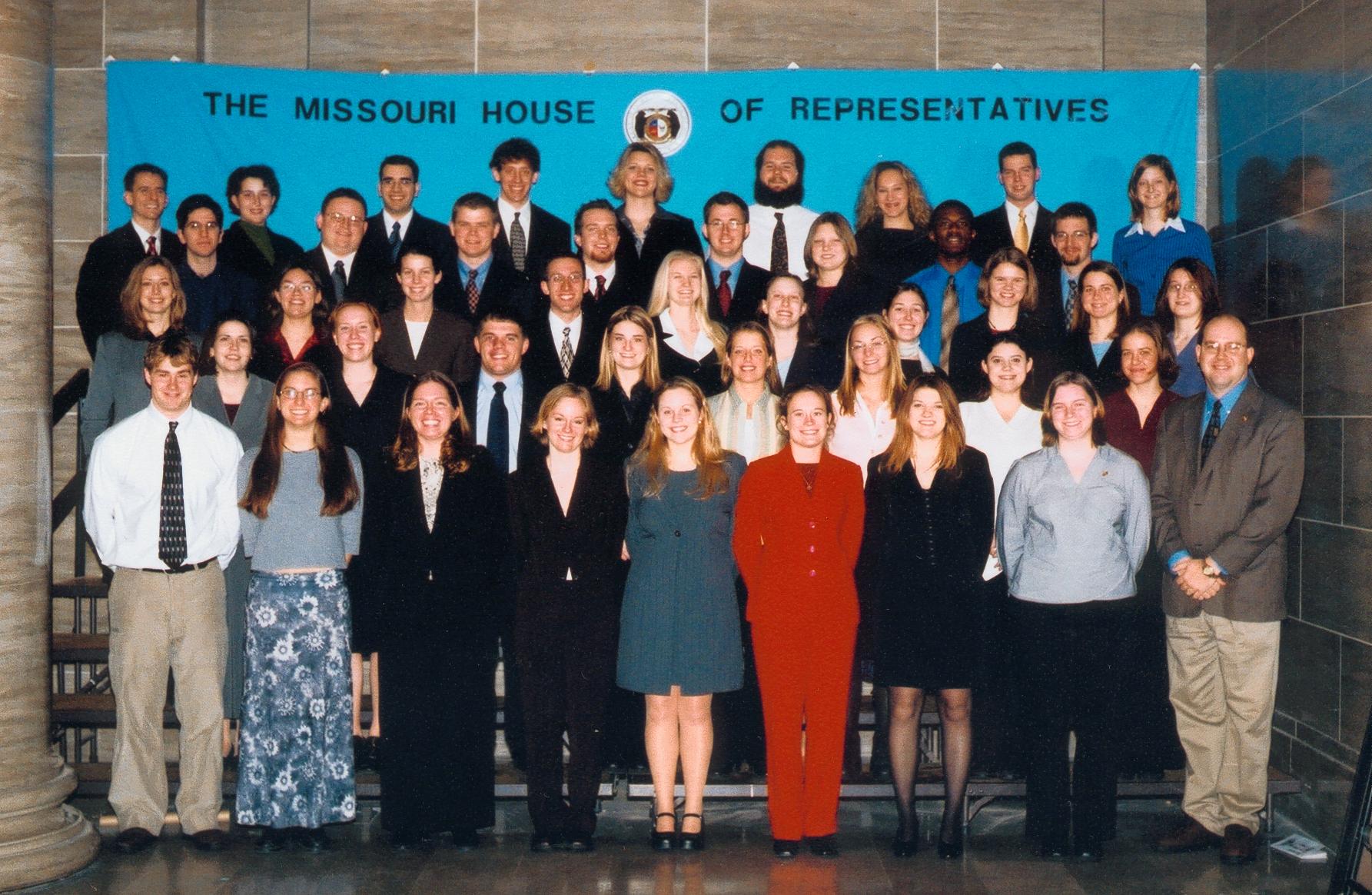 Forty-three students presented posters about their research at the Missouri State Capitol in Jefferson City recently.
Pictured front row, left to right: Nate Polaske, Suzanne Leslie, Audrey Gilmore, Teresa Roth, Amanda Wood, Sara Clouse, Serena Shafer, Maggie Clark and Representative Bob Behnen. Second row: Sara Langenfeld, Catherine Zivnuska, Corey Owens, Andrea Smith, Hattie McDowell, Erin Schwartz, Stephanie Toole and Mychel Varner. Third row: Jennifer Schisler, Joy Chisholm, Jackie Weiss, Alan Toigo, Elizabeth Carpenter, Christina Degenhardt, Catherine Perrine, Kate Christman, Jennifer Main and Maryann Dwyer. Fourth row: Mike Cone, Kurt Hoeman, Ryan Walsh, Tyler Unsell, Kris Kueker, Shawna Cooper, Orlando Williams and Ben Holley. Back row: Todd Lansford, Sarah Welch, Paul Ragan, Christopher Bay, Brandi Sweiger, Cary Rivard, Christina Eberhard, Owen Forck and Karissa Weidinger.
---

The Truman Today will not be published
next week due to midterm break
Please note entries

for the week of
March 17
should be turned in by
March 7


Call 785.4243 or e-mail ksvoboda@truman.edu for more information
---

Grad Fair
10 a.m. to 3 p.m.
March 4-5
Lower Level of the SUB
Representatives
from
Herff Jones
and
ArtCarved
will be taking
announcement and
official school ring
orders
Caps and gowns will be available
Sponsored by the Truman Bookstore
---

Student Recreation Center Spring Break Hours
March 7
6:30 a.m. to 7 p.m.

March 8-9
Closed

March 10-14
11 a.m. to 2 p.m.

March 15
Closed

March 16
4-7 p.m.

Specific areas may be closed without advance notice
for cleaning and repair projects
---
Scholarship Opportunities Available
Several scholarship opportunities are available for Truman students.
The American Chemical Society Scholars Program is currently accepting applications. Applicants must be pursuing a degree in the chemical science fields such as chemistry, biochemistry, chemical engineering, materials science and environmental science. Contact http://www.chemistry.org/scholars for more information.
The A.R. Zipf Fellowship has been established to encourage students who are planning careers in information management. Applicants should be studying information science, information technology, engineering, and/or business. Award amount is $8,000 and the application deadline is April 1. Applications and instructions may be obtained from their Web site at http://www.clir.org/fellowships/zipf/zipf.html.
The National Association of Water Companies (NAWC) is soliciting applications for its J.J. Barr Scholarship in the amount of $5,500, to be awarded for the 2003-04 academic year. Awards are limited to graduating college seniors or current graduate students in graduate degree-seeking programs. Application deadline is April 1.
The American Institute of Certified Public Accountants is now accepting applications for the John L. Carey Scholarships Program. Scholarships are available to all liberal arts degree holders of any regionally-accredited U.S. institution who wish to pursue a CPA certificate. Scholarships are given based on academic achievement, leadership and future career interests and are contingent upon acceptance in a graduate accounting program. Each year, up to seven recipients will be awarded $5,000 and will be eligible for renewal for one or more years, provided satisfactory scholarship progress is maintained. Application deadline is April 1. Visit the Web at http://www.aicpa.org/members/div/career/edu/jlcs.htm.
Contact the Financial Aid Office in McClain Hall 103 for more information about any of the scholarships or to pick up an application.
---

The Registrar's Office will be closed on the following dates for training on the new student information system:

March 11-13
8:30 a.m. to noon
---
Mark Your Calendars for
Upcoming March Events
Truman State University Symphony Orchestra
Gold Medal Concert
8 p.m.
March 22
Baldwin Auditorium

13th Annual National Art Competition
March 24-April 15
University Art Gallery

Spring Lab Show - Theatre
8 p.m.
March 26-29
Studio Theatre - OP 2302

Women's Studies Conference
"Gender Trouble: Feminism and the Subversion of Identity"
March 27-29

Second Annual John Ware Classic
Powerlifting/Bench Press Championships
10 a.m.
March 29
Pershing Arena

Big Event
March 29
---

Notables

Taner Edis, assistant professor of physics, will speak to the Skeptics Society at Caltech, Pasadena, Calif., March 9 about his recent book, "The Ghost in the Universe." He also will speak to the Bay Area Skeptics, Berkeley, Calif., about "Intelligent Design" creationism and its threat to science education March 13.

Jerrold Hirsch, professor of history, published "T. S. Eliot, B. A. Botkin, and the Politics of Cultural Representation: Folklore, Modernity, and Pluralism," in Race and the Modern Artist, Harvard W. E. B. Du Bois Institute Series, Oxford University Press, 2003, 16-41.

Dale Blesz, assistant professor of special education; Pete Kelly, assistant professor of special education; and Sam Minner, division head of education and professor of education; will present two papers at the Professional Development School National Conference in Orlando, Fla., March 7 and 8. Their works include "First Year Results of a PDS in Special Education: Symbiosis from Three Perspectives" and "On the Frontline: Faculty Life in the PDS."

Erin Fogarty, junior accounting major from Houston, Texas, and member of the women's golf team, and Derek Kent, senior business administration-management major from Chariton, Iowa, and member of the football team, represented the institution at the first ever NCAA Action Academy Leadership Institute. The leadership conference was held Feb. 21-23 in Indianapolis. Matt Copeland, assistant football coach, served as the staff representative. B.J. Pumroy, assistant athletic director, served as one of the 10 facilitators of the conference.

Emmanuel Nnadozie, professor of economics, edited the new book titled "African Economic Development" published by the Academic Press. Nnadozie wrote the preface and three chapters for the book. John Quinn, associate professor of political science, and Seymour Patterson, division head of social science and professor of economics, also contributed chapters for the book.

The Roller Hockey Club B Team advanced to the semifinals of the CRHL Great Plains Regional Playoffs Feb. 22-23.
---

Notes

The Center for Teaching and Learning Weekly Lunch Series will meet from 12:30-1:30 p.m., March 5, in the SUB Spanish Room. The topic, "Success Stories From Pioneer JINS Courses" will be lead by Marc Rice, assistant professor of music; Pam Ryan, assistant professor of mathematics; and Phil Ryan, assistant professor of mathematics. Contact the Center for Teaching and Learning at 785.4391 for more information.

Dobson Hall and Fine Arts Film Series will show the movie "Andrei Rublyov" at 6 p.m., March 5, in OP 2210.

SAB will be sponsoring a Campus Coffeehouse featuring a number of local bands from 8:30-11:30 p.m., March 5, in the SUB Down Under. Free refreshments will be provided. Call SAB at 785.4722 for more information.

Donations of canned goods or dry goods are being accepted at residence hall desks now through March 6. Springtime marks a low point for the local food pantries as the winter stock runs out. Any donation would be appreciated. This event is sponsored by Alpha Phi Omega and the Boy Scouts of America.

The 2003 Juried Student Exhibit will be on display at the University Art Gallery until March 7. The exhibit displays various student artwork such as paintings, sculptures and fibers. The show is juried by Craig Subler, art professor at the University of Missouri-Kansas City. The University Art Gallery is located on the ground floor of OP and is open Monday-Thursday 8:30 a.m.-7 p.m., Friday 8:30 a.m.-5 p.m., and Saturday noon-4:30 p.m.

A shuttle to the LaPlata train station for midterm break will depart at 9 a.m., March 8, from the Public Safety Building. Tickets are $5 in advance with registration. Call Joyce Burnett at 785.4177 to reserve a space for the shuttle to LaPlata or for the return trip from LaPlata on March 16.

Additional 2003 Leadership Awards nomination forms are available in the Center for Student Involvement, lower level of the SUB. Nominations are due by 5 p.m., March 12, in the Center for Student Involvement.

The Truman State University Child Development Center Seminar Series will culminate with "The Growing of Our Children: Issues of Weight and Health Among Young Children" at 4:30 p.m., March 20, in VH 1300. Pam Gardner, assistant professor of nursing, will be the presenter. Contact Mona Davis at 785.4383 at least two days before the event for childcare.

Beta Alpha Psi is offering Volunteer Income Tax Assistance from 8 a.m. to 4 p.m., March 22, 29 and April 5, in VH 1010. Truman faculty, staff and students as well as Kirksville residents are welcome. For more information, contact Steve Schnurbusch at 665.4603.

William O'Donnell Lee Advising Award nomination forms are available in division offices or by calling Kathy Powell in the Vice President for Academic Affairs Office at 785.4105. They can also be accessed on the VPAA Web site at http://vpaa.truman.edu. Nominate an outstanding academic adviser (only full-time faculty advisers are eligible). Nominations are due by April 7.

Additional 2003 Leadership Awards nomination forms are available in the Center for Student Involvement, lower level of the SUB. Nominations are due by 5 p.m., March 12, in the Center for Student Involvement.

The 2003-2004 Free Application for Federal Student Aid (FAFSA) is available on the Web at http://www.fafsa.ed.gov. Apply soon to be considered for all available federal and state funds. Contact the Financial Aid Office, MC 103, 785.4130, if you have questions.




---
On Campus
4 Tuesday

10 a.m. to 3 p.m.-Grad Fair, SUB Down Under; see Grad Fair
noon-Baseball vs. Iowa Wesleyan, Truman Baseball Field, see http://gobulldogs.truman.edu
1 pm.-Presidential Candidate, David E. Payne, Open Forum with Staff, VH 1000; see Third Presidential Candidate to Visit Campus
3:30 p.m.-Presidential Candidate, David E. Payne, Open Forum with Faculty, VH 1000; see Third Presidential Candidate to Visit Campus
5 p.m.-Presidential Candidate, David E. Payne, Open Forum with Students, VH 1000; see Third Presidential Candidate to Visit Campus
Safebrake speaker canceled due to expected weather conditions; see Safebrake Speaker to Present Lecture on Highway Safety Awareness for Midterm Break

5 Wednesday

10 a.m. to 3 p.m.-Grad Fair, SUB Down Under; see Grad Fair
12:30-1:30 p.m.-Center for Teaching and Learning Weekly Lunch Series, SUB Spanish Room; see Notes
6 p.m.-Movie: "Andrei Rublyov," OP 2210; see Notes
7:15 p.m.-University Bands Concert, OP Performance Hall; see University Bands to Present Concerts
8:30 p.m.-Campus Coffeehouse, SUB Down Under; see Notes

6 Thursday

7:30 p.m.-Barbara Early-Vreeland Lecture, Baldwin Hall Little Theatre; see Woolf to Deliver 12th Annual Barbara Early-Vreeland Lecture
8 p.m.-Wind Symphony Concert, OP Performance Hall; see University Bands to Present Concerts

8 Saturday

9 a.m.-Shuttle to the LaPlata train station, Public Safety Building; see Notes

10 Monday

Midterm Break Begins




---
Back to "News & Events"
[ HOME · DIRECTORIES · NEWS & EVENTS · SEARCH ]
Direct questions and comments to ksvoboda@truman.edu.
Deadline for entries is 5 p.m., the Wednesday preceding Tuesday's publication.
Copyright © 1996-2003 by Truman State University, Kirksville, Missouri. All Rights Reserved.
URL http://trumantoday.truman.edu