April 1, 2003
Vol. 7 No. 27

Features
Smith Selected as Truman Scholar
Truman Debate Team Ranks Second in National Season-Long Rankings

Scholarship Opportunity Available
Students to Deliver Presentations at 8th Annual Psi Chi Conference


Mock Trial Team Wins Right to Compete at National Competition
Nominate an Outstanding Academic Adviser
Panhellenic Council Sponsors Dating and Domestic Violence Presentation
Peggy Ellis to Assess Truman's Nursing Honor Society

Inserts
What Truman Recycles
Smith Selected as Truman Scholar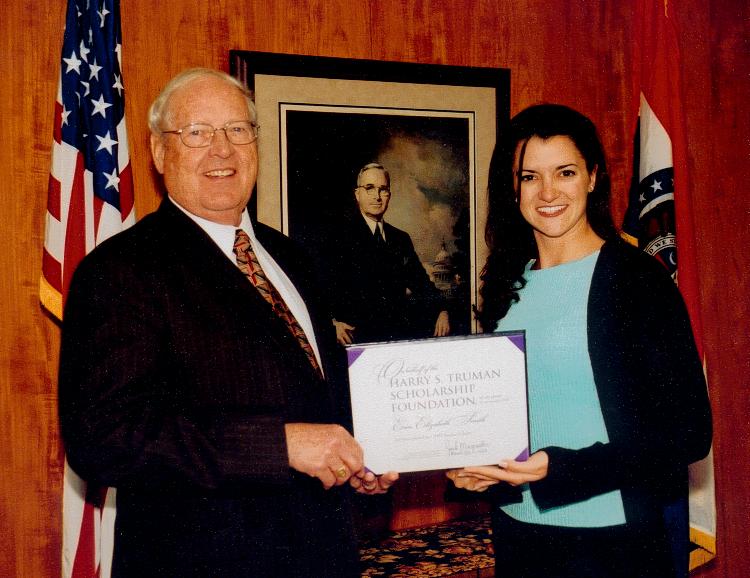 President Jack Magruder presents Erin Smith with a Truman Scholar certificate.
Erin Smith, junior political science major from Bettendorf, Iowa, was one of 76 students from 63 U.S. colleges and universities selected as 2003 Truman Scholars. The recipients were elected by 20 independent selection panels on the basis of leadership potential, intellectual ability and likelihood of 'making a difference.'
Smith took a year off college to serve her state as a motivational speaker and literacy advocate as Miss Iowa 2001. She founded the literacy program "Readers of Today, Leaders of Tomorrow." Her academic distinctions include the President's Honorary Full-Tuition Scholarship, 4.0 cumulative GPA, United Leaders Institute for Political Service Fellowship, Truman's Most Outstanding Freshman Leader, the Miss America Scholar national winner, and membership in six national honor societies.
Each Scholarship provides $3,000 for the senior year and $27,000 for graduate study for a total of $30,000. For more information about the scholarship contact Debbie Kling at 785.7115 or dkling@truman.edu or check http://www.truman.gov.
---
Truman Debate Team Ranks Second in National Season-Long Rankings
Eight students representing the Truman Forensic Union continued their success at the National Parliamentary Debate Association National Championship Tournament at Portland State University, in Portland, Ore. The team ranked second in Season Sweepstakes, meaning the program was the second-best overall program in the nation for the 2002-2003 season. Truman tied first place program, Pt. Loma Nazarene University, of San Diego, Calif., but lost the national title by a mere four tie-breaker points. One hundred ninety-three schools were ranked for the season sweepstakes award.
In addition, the Truman team ranked ninth overall, out of the 93 colleges and universities competing at the Portland Nationals. Truman was one of only four programs to place four teams in elimination rounds of the tournament. This is the fourth consecutive year in which Truman has cleared four teams from preliminary rounds into the elimination round bracket.
The team of Timothy Baldwin, freshman communication major from Kansas City, Mo., and Marie Tenny, sophomore psychology major from Villa Ridge, Mo., reached the octafinal round of the tournament. Other Truman teams reaching elimination rounds include: Corey Owens, freshman communication and political science double major from Blue Springs, Mo., and David "Ben" Holley, freshman political science major from Neosho, Mo.; Tyson Helder, sophomore communication and political science double major from Sioux Falls, S.D., and Ryan Walsh, sophomore philosophy/religion major from Cassville, Mo.; and Ian Samuel, sophomore computer science major from Pueblo, Colo., and senior Tyler Unsell, senior communication major from Parkville, Mo.
---
"Piecing the World Together"
International Festival
March 31
Flag Parade
3:15 p.m.
Outside Kirk Memorial Building
April 1
Karate Workshop
4:30-6 p.m.
Pershing Dance Studio
April 2
Calligraphy Fair
7-8:30 p.m.
Ryle Hall Main Lounge
April 3
Open Mic Night
7-10 p.m.
Washington Street Java Co.
April 4
International Fete: Carnival
2-5:30 p.m.
Quadrangle
April 5
American Football Game
(International students vs. American students)
3 p.m.
Field behind Centennial Hall
International Movie Night
7 p.m.
Violette Hall 1000
April 6
Dinner at the MAC
6 p.m.
Multicultural Affairs Center
Events sponsored by Multicultural Affairs, International Club, ISO,
Asia Club, FAC and the Residential College Program
Contact the ISO Office at 785.4215 for more information
---
Students Receive Academic Honor Awards
The Academic Honor Awards Assembly, which recognizes outstanding scholastic achievement among Truman State University undergraduate and graduate students, will be held at 7 p.m., April 7, in the SUB Georgian Room. All students, faculty and staff are invited to attend.

The following students will receive awards:

Clint Borgstadt
Outstanding Undergraduate Student in Accounting

Daniel Chàvez
Outstanding Graduate Student in Accounting

Tim Papuga
Outstanding Student in Business Administration-Management

Kevin Meyers
Outstanding Student in Business Administration-Management

Mircea Negrea
Outstanding Student in Business Administration-Finance

Alicia Busse
Outstanding Student in Business Administration-Marketing

Marie Langabee
Outstanding Student in Business Administration-Marketing

Elizabeth Edgar
Outstanding Graduate Student in Special Education

Rachel Carrico
Outstanding Graduate Student in Secondary Education

Jamie Midden
Outstanding Graduate Student in Elementary Education

Anna Weber
Outstanding Student in Theatre

Carrie Jones
Outstanding Student in Music

Bren McIntosh
Outstanding Student in Art

Jennifer Main
Outstanding Undergraduate Student in Comm. Disorders

Jamie Rost
Outstanding Graduate Student in Comm. Disorders

Amanda Wherry
Outstanding Student in Exercise Science

Britni Buford
Outstanding Student in Exercise Science

Eileen Webber
Outstanding Student in Health Science

Sara Langenfeld
Outstanding Student in Nursing

Rebecca Foster
Outstanding Student in Spanish

Jonathan Lukens
Outstanding Student in Russian

Sofia Taboada
Outstanding Student in French

Matthew Plank
Outstanding Student in Classics

Brooke Sherrard
Outstanding Student in Communication: Journalism

Jennifer Montgomery
Outstanding Student in Communication: Science

Shawna Archer
Outstanding Student in English (Bachelor of Arts)

Katylin Mayhle
Outstanding Student in English (Bachelor of Science)

Robert Miller
General George C. Marshall ROTC Award

Daniel Clark
Outstanding Student in Mathematics

Andrew Ashbaugh
Outstanding Student in Computer Science

Chelsea Gerrish
Outstanding Student in Agricultural Science

Timothy See
Outstanding Student in Chemistry

Kevin Haworth
Outstanding Student in Physics

Elizabeth Hahn
Outstanding Student in Biology

Alexis Andrews
Outstanding Student in Justice Systems

Cabell Gathman
Outstanding Student in Philosophy and Religion

Tisha Wiley
Outstanding Student in Psychology

Matthew Brooker
Outstanding Student in Economics

Jeremy Gray
Outstanding Student in Political Science

Jacob Rodemann
Outstanding Student in Sociology and Anthropology

Matthew O'Rourke
Outstanding Student in History

Bin Zhang
The Distinguished Master's Thesis Award

Andrew Heitmann
The Distinguished Master's Thesis Award
---
Scholarship Opportunity Available
A scholarship opportunity is available for Truman students.
The Beta Zeta Chapter of Delta Kappa Gamma International is offering a recruitment grant of approximately $120. Applicants must be female, have graduated from a high school in Atchison, Holt or Nodaway County in Missouri, have declared a major in education, currently have a GPA of 2.5 or above and apply in the spring of her sophomore or junior year. Applications must be postmarked by April 7. Contact the Financial Aid Office in McClain Hall 103 for more information.
---
Students to Deliver Presentations at 8th Annual Psi Chi Conference
Psi Chi and the Social Science Division will present the 8th Annual Psi Chi Research Conference from noon to 4:30 p.m., April 5, in Violette Hall 1000.
Alicia Ito-Ford, a graduate student at University of Kansas, will be the keynote speaker of the conference at noon. She will speak about positive psychology and the hope model.
The distinguished graduate speaker Kayla White, a graduate student from University of Iowa, will be speaking about brain trauma at 12:45 p.m.
There will be a reception following the two speakers with poster presentations by students. This will be followed by numerous oral presentations by students. Contact Joanna Hoag at 665-3263 or joannahog@hotmail.com for more information
---
Greek Week Schedule
Opening Ceremonies
Meet on Quad at 4 p.m.
March 31
Procession to Pershing

5K Run
3:30 p.m.
April 1
in front of Centennial Hall

Greek Olympics
4 p.m.
April 2
Rugby Field

Lip Sync
Coronation
Awards Ceremony
7 p.m.
April 3
Pershing Arena
---
Mock Trial Team Wins Right to Compete at National Competition
Truman's Mock Trial team won the right to compete in the American Mock Trial Tournament, a national competition for new teams. The competition will take place April 11-13 in Richmond, Ky. The team members declined the invitation because the tournament occurs at such a busy time in the semester, but they are enthusiastic about competing at that level next year.
The Truman Mock Trial team is in its third consecutive year, but this is the first year the team has actually competed. The team went to Mizzou in late January to compete in an invitational tournament. It had a record at that tournament of 4-4, which placed it seventh of 20 teams. Team member Josh Jones, freshman political science major from Kirkwood, Mo., won an award for his advocacy as a defense attorney.
The team went to St. Louis for the regional tournament in mid-February. The regional competition drew 23 teams from Missouri, Illinois, and as far as Arkansas and Kentucky. The team again earned a record of 4-4 at regionals to place 11th. Jones won another award for his legal advocacy, and Libby Beilsmith, junior psychology major from St. Charles, Mo., won an award for her portrayal of the defendant. Other team members include: Alexis Andrews, senior justice systems major from Perrysburg, Ohio; Kevin Chase, freshman physics major from University City, Mo.; John Griesedieck, sophomore political science and pre-education double major from Des Peres, Mo.; Sally Guarino, freshman justice systems and psychology double major from Liberty, Mo; Rachel Spavone, freshman political science major from Springfield, Ill.; and Kelly Wikstrom, freshman pre-business administration major from Sedalia, Mo. The team is coached by Martin Jayne, assistant professor of justice systems.
---
Nominate an Outstanding Academic Adviser for the William O'Donnell Lee Advising Award
Nominations are now being accepted.
Forms are available online at http://vpaa.truman.edu/leeadvising.pdf.
Nominations are due in McClain Hall 203 by 5 p.m. April 7.
---
Panhellenic Council Sponsors Dating and Domestic Violence Presentation
The Panhellenic Council will sponsor a dating and domestic violence presentation titled, "Dear Lisa" given by Tom Santoro, a father who lost his daughter to dating violence, at 7 p.m., April 10, in Baldwin Auditorium.
Sometimes people who are in physically and emotionally abusive relationships may not recognize it. Santoro will speak about the warning signs of an emotionally or physically abusive relationship and how to tell if you or someone you love is in a violent relationship.
The program is free and open to the public. Contact Angie Arellano at 785.4771 for more information.
---
Upcoming SAB Events
"Cowboy Mouth" concert
Opening Band: The Wil Seabrook Band
8 p.m.
April 4
Rugby Field
Rain site: Pershing Arena
Doors open: 7 p.m.
Admission is free
No tickets are necessary

Dog Days
noon-6 p.m.
April 5
Rugby Field and Campbell parking lot
Rain site: Pershing Arena

Comedian
Mitch Hedberg
7 p.m.
April 9
Baldwin Auditorium

Tickets are now available in the SAB Office, lower level of the SUB
Free with student ID

Contact SAB at 785.4722 for more information on the upcoming events
---

Peggy Ellis to Assess Truman's Nursing Honor Society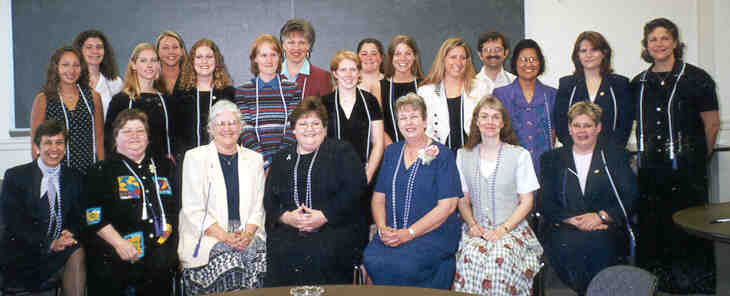 Nursing Honor Society Induction May 18, 2002
Members Present, Front Row: Stephanie Powelson, Sharon McGahan, SarahDelaware, Marcia Beck, Gretchen Cornell, Brenda Wheeler, Margie Smotherman .Back row: Kristen Leiby, Michelle Bandy, Julie Noelker, Brenda Ippensen, Stephanie Wheeler, Jenika Johnson, Rebecca McClanahan, Becca Shabel, Marjorie Walden, Haley Barnes, Andrea Hampton, Stephen Hadwiger, Kit Hadwiger, Pamela Baker, Kelly Freeland.
The Truman State University Nursing Honor Society will host Dr. Peggy Ellis, a representative from Sigma Theta Tau International, on April 9 and 10. Ellis will be assessing the Truman State University Nursing Honor Society to determine whether it meets requirements for chartered status as a chapter of Sigma Theta Tau International.
The purpose of the Truman Nursing Honor Society is to honor and recognize superior academic achievement, high professional standards and expertise and leadership in nursing. In addition, the nursing honor society fosters professional standards, encourages creative work and strengthens commitment to the purposes of the profession.
In 1998, a steering committee was formed to develop a Nursing Honor Society at the Truman campus. On May 8, 1999, the Truman Nursing Honor Society inducted 57 charter members. It was at that time that the first slate of officers were elected and installed. The past four years have been spent further developing the Nursing Honor Society and working toward meeting the requirements of Sigma Theta Tau International. Four additional inductions have taken place bringing the current membership to 120 members.
The Truman Nursing Honor Society has sponsored activities including Senior Capstones for students each fall and a Capstones of Nursing with oral and poster presentations by students and nurse leaders held each spring. In the fall of 2003, the first Distinguished Nursing Scholars series will be held which will include a speaker with national recognition in nursing research.
---

Notables

Daniel R. Mandell, assistant professor of history, is the editor of "New England Treaties, North and West, 1650-1776," Vol. 20 in the series "Early American Indian Documents: Treaties and Laws," recently published by University Publications of America.

Andrew Ashbaugh, senior computer science and communication double major from Wauconda, Ill., and Bryan Vanderhoof, senior business administration major from Kirksville, received first place awards at the 2003 Missouri Educational Broadcasters Association on March 6. They are KTRM staff members. Ashbaugh was awarded for KTRM's Web site, http://ktrm.truman.edu. Vanderhoof took first place both for station promotion and for air check. KTRM is streaming live on the internet. The Edge went live online March 26. Link to it at their Web site.

The Truman Horse Association ends the 2002-03 school year as Reserve High Point Hunt Seat Team in the region. This is in part due to the strong showing at the Southern Illinois University-Carbondale shows where Truman was High Point Hunt Seat Team on Feb. 23, and Nina Tobler, junior agricultural science major from St. Louis, was Reserve High-Point Hunt Seat Rider. Individual rider points are earned as followed: 1st place-seven points, 2nd place-five points, 3rd place-four points, 4th place-three points, 5th place-two points, 6th place-one point. Team points are calculated based on pre-determined "point riders." At the beginning of each show a rider from each division (Walk/Trot, Walk/Trot/Canter, Novice, Intermediate, Open, etc.) is selected by the coach and/or team members and their points are tallied toward the Team High Point. In most divisions, riders need to acquire 35 points in order to advance to a higher division and/or qualify for regional competition. Carrie Huot, sophomore English major from Broad Brook, Conn., qualified for Regional competition in Walk/Trot/ Canter and placed high enough at regionals to qualify for zone competition to be held April 12 in Indiana.
---

Notes

Graduation clearance packets were mailed March 31 for May 2003 graduates. Please contact the Registrar's Office at 785.4143 or registrar@truman.edu if you do not receive your packet. This packet is a graduation requirement and must be completed by April 25.

Donations are being collected in the Education Division Office to help Brian Archibald, graduate student from St. Louis, pay for medical bills. Archibald, a former Truman football player, was recently diagnosed with an aggressive form of Hodgkin's disease. Checks can be made payable to: Brian Archibald Agency Account.

The Center for Teaching and Learning Weekly Lunch Series will meet from 12:30-1:30 p.m., April 2, in the SUB Spanish Room. The focus will be on teaching strategies for preventing plagiarism. The title of the installment is "Part II: Cheating and Plagiarism: Worth a Pound of Cure." Contact the Center for Teaching and Learning at 785.4391 for more information.

The Dobson Hall and Fine Arts Film Series will show the movie "Barton Fink" at 6 p.m., April 2, in OP 2210.

The Progressive Coalition invites liberal minded organizations and individuals that wish to coordinate resources and efforts toward the common goal of creating a better society to attend its first meeting at 7 p.m., April 2, in BH 284. Contact Chris Miller at 665.6514 for more information.

The faculty saxophone recital featuring Randy Smith on the alto saxophone, Tim AuBuchon on the tenor saxophone, Katie Collins on the violin, and Patrice Ewoldt on the piano, will begin at 8 p.m., April 2, in the OP Performance Hall. Contact Randy Smith at 785.4440 for more information.

The Center for Teaching and Learning will sponsor a live satellite event, "Cheating & Plagiarism: Using the Internet," from 1:30-3 p.m., April 3, in the SUB Governors Room. Contact the Center for Teaching and Learning at 785.4391 for more information.

The Annual Service Recognition Banquet is scheduled for 6:30 p.m., April 3, in the SUB Georgian Room.

Beta Alpha Psi is offering Volunteer Income Tax Assistance from 8 a.m. to 4 p.m., April 5, in VH 1010. Truman faculty, staff and students as well as Kirksville residents are welcome. For more information, contact Steve Schnurbusch at 665.4603.

The Board of Governors will meet at 9 a.m., April 5, in the SUB Conference Room.

The Northeast Area Special Olympics Opening Ceremonies will begin at noon, April 5, at Stokes Stadium. Admission is free. Contact Kara Anderson at 665.1419 for more information.

The Truman Wind Symphony and the Truman Jazz Ensemble will perform at 8 p.m., April 5, in Ophelia Parrish.

The Residence Hall Association and Hall Senates are sponsoring "Midnight Masquerade," a formal, all-hall ball from 8 p.m. to midnight, April 5, at the NEMO Fairgrounds. There will be music, dancing, and refreshments. Tickets are $5 in advance and at the door. They will be on sale from March 31 until April 4 in the dining halls and hall desks. Tickets should be purchased from your hall. Each hall will have a different color ticket.

Tickets for the final production of the 2002-2003 theatre season, the timely Greek comedy, Lysistrata, can be reserved by filling out the form here and sending it via campus mail to the Theatre Box Office c/o Division of Fine Arts. Lysistrata will be performed at 8 p.m., April 8, in the OP Courtyard Theatre for free and at 8 p.m., April 9-12, in the Ophelia Parrish Courtyard Theatre for $2.

The Society of Physics Students will host the zone 12 spring meeting April 11-12 in VH 1000. Presentations will run from 8:30 a.m. to 2 p.m., April 12, in VH 1000. The cost is free to attend, and $5 for a program, breakfast and lunch. Students from schools in Oklahoma, Nebraska, Iowa, Illinois, and Missouri will be in attendance. Contact Kevin Haworth at 665.1512 for more information.

The 20th Annual Children's Literature Festival will be from 9 a.m. to 4 p.m., April 11, in the SUB, the Baldwin Hall Little Theater and VH 1320 and 1000. Ten children's book authors will meet with students from local elementary schools. Contact Ann McEndarfer at 785.6010 for more information.

The Department of Public Safety will sponsor a Rape Aggression Defense Class from 8 a.m. to 6 p.m., April 12, in the Student Recreation Center. Register and pre-pay the $10 fee at the Department of Public Safety from 8 a.m. to 5 p.m. Monday-Friday. The entire 10-hour program must be completed to receive credit. Call Public Safety at 785.4177 for more information.

The Sprinting for Service 5k race/walk will be held at 9 a.m., April 12, at the Adair County Family YMCA. April 12 is National Youth Service Day and the race is being held in conjunction with the Adair County YMCA and the Adair County Humane Society. All funds raised will stay in Kirksville, to benefit all life in Adair County. The registration fee is $10 per person and includes a free T-shirt. A group fee of $50 is offered for teams of six participants. Turn in all donations, fees and forms to the Center for Student Involvement. Please make checks out to Truman State University SERVE Center with "Sprinting for Service" in the memo. Registration is available the day of the race/walk, but a T-shirt is not guaranteed. For more information on Sprinting for Service or to register for the race, check out http://www.the-pack.org, contact Youth Service Council member Beth Evers at 785.7164 or bevers1212@go.com or contact the SERVE Center at 785.4222.

The Truman Society of Dance Arts will perform a Spring Recital at 7 p.m., April 16, in Baldwin Auditorium. Contact Jessica Moe at 665.0456 for more information.

The Writing Center is currently accepting applications for Writing Consultants in English and Spanish for the 2003-04 academic year. A limited number of stipend positions are available. However, candidates may choose to fulfill scholarship hours as consultants. Stop by the Writing Center, MC 303, to pick up job descriptions and application forms, or check the Writing Center Web site at http://ll.truman.edu/wc/wchome.html. The application process must be completed by May 1. This is the first semester that the Writing Center will be hiring a Spanish consultant to work with students writing compositions in Spanish. For more information, contact Mary Lou Woehlk, director of the Writing Center, by e-mail, mlw@truman.edu or phone, 785.4691.

Students wishing to attend next fall's French or German Immersion Weekend to be held Sept. 27-28 must obtain a yellow card. The course titles are FREN 232 and GER 232. Each is worth one credit hour. For French, contact Ron Manning at 785.4018 or rmanning@truman.edu. For German, contact Andrea Davis at 785.4085. Intermediate proficiency is required.

Applications are now available for the 21st Century Leadership Academy. The Academy is designed to teach women leadership skills, allow them to meet key public policy people in government and learn more about public policy. The training program will be May 18-23 at the University of Missouri-St. Louis. For more information, contact Patricia A. Miller at 785.4260.
---
On Campus
1 Tuesday

4:30-6 p.m.-Karate Workshop, Pershing Dance Studio; see "Piecing the World Together"


2 WEDNESDAY

12:30-1:30 p.m.-The Center for Teaching & Learning Weekly Lunch Series, SUB Spanish Room; see Notes
2 p.m.-Softball vs. Missouri-Rolla, Truman Softball Field; see http://gobulldogs.truman.edu
3:30 p.m.-Men's Tennis vs. Central College (Iowa), Truman Tennis Courts; see http://gobulldogs.truman.edu
6 p.m.-Movie: "Barton Fink," OP 2210; see Notes
7 p.m.-Faculty Saxophone Recital, OP Performance Hall; see Notes
7-8:30 p.m.-Calligraphy Fair, Ryle Hall Main Lounge; see "Piecing the World Together"
7 p.m.-Progressive Coalition informational meeting, BH 284; see Notes

3 Thursday

1:30-3 p.m.-Live Satellite Event: "Cheating & Plagiarism: Using the Internet," SUB Governors Room; see Notes
6:30 p.m.-Annual Service Recognition Banquet, SUB Georgian Room; see Notes
7-10 p.m.-Open Mic Night, Washington Street Java Co.; see "Piecing the World Together"

4 Friday

2-5:30 p.m.-International Fete: Carnival Cultural games, food, fashion and performances, Quadrangle; see "Piecing the World Together"
8 p.m.-Ann Carter Recital, OP Performance Hall; see Master Calendar
8 p.m.-Cowboy Mouth Concert, Rugby Field (Rain site: Pershing Arena); see Upcoming SAB Events

5 Saturday

8 a.m.-4 p.m.-Volunteer Income Tax Assistance sponsored by Beta Alpha Psi, VH 1010; see Notes
9 a.m.-Board of Governors meeting, SUB Conference Room; see Notes
noon-4:30 p.m.-8th Annual Psi Chi Research Conference, VH 1000; see Students to Deliver Presentations at 8th Annual Psi Chi Conference
noon-6 p.m.-Dog Days, Rugby Field and Campbell parking lot (Rain site: Pershing Arena); see Upcoming SAB Events
noon-Northeast Area Special Olympics Opening Ceremonies, Stokes Stadium; see Notes
noon-Baseball vs. Pittsburg State (Kan.), Truman Baseball Field; see http://gobulldogs.truman.edu
3 p.m.-American Football Game International students vs. American students, field behind Centennial Hall; see "Piecing the World Together"
7 p.m.-International Movie Night, VH 1000; see "Piecing the World Together"
8 p.m.-Truman Wind Symphony and Truman Jazz Ensemble performance, OP; see Notes
8 p.m.-midnight-"Midnight Masquerade" All-Hall Ball, NEMO Fairgrounds; see Notes

6 Sunday

2 p.m.-Phi Kappa Phi spring initiation ceremony, SUB Activities Room
5 p.m.-President String Quartet Concert, OP Performance Hall; see Master Calendar
6 p.m.-International Week Dinner at MAC, Multicultural Affairs Center; see "Piecing the World Together"

7 Monday

8 p.m.-Kevin Harrison Senior Recital, OP Performance Hall; see Master Calendar
BACK TO THE TOP
---
Back to "News & Events"
[ HOME · DIRECTORIES · NEWS & EVENTS · SEARCH ]
Direct questions and comments to ksvoboda@truman.edu.
Deadline for entries is 5 p.m., the Wednesday preceding Tuesday's publication.
Copyright © 1996-2003 by Truman State University, Kirksville, Missouri. All Rights Reserved.
URL http://trumantoday.truman.edu