June 27, 2000 - Vol. 4 No. 58
Features

Night Watch Opens June 28 in Little Theatre
Civil War Era Returns to Kirksville
Departments

Harbouk Named as New ITS Director
Joseph Harbouk joins the COLLEGIS staff at Truman as the new executive director of information technology services. He will begin his duties in July.
For the past three years, Harbouk has served as the director of computing services at the University of Indianapolis. Prior to that, he served on the UI computer technology faculty and was a network analyst and pc support specialist. From 1990-1992, Harbouk worked as an assistant to the computer science faculty in Larnaca, Cyprus.
Harbouk earned his bachelor of science degree in computer information systems and his master's degree in business administration from UI. He is currently pursuing a master's degree in telecommunications and network management from Syracuse University.
In addition to his work in higher education, Harbouk has also been employed as a network consultant for two independent firms, JGL Co. and Eli Lilly Inc.
His professional memberships include CAUSE, the Association for Managing and Using Information Resources in Higher Education; IEEE, the Institute for Electrical and Electronics Engineers, Inc.; ACM, the Association of Computing Machinery; and Delta Mu Delta of Delta Psi Chapter, the national business honor society.
Harbouk is fluent in Arabic, his native tongue, as well as French and English. He has been involved as a staff member and mentor for College Mentors for Kids! Inc., which is a non-profit organization that links underprivileged elementary-age children with college student mentors from across the state of Indiana.
"We look forward to Mr. Harbouk's arrival at Truman. His leadership and experiences will help us in planning for and delivering the very best technology services," Director of Library/Chief Information Officer Richard Coughlin said.




---
Night WatchOpens June 28 in Little Theatre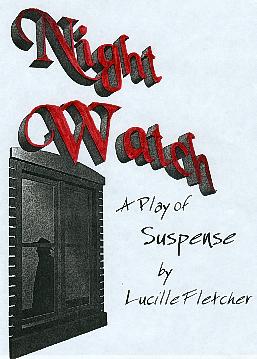 To kick off their summer season, Truman State University's Theatre Department will present Lucille Fletcher's suspenseful thriller, Night Watch, at 8 p.m., June 28 through July 1 in the Baldwin Hall Little Theatre.
The show is directed by Ron Rybkowski, associate professor of theatre.
Admission is free and all ages are welcome; however, there is no reserved seating for this production.
Night Watch tells a tale of betrayal and deceit among several unusual inhabitants of a Manhattan townhouse and its surroundings. The story revolves around one woman's chilling insistence that she has witnessed the appearance of two lifeless victims through the window across the way.
Quick-moving and cleverly-constructed, the play will keep the audience guessing about the characters' sanity and the difference between fact and fiction.
For additional information about the show, contact co-publicity managers Andy Akester at 665.7682 or Becky Becker, assistant professor of theatre, at 785.4519.
BACK TO THE TOP
---
Retirement Reception for Ruth Schutte
Well-wishers
are invited to a
Retirement
Reception
honoring
Ruth Schutte,
reference librarian
2-3 p.m.
June 29, 2000
lower level
Pickler Memorial
Library
Ruth has served
the library
&
University
community
for 30 years.



---
Civil War Era Returns to Kirksville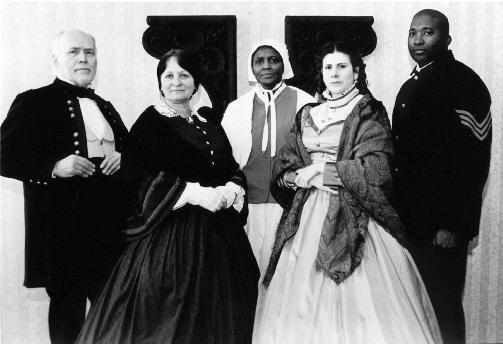 The Civil War era will come back to life in Kirksville from July 4 to 8 when the Missouri and Illinois Humanities Councils sponsor the Heartland Chautauqua. The tent-raising event will be held at 6 p.m., July 3, at the NEMO Fairgrounds and the free programs are set to begin at 7 p.m. every evening. Each show will feature a character (pictured above) in first-person characterization and question/answer session. From left to right are William Sherman, Union General, who will perform on July 4; Mary Boykin Chesnut, Confederate diarist, who will perform on July 7; Sojourner Truth, ex-slave and abolitionist orator, who will perform on July 8; Harriet Beecher Stowe, author of Uncle Tom's Cabin, who will perform on July 5; and A.A. Burleigh, ex-slave, Union soldier and educator, who will perform on July 6. A community fireworks display will be held after the performance on July 4.
BACK TO THE TOP
---
Workers Needed for NEMO Fair
Truman faculty and staff volunteers are still needed to work the gate during the 7-9 p.m. shift, July 27, at the NEMO Fairgrounds in Kirksville.

Volunteers will receive a Truman tee-shirt and a one-day pass to the fair.

Interested persons should stop by the Public Relations office, in McClain 102, or call 785.4016 to sign up.

BACK TO THE TOP
---
Hosts Needed
The Taiwan at Truman Program is still in need of a few host families for the weekend of June 30 through July 2.

Participants will be asked to attend a host family reception at 6 p.m. on June 30, host family activities on July 1 and
a host family dinner on July 2.

For more information, or to volunteer, contact Kristy at 785.4076.
---
Notables
Lois Dover, purchasing agent for Truman's business office, was recently awarded the Certified Public Purchasing Officer (CPPO) certification designation by the National Institute of Governmental Purchasing, Inc. She met specific rigorous criteria in education, training in purchasing related subjects, public purchasing experience and a comprehensive examination.
Beth Luebbering, sophomore agricultural science/pre-vet major from St. Thomas, Mo., was named to the College Division GTE Academic All-America Spring At-Large first team. Luebbering carries a 4.0 GPA and competes in both track & field and cross country.
Jennifer O'Brien, a Delta Zeta and 1995 Truman graduate, is featured in the June 2000 issue of Glamour magazine. The article focuses on O'Brien's current battle with cancer and the opportunity she had to meet her bone marrow donor.
Bridget Riley, sophomore swimmer and biology major from Olathe, Kan., has been named the recipient of the Hanes Her Way/Stacy Roberts Award of Excellence Scholarship for the 1999-2000 season. Recipients must have excellent academic, athletic and community service records.
Four Truman students earned a place on both the Academic All-MIAA and the MIAA Presidential Scholar lists while excelling in their individual sports and simultaneously maintaining a 4.0 GPA. They included Jenny Glenn, sophomore volleyball player and secondary education/exercise science major from Granby, Colo.; Heather Mackie, junior softball player and pre-business administration/
communication major from Wildwood, Mo.; Mike Nelson, freshman track athlete and exercise science major from St. Louis; and Jason Reinberg, senior basketball player and biology/pre-med major from Washington, Mo. Mackie was also named to the 2000 GTE Academic All-America Softball Second Team.
Truman State University earned ninth place with 364.5 points in the 1999-2000 NCAA Division II Sears Directors' Cup standings. Truman has finished in the top 16 for three consecutive years of the Sears Directors' Cup competition. The Sears Directors' Cup is presented annually by the National Association of Collegiate Directors of Athletics (NACDA) to the best overall collegiate athletics program in the country. Truman was the only Missouri Division II university included in the top ten for the 1999-00 school year.
---

Notes

SODEXHO-Marriott Services will sponsor three summer picnics on the Mall for students, faculty and staff. The picnics run from 11:30 a.m. until 1 p.m. on June 29, July 11 and July 28. The cost is approximately $5 per meal, de-pending on the menu. No reservations are necessary.

University Central Supply located in McClain Hall will be closed permanently, effective June 30. The inventory of supplies has been purchased by the Truman Bookstore and as of July 1, supplies can be purchased at the Bookstore.
---
Back to "News & Events"
[ HOME · DIRECTORIES · NEWS & EVENTS · SEARCH ]
Direct questions and comments to lgordon@truman.edu.
Copyright © 2000 by Truman State University, Kirksville, Missouri. All Rights Reserved.
URL http://trumantoday.truman.edu